Images
Hover to zoom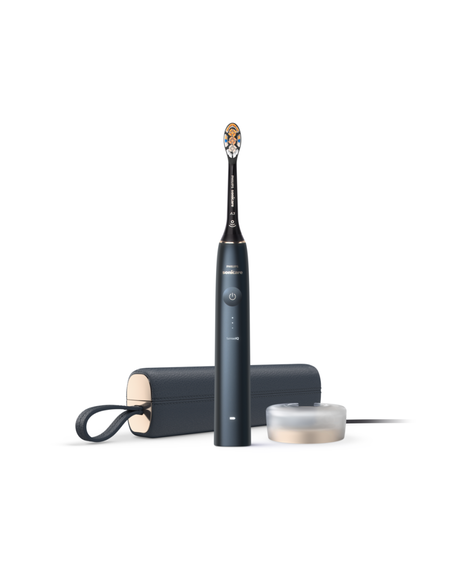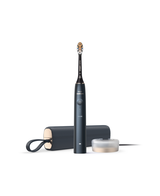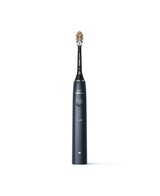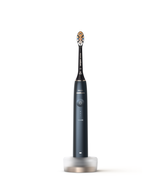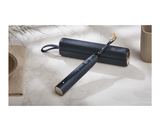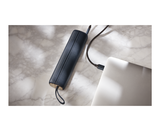 Product Description

Product Description

SenseIQ Technology sense, adapts and cares

As you brush, SenseIQ technology senses pressure, motion, coverage and more up to 100 times per second. It then adapts the intensity if you push too hard. The intelligence of SenseIQ takes the guesswork out of brushing modes, so you can experience effortless care and better brushing over time.

All-in-One brush head for complete care

Clean without compromise with the A3 Premium All-in-One brush head. Our all-time best has angled bristles to help remove up to 20x more plaque even in hard-to-reach areas*. Triangular tips work to remove up to 100% more stains in less than two days***. And longer bristles clean deep for gums that are up to 15x healthy in just two weeks**. All that without ever switching brush heads. Did you know: brush heads become less effective after 3 months of use? Our BrushSync™ feature can remind you when it's almost time for a replacement.

Personalised guidance from the Philips Sonicare app

The Philips Sonicare app is powered by artificial intelligence and works in perfect harmony with the toothbrush. Use it to brush with real-time guidance about pressure, motion, coverage, duration and frequency. View progress reports by day, week, month and year. Get personalised recommendations and actionable steps for better brushing. Meanwhile, auto-syncing keeps brushing data up-to-date in the app, even when you don't brush with the app by your side.

Sonic brushing: the masterclass in effective cleaning

Brush away plaque with sonic technology – our benchmark in effective and gentle cleaning. While you brush, up to 62,000 bristle movements and dynamic fluid action help clean even hard-to-reach areas, leaving your mouth feeling exceptionally fresh and clean.

Real-time feedback on your brushing

You might not notice when you brush too hard or start scrubbing, but your toothbrush will. The light ring on the end of your handle will gently remind you to ease off the pressure or scrubbing motion.

Prestige travel case with USB for go-anywhere style

The elegant and compact travel case can be slipped into any bag for carefree convenience while away from home. The durable case is wrapped in soft-touch vegan-friendly leather. And for extra ease, it includes an integrated USB-C port, and a USB charging cable, so you can easily recharge the toothbrush without removing it from the case.

Product Reviews

Questions And Answers
Details
https://www.shavershop.com.au/philips/sonicare-prestige-9900-electric-toothbrush---midnight-blue-011603.html
Frequently bought with this item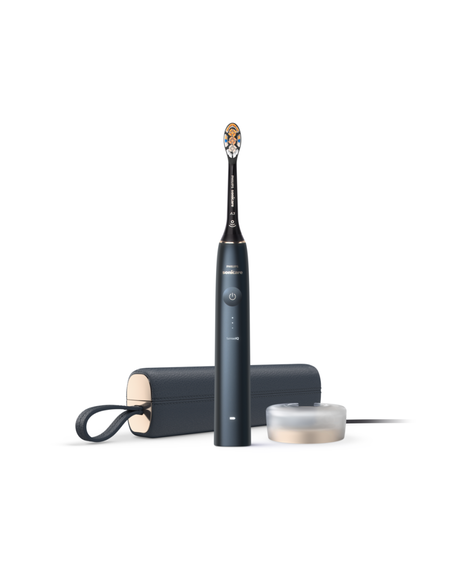 Product features

SenseIQ technology senses, adapts and cares
As you brush, SenseIQ technology senses pressure, motion, coverage and more up to 100 times per second. It then adapts the intensity if you push too hard. The intelligence of SenseIQ takes the guesswork out of brushing modes, so you can experience effortless care and better brushing over time.

Prestige travel case with USB for go-anywhere style
The elegant and compact travel case can be slipped into any bag for carefree convenience while away from home. The durable case is wrapped in soft-touch vegan-friendly leather. And for extra ease, it includes an integrated USB-C port, and a USB charging cable, so you can easily recharge the toothbrush without removing it from the case.

Real-time feedback on your brushing
You might not notice when you brush too hard or start scrubbing, but your toothbrush will. The light ring on the end of your handle will gently remind you to ease off the pressure or scrubbing motion.

Cares intuitively for teeth and gums
Philips Sonicare 9900 Prestige is designed around you. Its state-of-the-art technology is so in tune with you and effortless to use that you barely know it is there. Luckily, the results say it all.