Images
Hover to zoom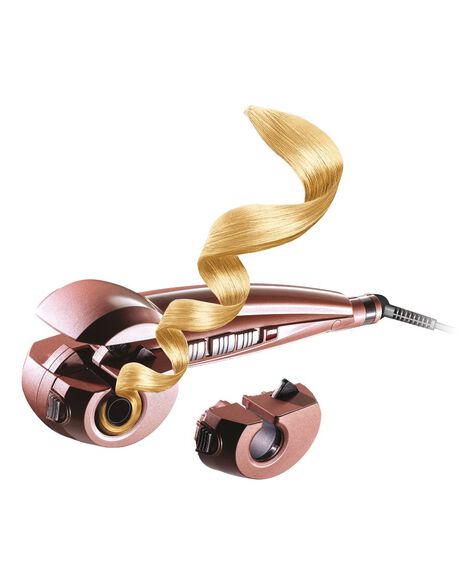 Product Description

Product Description

The NEW VS SASSOON Curl Secret Multi Curl features two removable and interchangeable heads for endless curl possibilities!

MORE CURL TYPES - With New Interchangeable Heads

25 mm : Thin or tight curls
35 mm : Thick or loose curls

MORE CURL STYLES - With Increased Settings

For looser to more defined curls and everything in between

MORE CURL LOOKS - With New Rotation selector

Choosing from left, right or alternate rotation

MORE CURL PROTECTION AND SHINE - With New Ionic Ceramic Curl Chamber

Protects the hair and reduces frizz for silky shiny curls

Product Reviews

Questions And Answers
Product features

Multiple Curl Sizes
One styling tool, endless curl possibilities with two Interchangeable barrel sizes with ceramic coating inside each barrel. Use the 25mm barrel for tight curls and the 35mm barrel for larger curls.

Easy to Use
To start curling, simply place a section of hair through the guide. Clamp down and your hair is automatically drawn inside into a heated curl chamber. Once inside, your hair is softly held and heated from all directions. Your hair is not put under any tension so its elasticity is protected. It takes just seconds to form a perfect curl. A beeper counts out the seconds and tells you when the curl is ready. Simply open to release a perfect curl.

Adjustable Heat Settings
Creatively you can do so much with the Curl Secret™ Multi Curl. With different temperature and timer settings, you can personalise your curling style. Create a variety of styles from highly defined crisp curls to softer beachy waves. Start by adjusting the heat settings to suit your hair (higher for thick hair, lower for finer hair) then choose from the timer settings to get the curl style you need. The 8 second setting will give you looser waves while the 12 second setting is perfect for defined curls; 10 seconds for anything in between.

Automatic Curling System
Gently draws in the hair for the fastest and easiest way to create the perfect curl. Hair goes in, curl comes out. It's that simple, that quick and that easy. This breathtakingly innovative one-of-a-kind styler uses new-patented technology to create stunning long lasting three-dimensional curls… the kind of curls not readily achieved with traditional styling tools.

Variety of lengths and styles
The Curl Secret™ can be used on a variety of different hair lengths and styles from very long to shorter cuts, from structured bobs (try a heavy eye make-up look with this) to finely layered cuts. You can also use it on already wavy and curly hair to add finesse. And it doesn't matter what hair type you have either. Whether you are adding body to fine hair, an edge to medium density hair or dramatic interest to even the thickest hair, the result is always outstanding and astonishingly achievable with the Curl Secret™.