Images
Hover to zoom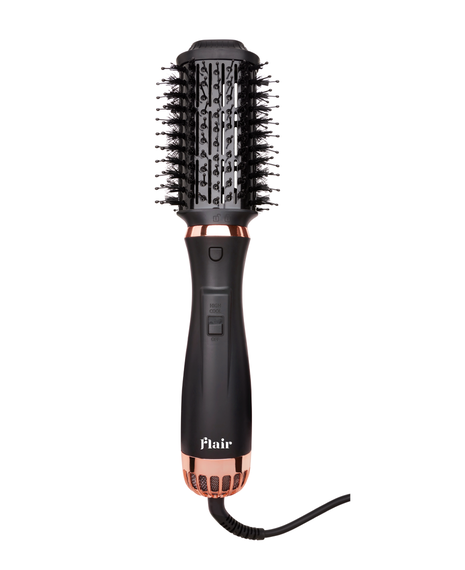 Product Description

Product Description

This one step dry and style Brush Dryer is the perfect tool to create a professional salon hair style. Easy to use and light weight, this Brush Dryer has the all the features and technology your hair needs for a smooth fast bouncy finish.

A great time saver and is perfect for that second day touch up. The powerful 1200 Watt AC motor and large oval brush makes it ideal for creating sleek or voluminous styles and can be used on all hair types and lengths. The detachable brush makes it easy to store away and convenient to take travelling.

Product Features

Powerful 1200 Watt AC Motor
Two in One Styling (Dry and Style) to save time and ease of use
Ionic Tourmaline Crystal Technology for a smooth healthy shiny finish
Variable Heat Settings to suit all hair types and styles
Light Weight for easy styling
Ceramic Coated barrel for a consistent and gentle heat delivery
360 ̊Air Vents for even air distribution
Detachable brush head for easy storage
Tangle free bristles to stop knots and give perfect tension
Large oval shaped brush for volume
360° swivel cord for tangle free manoeuvrability

How to use:

Towel dry freshly washed hair and apply a heat protectant then comb thoroughly
For best results remove as much moisture as possible to make hair 60 – 70% dry
To make styling manageable, section off hair with hair clips and apply brush head underneath roots
Turn on and rotate brush pulling brush away from the scalp and rolling the ends to keep hair smooth and repeating until section is dry
Repeat until hair styled and dry

Handy tips:

For extra volume lift brush up diagonally or vertically away from scalp
For a bouncy or a more curved finish, roll hair around the brush and turn off dryer once section is dry to set and cool. Leave hair wrapped on the brush until hair has cooled then slowly release section
For a second day refresh use a dry shampoo prior to use to remove oils and refresh hair and then use brush dryer
For volume and soft flicks, roll the brush invertedly (on top of the hair instead of underneath) and hold on the ends to make hair flick out away from the face. Or Section the top of the hair and roll invertedly back towards the back of the head for extra volume

Product Reviews

Questions And Answers
Details
https://www.shavershop.com.au/flair/blow-dry-volumiser-hot-brush-011742.html
Frequently bought with this item
Product features

360˚ Air Flow Vents
Ensure a balanced distribution of air across the brush and the hair for faster-balanced styling.

Detachable Tool
The brush head and body detach for easy storage.

Powerful AC Motor
A 1200W motor that delivers consistent powerful airflow for different styling results and is suited to all hair types.

Ceramic Coated Brush
The ceramic coated brush head helps to provide an even heat distribution across the brush and the hair for a consistent smooth shiny style.

360 ̊ Swivel Cord
Allows for tangle-free manoeuvrability.