The Most Common Beauty Questions Answered
May 13. 2021 by
Shaver Shop Team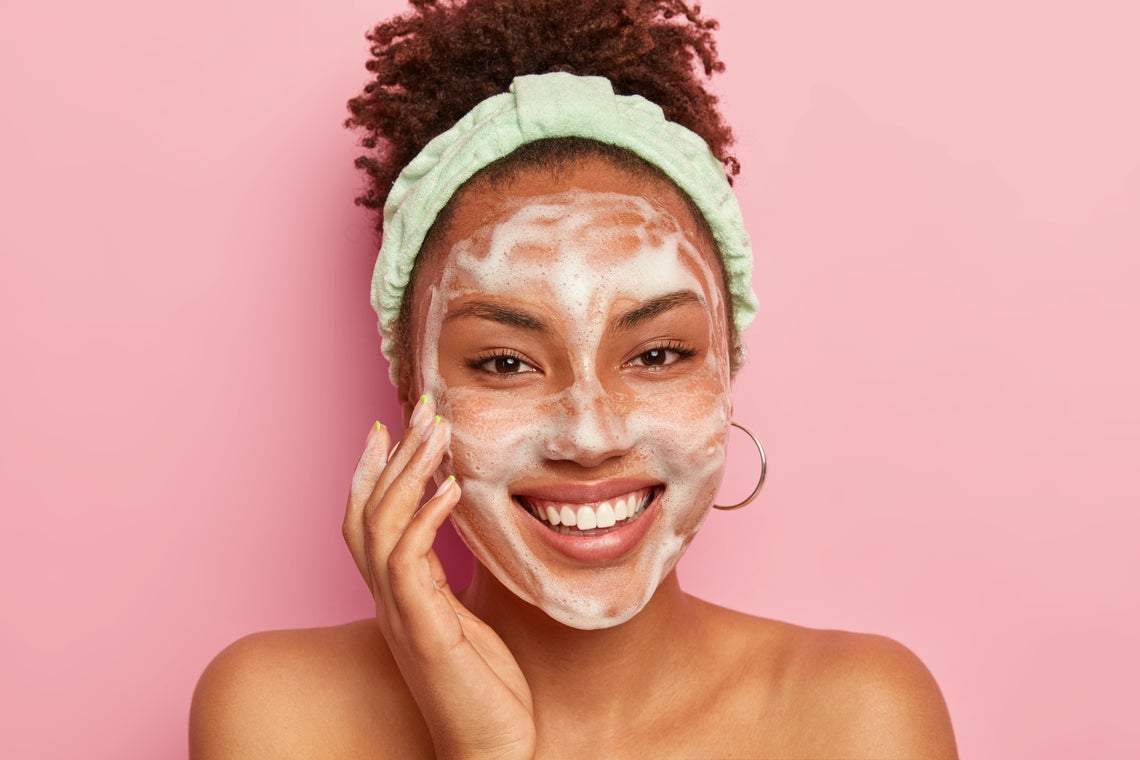 The world of skincare can be complicated at the best of times. There are beauty treatments we all know, love, and swear by but what about the tools that truly recreate an in-clinic facial. That's where it get's tricky. Navigating the world of at-home skin-care tools is tough because let's be honest, you can't exactly try on a microdermabrasion device the way you would a lipstick in-store.
That's why we're here. Think of us like your digital expert that lives in your pocket. We'll tell you what's worth investing in, what to avoid and the brands we love. Because 2021 is all about putting YOUR best face forward.
Does DIY Microdermabrasion REALLY work?
It sure does! A professional microdermabrasion is a minimally invasive skin treatment that involves manually exfoliating the top layer of the skin using tiny crystals. An at-home microdermabrasion device does the same thing and is more user-friendly. In fact, it works in two parts. The device utilises a diamond-tip exfoliation head to draw out impurities, whilst the in-built vacuum sucks the lifted dirt and debris away to reveal fresh, healthy skin underneath.
Did we mention that regular microdermabrasion treatments trigger our skin to create more collagen? Pretty nifty, hey. Our top-selling microdermabrasion device is the Homedics Radiance Microdermabrasion System which has four intensity levels, salon grade diamond tip and a rose gold finish. So, next time you're looking for baby soft skin and a serious at-home glow, save your money and invest in an at-home device.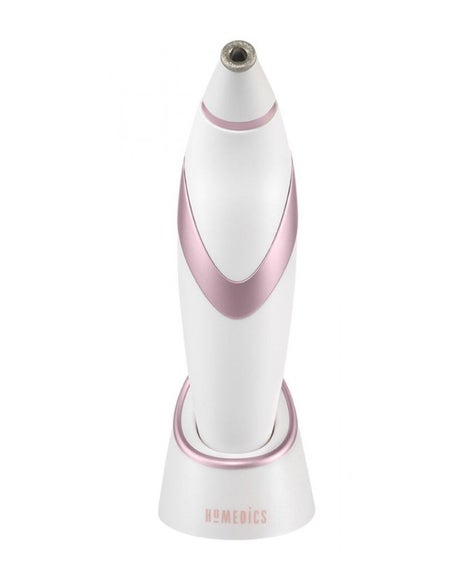 Do you need a Blackhead Remover if you have a Microdermabrasion device?
If blackheads are a concern of yours, then getting an at-home tool is going to be the best way to stay on top of it as it will target that area of concern compared to the Radiance Microdermabrasion which is for all over facial use. But before you start suctioning away, a few caveats. Skin prep is the key to success. Personally, we love integrating the Homedics Radiance Blackhead Remover as a part of a skincare routine.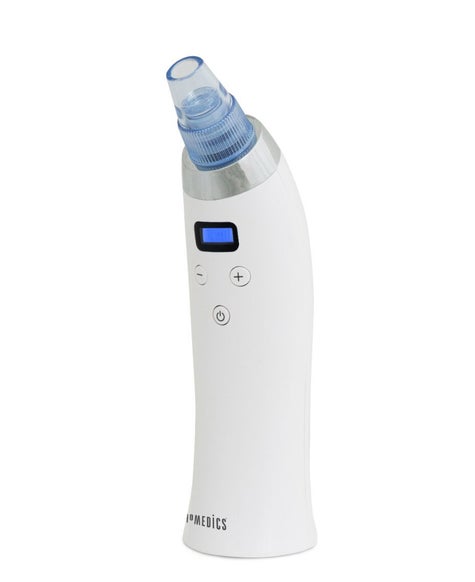 Go in with the Finishing Touch Flawless Cleanse Hydra-Vibrating Facial tool to ensure you're working with a clean canvas.
Start by steaming the area you want to treat to loosen the debris.
Now it's time for the Homedics Radiance Blackhead Remover. We recommend starting off on the lowest setting and using the device in circular motions, applying light pressure. Within minutes, allllll that gunk should get sucked right up. It's SO satisfying to watch, just don't spend too long on any given area because, remember…the goal is clear skin not bruised skin.
Finish with your favorite face mask! We'd suggest finding one with occlusives and emollients to add hydration back into your skin barrier.
Is a cleansing device necessary in your skincare routine?
This depends on your skin type. Most facial cleansing tools not only help to break down makeup and grime but offer some level of exfoliation. That's why your skin type plays a pivotal role here. Normal to oily skin types will find cleansing facial devices highly beneficial, whereas sensitive and dryer skin types are better off sticking to the age-old hands and warm water method.
When used correctly, a facial cleansing tool can leave your skin feeling plump and radiant as ever. But as with any beauty habit, go overboard and your skin will break out faster than you can imagine. To ensure you don't tamper with your skin's barrier, we recommend using your tool one to two times a week to help the skin's natural turnover cycle and stimulate collagen.
We're loving Braun's FaceSpa Pro that comes with a sensitive cleansing brush, a MicroVibration head and a metal toning head which allows your serums to be better absorbed post cleanse. However, if multiple attachments aren't for you, keep it simple with the Finishing Touch Flawless Cleanse Hydra-Vibrating Facial which takes the guesswork out of skincare. It comes with four different modes from gentle, pulsating, massage and deep cleaning, all you need to do is pick a setting watch it do the work for you. What. A. Dream. Just remember to wash your tool/brush of choice after each use to avoid bacterial inflammation and breakouts!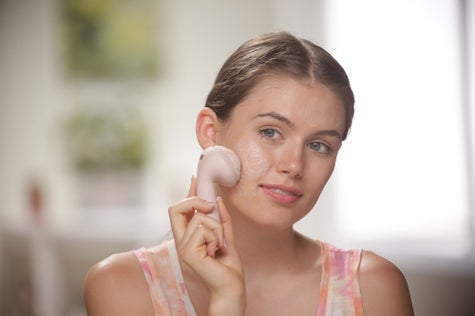 How does IPL compare to salon laser treatment?

This is possibly our most asked question! Let's clear up any misconceptions. IPL stands for Intense Pulsed Light and is designed to help break the cycle of hair growth by targeting the follicle. The light energy is transferred through the skin's surface and absorbed by the melanin present in the hair shaft. The absorbed light energy is converted to heat energy and disables the hair follicles which means no further growth. The treated hairs will naturally fall out over the course of a few days to a week depending on the device.
Now how is laser different? Well, laser uses a single spectrum of concentrated light in one single colour and wavelength. IPL on the other hand uses a broader spectrum of light in varying colors and wavelengths. Both methods target the melanin in the hair follicle and provide long lasting results. The only difference is that laser treatments are designed to be more effective for darker skin tones, whereas IPL devices may require more treatments to achieve the desired results for that type of skin tone.
The Braun Silk Expert Pro 5 is our IPL device of choice for a few reasons:
It's been clinically tested by experts and is one of the safest and most efficient IPL tools on the market for permanent hair reduction.
The SensoAdapt technology allows it to automatically and continuously adapt t your skin tone to ensure you're getting results personalised for you.
It comes with two different attachments to treat face and body, normal and precision (to target those tricky areas…hello bikini line!), three settings and has a glide feature which is a huge timesaver.
Hugely cost effective. A laser session in salon would cost anywhere from $50 per area to be treated. Say you need 5 areas. That works out to be $50 x 5 areas = $250 per visit. After the recommended 12 sessions, you've spent $3,000. An at-home IPL device means you can do the same job at 1/6th of the price, sitting in the comfort of your own home.
If you're new to the IPL game, we'd recommend between 12-16 treatments on a weekly basis to start off with and then to continue using the device in a maintenance phase every four weeks.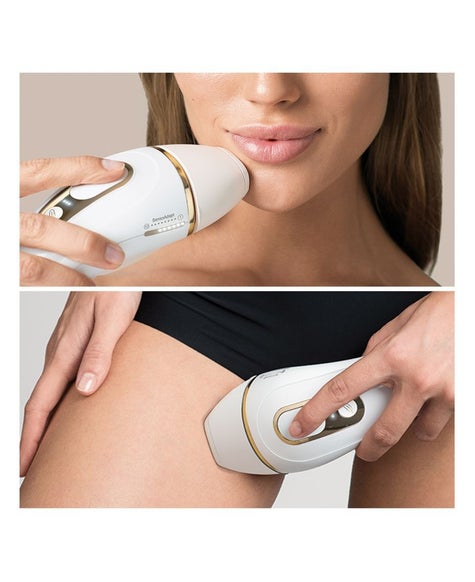 Can you damage your hair if you heat style every day?
Absolutely, especially if you aren't using a heat protectant. There's a reason why everyone says not to wash your face with hot water and that's because it dries your skin out. The same principle is applied to your hair. When your hair gets heated above 180 degrees, you've entered the damage zone. You run the risk of your colour going brassy and breaking down the keratin in your strands (the protein needed to give your hair strength and elasticity). Not to mention the cuticle can begin to crack, fray leaving you with split ends, more breakage and coarse texture.
So...if you're someone that loves to style their hair daily then you're definitely going to need to add a heat protectant into your routine and would benefit from investing in a hair tool with smart technology. Take Dyson's Supersonic Hair Dryer for example, their heat control system is designed to measure airflow up to 40 times a second and regulated to keep the temperature below 150 degrees to avoid overheating your strands.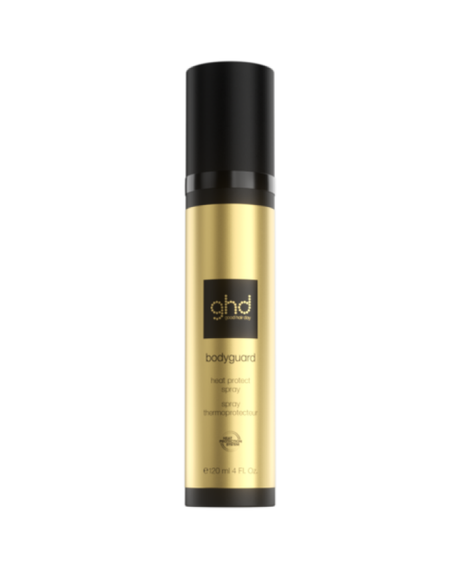 Are epilator beauty kits worth the investment?
This one's down to personal preference. You may have heard epilators and waxing looped into the same category. Technically both methods work by removing the hair from the root. While they do both lift hair from the root, there are a few differences between the two methods. Epilation involves an electronic machine called an epilator, whereas waxing involves strips of warmed-up wax that are pulled off rapidly by hand.
As for whether it's a must in your beauty regimen, this depends on your feelings towards other hair removal processes. If you dislike the stubbly regrowth from shaving and find waxing irritates your skin then an epilator kit is the way to go. Our personal favourites are the Braun Silk-épil 9 Flex Epilator Beauty Set that doubles as your all-in-one go to tool. With a massage brush, epilator, trimmer, cleansing head and body massage pad included, its SensoSmart technology works with each attachment to make your experience both comfortable and fuss-free. Epilation is also a great alternative to waxing because it's less messy and sticky!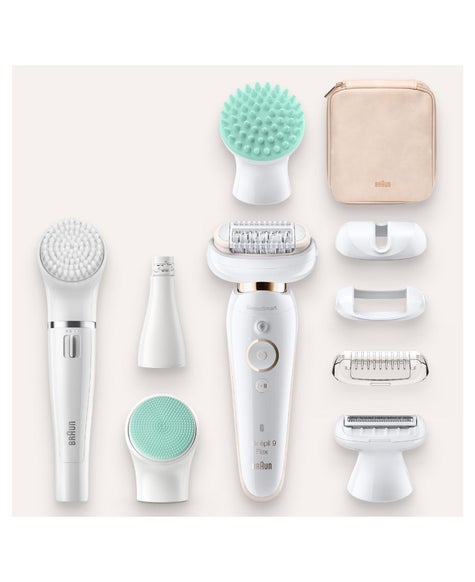 And there we have it, your top beauty questions answered. If you enjoyed this and want us to keep solving your beauty dilemmas, get in touch with us or visit one of our stores for advice.