Introducing The Future Of Beauty…. Réduit
May 05. 2021 by
Shaver Shop Team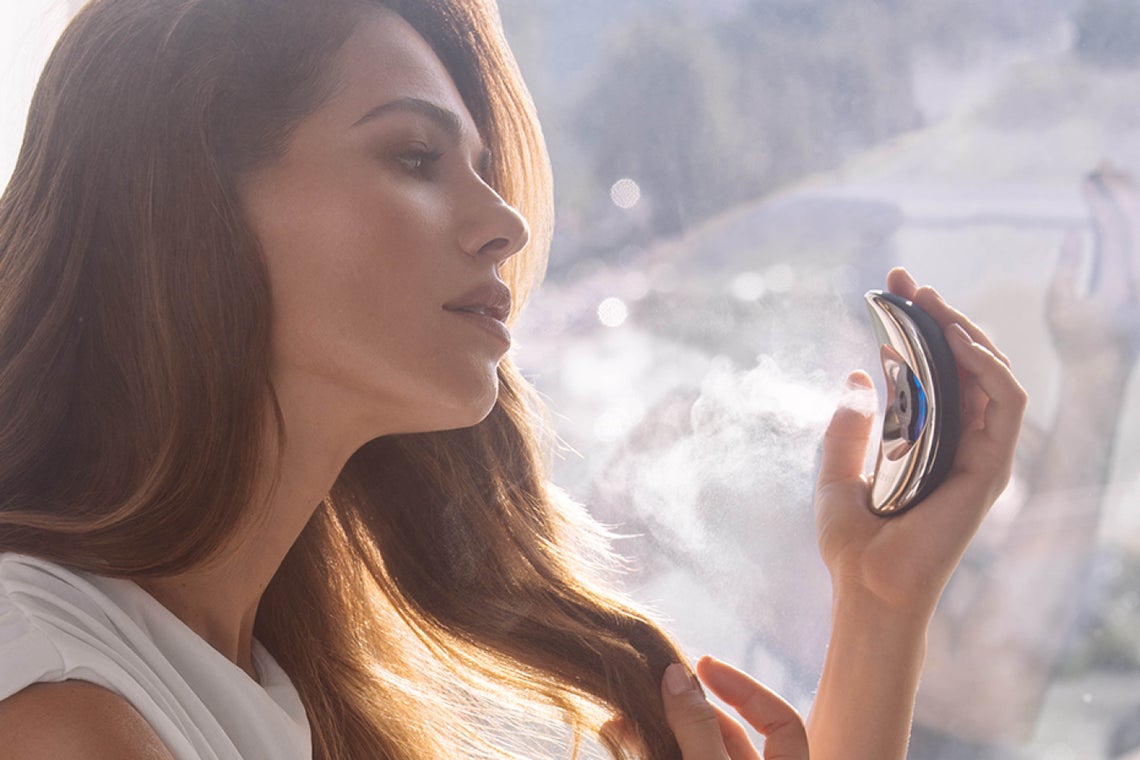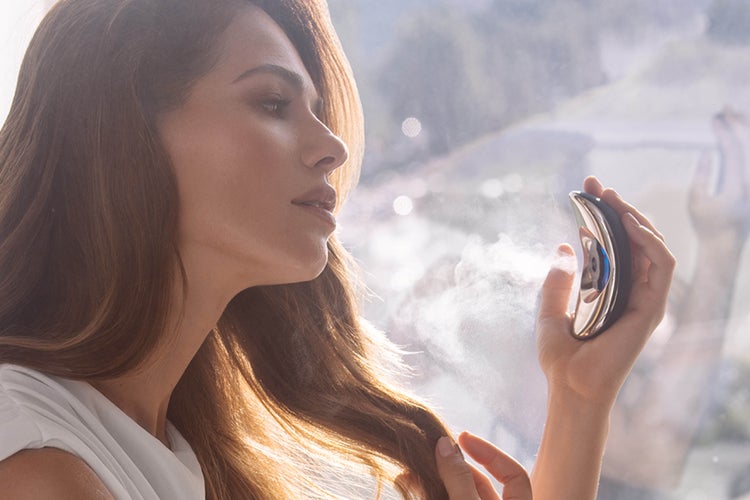 The skincare and haircare industry has been rocked by the launch of Réduit and we are so excited to be introducing this revolutionary brand to you. Challenging the way we think about applying our skincare and haircare products, the technology behind Réduit addresses the sustainability, efficiency and effectiveness of beauty products. Buckle up, because everything you've ever known about your beauty routine is about to be questioned.
What is Réduit?
Réduit is a brand which overcomes issues in current traditional beauty products such as, ineffective application, limited absorption, unnecessary ingredients and product waste. The brand believes in rewriting the rulebook when it comes to the beauty industry and offers a breakthrough alternative. We own countless skin and hair products which fill up our bathroom cupboard, but what if you could simplify your routine with less clutter as well as reaping the rewards with potent and effective ingredients?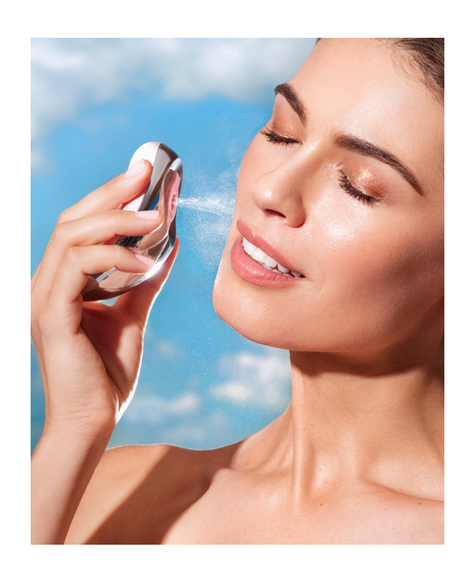 Réduit ranges a number of different skincare and haircare applicator tools that help deliver powerful ingredients to your skin and hair for revitalising and nourishing results. Suitable for all hair and skin types, each applicator is a handheld device that fits in the palm of your hand. With it, you insert interchangeable pods with a simple click in mechanism, which act as your 'traditional bottled product' to get the result you want to achieve.
There are a total of seven types of devices available depending on what you desire – three dedicated to haircare (One, One Pro and One Gold), three dedicated to skincare (Spa, Spa Pro and Spa Gold) and Uni (available in Dusty Blue, Forest Green, Lavender and Lime colours) which can be used on your hair and skin.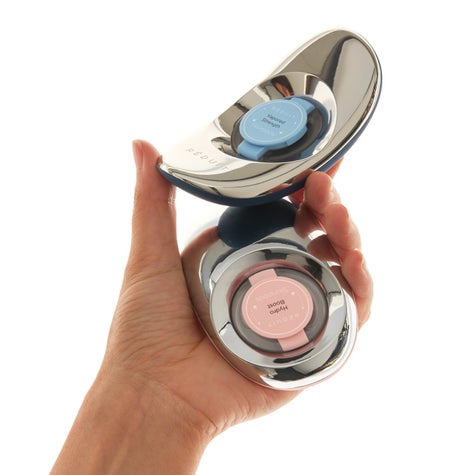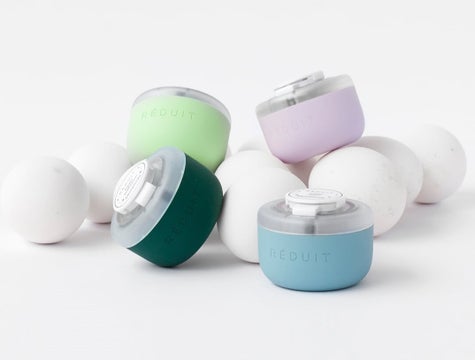 The pods, namely, Hairpods and Skinpods are small, but mighty. Each one is designed for a specific concern or solution, for example if you owned a Réduit Spa treatment device and your trouble area is hyperpigmentation, you would opt for the Pearl Diffusion pod which is designed to even out skin tone, brighten and revive skin.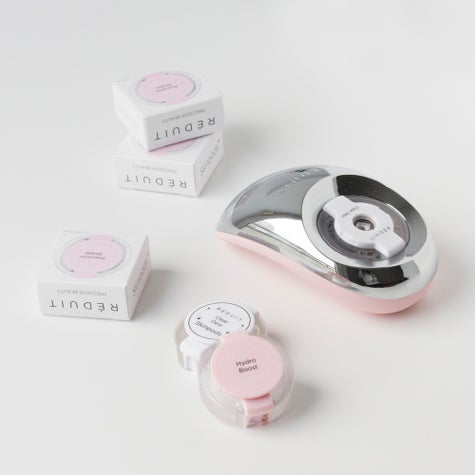 The pods are 5ml in size, but don't let that fool you, they can deliver the same number of applications as a normal bottled product. Hairpods provide multiple applications equivalent to a 200ml traditional hair product and Skinpods are equivalent to a 50ml traditional skin product. Therefore, each recyclable pod creates 90% less weight than traditional beauty lines. However, it's important to note that not all pods are compatible with every device. Depending on which device you own will determine which pods are applicable for use. For example, Skinpods only suit skin applicators and the Uni. The same applies to the Hairpods which only suit the hair applicators and the Uni.
The technology behind Réduit
Magnetic Misting
Magnetic Misting allows the device to spray the product onto your hair and skin creating a super-fine film in simply 30 seconds. It reduces unnecessary ingredients found in traditional beauty products which therefore boosts the pod's efficacy. The misting combines three unique micro-technologies that only deliver the finest active ingredients without leaving a residue and penetrates deeper in your hair or skin.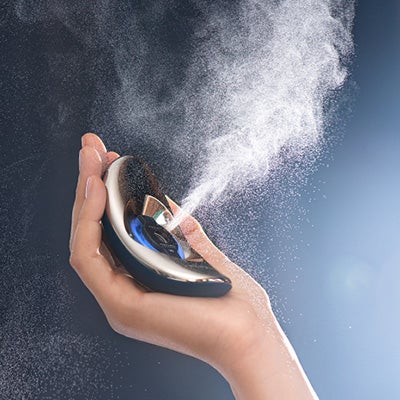 Ultrasonic Diffusion
Ultrasonic Diffusion allows each applicator device to deliver particles 50x smaller than a traditional spray product which means you'll get better coverage, better absorption and a better end result. To help better understand this concept, you might try and remember a time you've applied a product on your skin and hair and it has felt quite heavy and sat on top of your skin or hair follicle without properly getting absorbed. It's an inefficient way to use your products and can also cause your pores to clog as a result. This is the issue Réduit are rectifying with Ultrasonic Diffusion.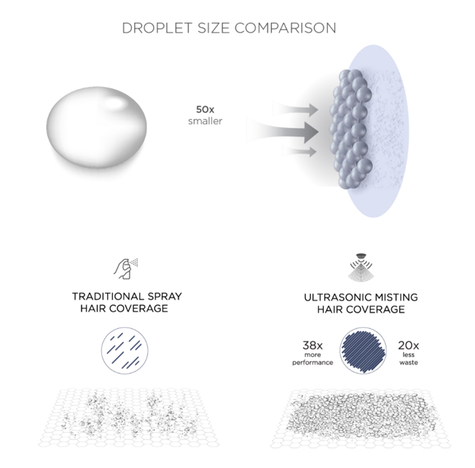 The formulations
Some traditional beauty products have upwards of 30 ingredients and 80% - 95% water topped with thickeners, binders and fixatives. I'm sure you've noticed on the back of some bottles which list an endless number of ingredients. They often don't make much sense to the average person. Réduit have created Light Chassis Formulations which are geared to creating more with less. Therefore, one pod contains only exactly what you need, just where you need it with its precise treatment. They have stripped away the unnecessary to deliver targeted formulas of only the most potent actives to treat specific hair and skin conditions as well as being great for everyday use.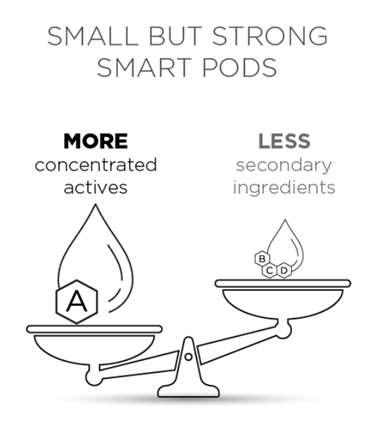 What can you expect?
Taking on the Réduit philosophy, you can anticipate a more efficient use of your time, a minimalist routine, enhance sustainability and effective results. It will completely transform and change the way you think about beauty and your routine and with so much to gain, why not give it a go and lead the revolution of Precision Beauty?
To discover more about the range and decide which may suit you best, click here to shop and learn more.