Images
Hover to zoom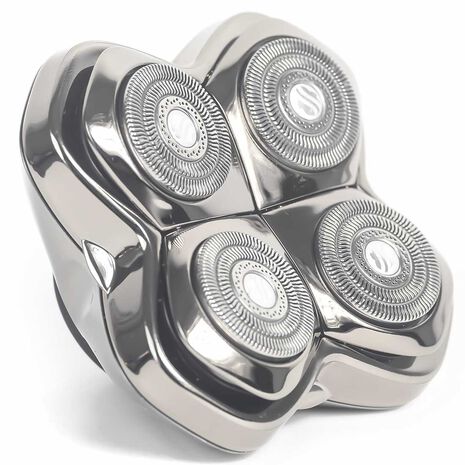 Product Description

Product Description

Skull Shaver PRO blades let you shave faster than our previous designs. Multi directional rotary shaving heads let you shave in any direction. Shave up, down, left, right, whatever works best for you. For best results we recommend shaving in small circular motions. Skull Shaver PRO blades have more blades per shaving head than our previous generation blades, giving you 20% more cutting action per rotation. All this means a faster shave so you can get on with life.

The Skull Shaver Pro blades come in three styles: Carver, Forte and Baron.

If you had a favourite in the 5 head, you can simply choose the same style as the PRO blade.

Carver features dual cutting rings and flat foil mesh. Carver is recommended for coarse hair.

Forte features dual cutting rings and beveled foil mesh. Cutting performance between Carver and Forte is similar, although Forte will feel smoother as it glides across your skin due to the curved and beveled foils. Forte is our most popular and is the best choice for most people.

Baron features three cutting rings per shaving head: two with S shaped openings, and one cutting ring with dots. Those with sensitive skin and fine hair will love this style.

Product Reviews

Questions And Answers
Product features

Exceptional Contouring
Skull Shaver PRO contours specifically to your head or face while you shave. Each blade floats independently, allowing 360° of contouring. Each floating blade is mounted in a flexing head that automatically adjusts for tighter or larger curves. Combined this flexibility gives you better, more even coverage so you don't have to keep going over trouble spots. Faster shave, less irritation.

Less Irritation
One of the biggest sources of irritation is pressing too hard. Skull Shaver PRO blades are spring loaded and will fully retract into the housing if pressed too hard. The springs keep the perfect amount of pressure against your skin, greatly reducing irritation. If you do press too hard, the shaver will also slow down, giving you an audible reminder to lower the shaving pressure.

Deeper Cleaning
Removable blades come off in a snap making it easy to give your blades a deep clean inside and out. Keeping your blades clean will greatly extend blade life and keep your shaves as smooth as day 1.

Less Mess
Skull Shaver PRO blades are designed to capture hair shavings inside their large shaving chambers. Hair stays off your skin and shirt so you can always have a clean shave and look your best wherever you go.

Built Stronger
The all new Skull Shaver PRO blades are built stronger than any of our previous designs. The blades are suspended in a two-piece chassis to allow contouring flexibility while holding them securely in place. The drivetrain has been relocated to a sealed chamber to keep hair clippings out of the transmission, ensuring you always get consistent and smooth performance.