How To: Choose The Best Oral-B Brush Head For Your Personal Oral Hygiene Routine?
Jun 12. 2022 by
Shaver Shop Team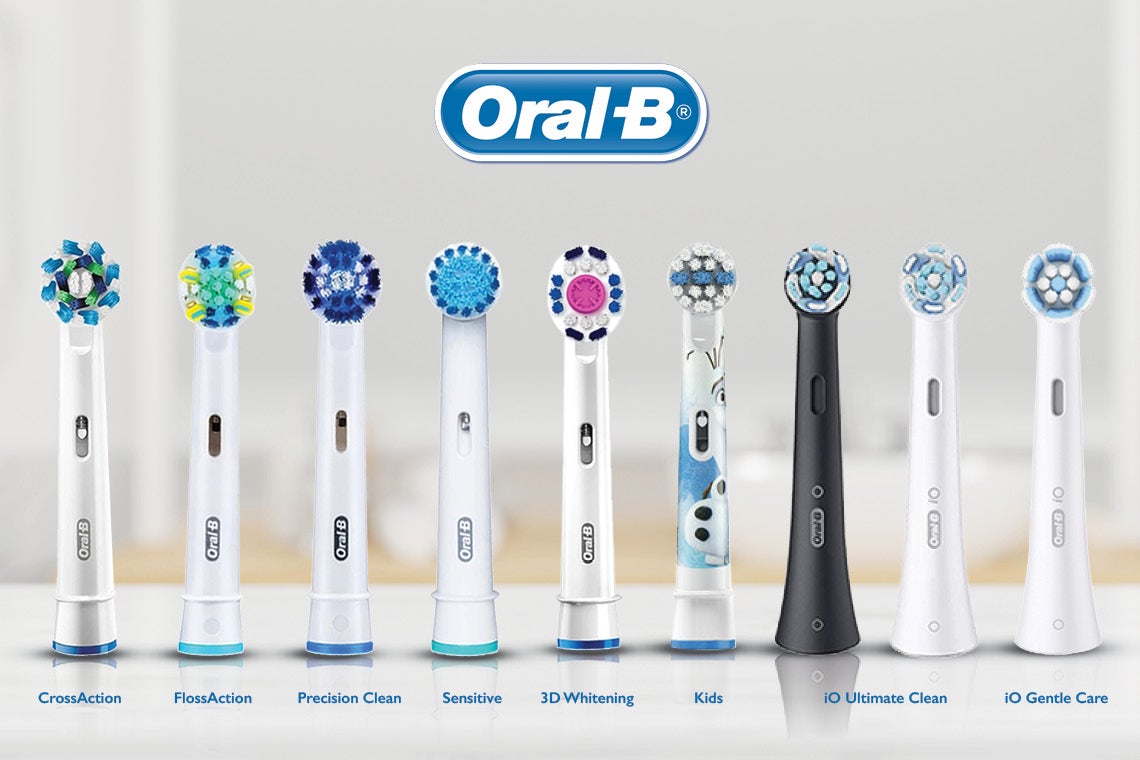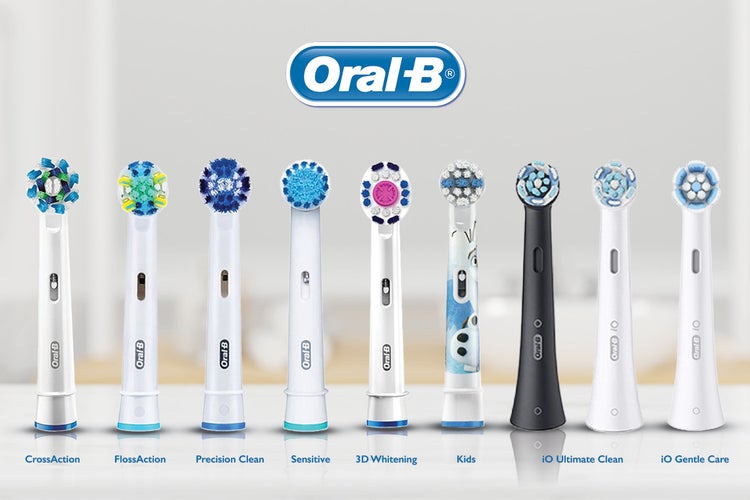 We all know brushing our teeth twice a day is the recommended daily routine for good oral care and a winning smile, but which Oral-B brush head best suits your own personal regimen and your Oral-B electric toothbrush? Whether your focus is optimal gum health and whiter teeth, or your gums and teeth are extra sensitive, there are a range of different Oral-B toothbrush head options to help you achieve the oral hygiene results you desire.

COMPATIBLE WITH ALL ORAL-B ELECTRIC TOOTHBRUSHES
*except the iO range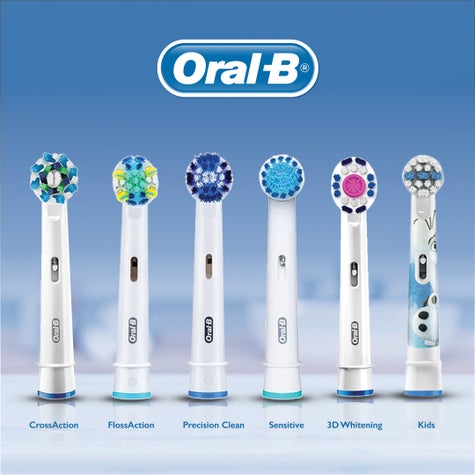 Oral-B CrossAction
Best for: Ultimate plaque removal
CrossAction is Oral-B's highest ever bristle density brush, with a round head that reaches around each tooth for a deeper clean. Bristles are set at a 16° angle to effectively, yet gently, clean along the gumline and penetrate deep between the teeth for ultimate plaque removal and healthier gums. CrossAction bristles also adapt to the contours of your teeth from multiple directions, so it doesn't matter how you hold the brush.
Oral-B FlossAction
Best for: Helps fight gum disease
Since a build-up of plaque can cause gum disease, the FlossAction brush is ideal for promoting healthier gums and can even help to reverse gingivitis. The Micro Pulse bristles on this round toothbrush penetrate between teeth for a floss-like, tooth-by-tooth clean* that removes up to 100 per cent more plaque than a regular manual toothbrush.
*Does not replace flossing
Oral-B Precision Clean
Best for: Total mouth and gum hygiene
Finer brush tips penetrate deep between teeth to remove plaque in a thorough clean that promotes total mouth and gum hygiene. Oral-B Precision Clean brush heads reach an enhanced surface area for whiter teeth and healthier gums in just a few days.
Oral-B Sensitive
Best for: Sensitive teeth and gums
These extra soft bristles are ideal for people with teeth and gum sensitivity, without compromising on deep clean and whitening benefits. The round Oral-B Sensitive brush head gets between every tooth, removing stains gently yet effectively. Indicator bristles colour fades to remind you when it's time for a brush head replacement.

Oral-B 3D Whitening
Best for: Whitening teeth
With a specially designed polishing cup, 3D Whitening brush heads get to work removing surface stains and plaque from day 1. The advanced clean process gently whitens your teeth, and in just two weeks you will see your fabulous whitening results!*
*Removes up to 100 per cent more plaque than regular manual brushing
Oral-B Kids Spiderman, Star Wars and Frozen
Best for: Children
Brushing is much more fun with Oral-B Kids toothbrushes featuring great characters such as Spiderman, Star Wars or Frozen characters. With Advance Cleaning Technology, the Power Kids toothbrush size and gentle head bristles remove more plaque than regular manual toothbrushing and have been designed especially for children.
COMPATIBLE WITH THE IO RANGE
Like other Oral-B brush heads, the Oral-B iO Series features unique dentist-inspired round brush head design that combines powerful, but gentle micro-vibrations to deliver a professional clean feeling with every use. iO Series toothbrushes incorporate AI recognition, using an interactive display to guide you to the best clean for all areas of your mouth, and the Smart Pressure Sensor ensures your gums and enamel are protected from hard brushing.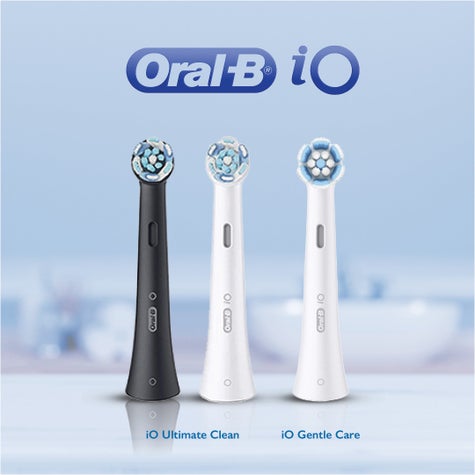 iO Ultimate Clean
Best for: All-round deep cleaning and plaque removal
With a round head for greater coverage, the dual-length, higher density bristles of the iO Ultimate Clean surround and reach deep between teeth for the ultimate clean, reducing plaque build-up along the gumline.
iO Gentle Care
Best for: Sensitivity and gum health
Designed for gentle and effective cleaning on sensitive areas and gums, iO Gentle Care brush heads feature Oral-B's thinnest and gentlest bristles. Gentle care adapts precisely to the curvature of the tooth and gum line for a gentle and effective clean that helps protect teeth and gums.
To shop the full-range of Oral-B products at Shaver Shop, click here.