How To: Choose An Electric Shaver For Mature Skin
Aug 18. 2020 by
Shaver Shop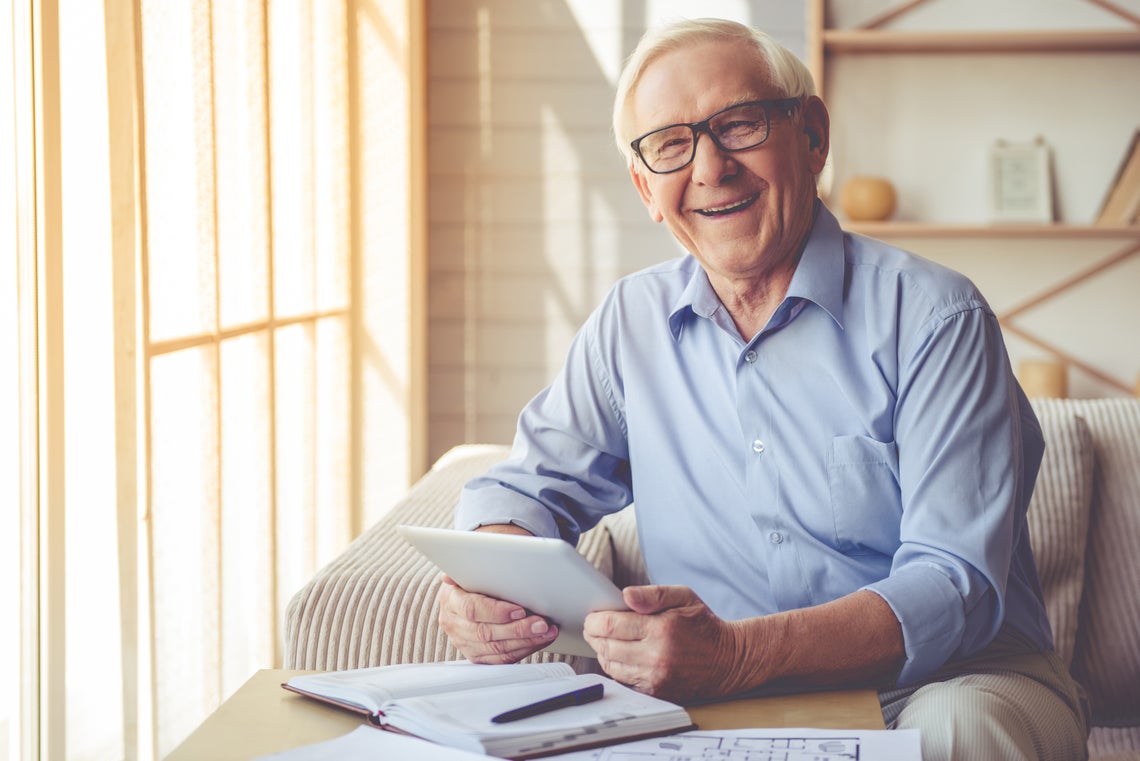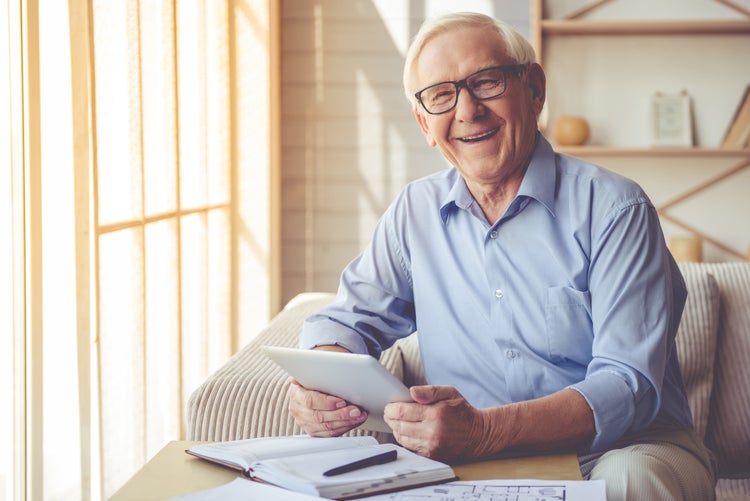 You've done all your research, asked your husband, brother, uncle, or friends what they use, decided on your budget and you think you're fully prepared for your shopping expedition to find that perfect shaver for dad, grandpa or uncle but, but you're still stuck.
What features are actually relevant when selecting an electric shaver for mature skin? Keep reading for the top five things to consider before picking the perfect shaver for mature skin.
1. What are they currently using and how are they using it?
Is he a blade man that lives for the feel of a nice quality shaving brush and wet towel against his skin? Does he swear by a particular shaver that he's had for the last 20 years? Does his sensitive skin require a powerful but gentle foil shaver? Does he like to shave wet or dry? Determining their personal preference is first step in finding something that is right for them.
2. Corded or rechargeable
Like many electronics, the power source choice for many would be rechargeable but remembering to charge their shaver may be problematic for many older gentlemen. Don't worry, we have that covered.
For a shaver that is both corded and cordless the Braun Series 7 Electric Foil Shaver would be the perfect choice. Its key features are:
Cord and cordless use
Includes Sonic technology that reads and adapts to your beard, making it a perfect shaver for all hair types
Foil shaver head with four shaving elements capture more hair in every stroke to provide a close, comfortable shave, making it an ideal shaver for sensitive skin
Washable foil head for ease of maintenance
Five speed settings for optimum comfort
Contouring blades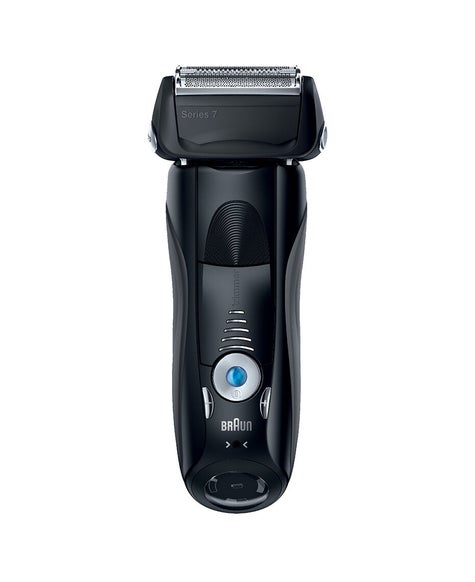 3. Are you buying something they can maintain?
Maintenance is key to getting a closer, more comfortable shave and lifespan out of your shaver. Blades will build up with skin cells, oil and bacteria which can prevent hair from effectively penetrating into the foils or even cause them to go blunt prematurely.
Blades should be cleaned and lubricated with Shaver Guard after each use and should ideally be taken apart and cleaned thoroughly at least once a week. If there is a chance that dexterity might be issue, you might want to consider a shaver with a self-cleaning system. The Braun Series 9 Shaver is known to be the world's most efficient shaver and its key features include:
A Cleaning and Charging Station included to ensure your shaver is sanitised after each use
Five shaving elements capture more hair in one stroke for a flawless shave, it can handle up to a three day hair growth yet, it's sensitive enough for even the most delicate of skin
Its responsive shaver technology enables fast, powerful shaving for all hair types
Waterproof for increased comfort for sensitive skin
Its foil head provides both a close and gentle shave, without compromise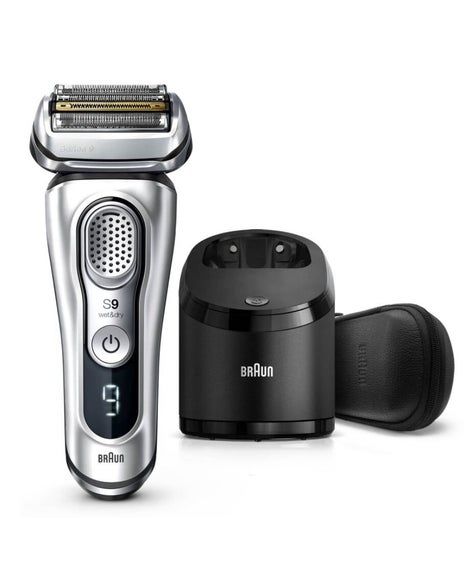 4. Hair type
Is their hair fine or coarse? Sparse or dense? This is an important one.
Did you know that coarse hair tends to stand up straighter, whereas finer hair lies flatter against the skin and often requires vibration to lift them? This will determine the style of shaver that will best suit their needs. Before you begin your search for an electric shaver, you might want to invest in some good pre-electric lotion.
Our favourite is Face Guard Pre-Electric Lotion.
The main ingredient, witch hazel defends against irritation and inflammation and has a tightening effect on skin, creating a smoother surface, forcing the whiskers to stand up, making it easier for the hair to feed into the shaver
Isopropyl palmitate moisturizes the skin and facilitates a smoother shave
The styptic aspect prevents nicks and cuts, making it a very versatile pre-shave solution for all skin types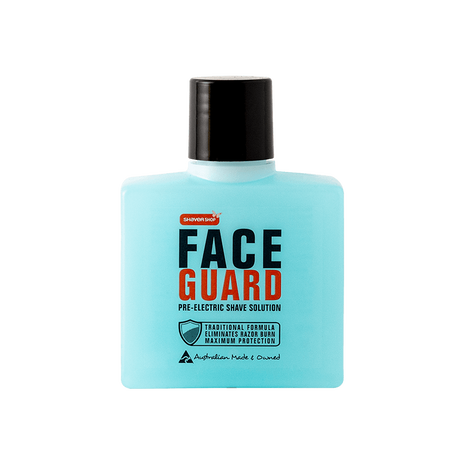 For something that will perform amazingly well on all hair types you might want to consider a foil shaver like the Braun Series 9 Shaver range. Or for the rotary man, Remington Quick Shave Rotary Shaver, we love it for the following reasons:
360o pivoting neck and flexing heads with precision ultra-dual track blades that maintain close contact with the skin
Waterproof for convenience in the shower, with gel or foam for ultimate comfort
Non-slip grip ergonomic design for comfort and control in your hand while shaving
Pop-up Trimmer included to detail sideburns and facial hair
Up to 45 minutes of cordless run time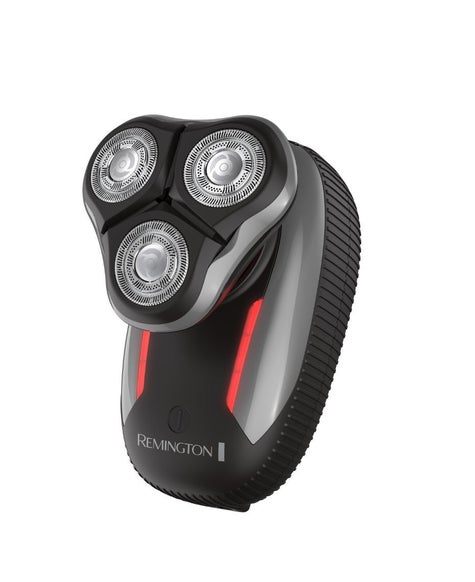 5. Do they have sensitive skin?
Irritation is something a lot of men experience needlessly. In fact more than one in three men suffer from irritation. Even more so when as we age. Whilst there is no hard and fast solution for shaving with sensitive skin, finding the correct electric shaver is the first step in its prevention.
When buying for sensitive skin, you can't beat Braun's Series 8 Electric Shaver range.
Option of Cleaning and Charging Station – making the maintenance a breeze!
Precise closeness: the Series 8 intelligently adapts to your beard density and shaves precisely even in the trickiest areas
10,000 sonic vibrations glide over your skin for maximum skin comfort
100% waterproof - making this an extremely versatile machine
Another option to help with sensitive skin is Face Guard Extra Sensitive Shave Oil.
Face Guard Extra Sensitive has been scientifically engineered to give you maximum protection against razor burn, nicks, cuts and irritation. Natural ingredients including cedarwood, argan oil and aloe vera, penetrate the skin and create a lubricating layer, to soothe and eliminate irritation, while moisturising and hydrating the skin.
So, before you start your search, consider:
What are they using and how are they using it?
What is their whisker like?
Do they have sensitive skin or a skin condition that will require a specialised solution?
Can they maintain it?
The best thing you can do is ask as many questions as possible about their needs then pop in to speak to one of our knowledgeable team members.