How To: Choose A Massage Gun
Apr 08. 2021 by
Shaver Shop Team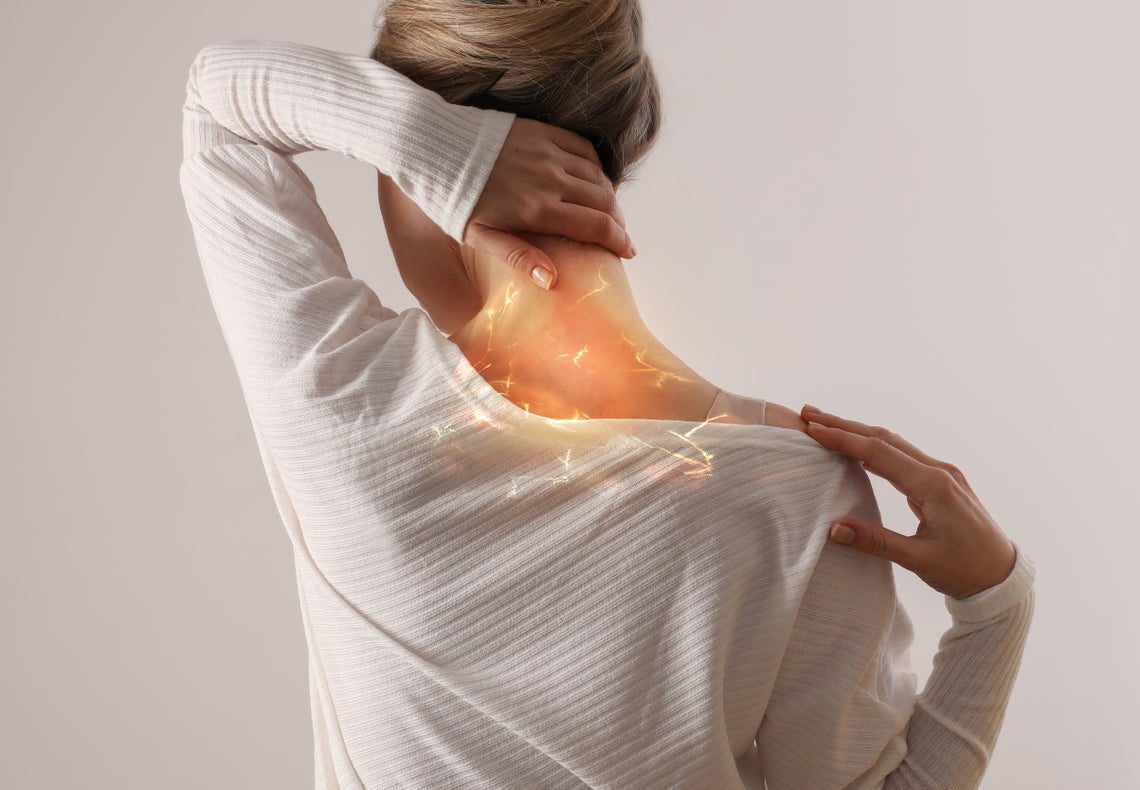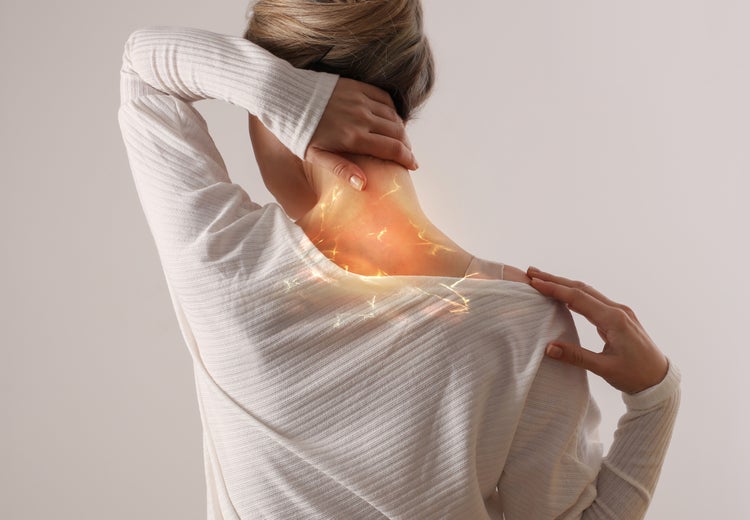 Aches and pains come and go for everyone, but not every discomfort requires ongoing professional support. Massage guns are becoming the new go-to tool for arm's reach tension relief, but what do they really do? They aim to reduce inflammation within the muscle tissue to help relax tight muscles, minimise soreness, tension and also facilitate recovery from a workout. Many people from different lifestyles and ages will find they can benefit from trying one – you could be a fit athlete, a desk-bound office worker or a retired senior and you'll each find comfort and relief for your individual needs.
When starting your research on which one to buy, it can be confusing with a variety of options available at a range of different prices. Before adding to cart, read on for a helpful and no-nonsense guide on each tool from our premium massage gun range.
UNDER $100
For a budget friendly option, the Homedics Physio Massager is a great entry massager. It has three intensity levels depending on your preference – low (2100 rpm/35Hz), medium (2550 rpm/42.5Hz), and high (3000 rpm/50Hz). This means within one minute, it can hit up to 3000 times! These rapid bursts of pressure are released into the muscle tissue which increases blood flow and therefore help with reducing inflammation. It includes three different head attachments for targeted relief plus a one hour run time for on-the-go convenience.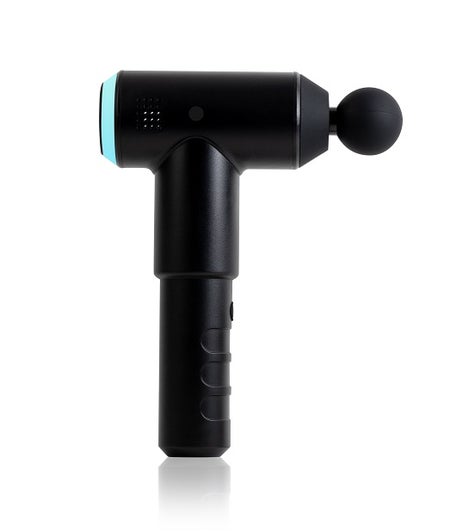 Attachments included: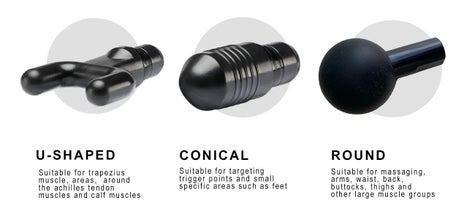 Verdict: A great tool for someone who has general aches and pains that cause mild discomfort. You may not need a handheld device with too many attachments so from a storage and convenience perspective, this is a great entry-level gun.
UNDER $150
Homedics Handheld Physio Massager (White)
Need something with a couple more attachments without breaking the bank? The Homedics Handheld Physio Massager has the same power as the Physio Massager with also three intensity levels, but includes two additional attachments which give you more variety in treatment. These are the acupressure flat head and targeted head – great for relaxing and releasing tight aching muscles. It's also nice and lightweight making it easy to handle and manoeuvre.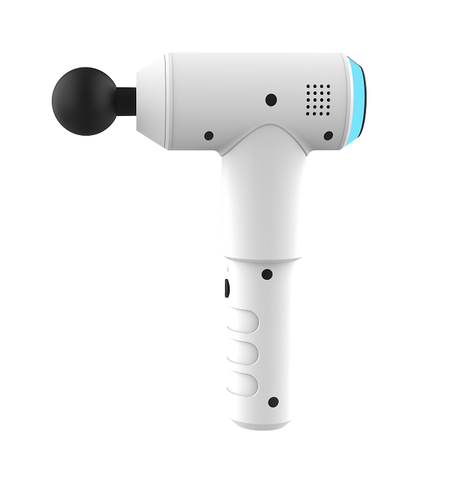 Attachments included: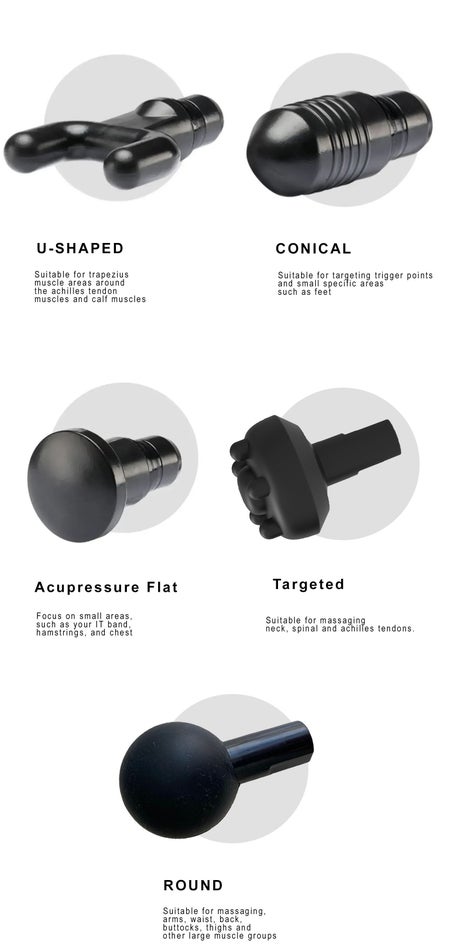 Verdict: The only difference between the Physio Massager and the Handheld Physio Massager (White) is the number of attachments so for an extra $20 (based on the RRP), give this a go if you know the additional attachments will make a difference to your pain in the neck, literally!
COMING SOON: Homedics Therapist Select Plus Percussion Massager
Taking it up a notch is the Homedics Therapist Select Plus Percussion Massager. It delivers high-tech percussion therapy to target relieve common muscle pain and stiffness. Percussion therapy means it safely stimulates the muscle tissue to deeply penetrate without bruising. If you want something with even more options than the previous two models, this has six intensities and six interchangeable attachments for an even more customisable self-treatment. It's slightly heavier (an extra 78g), but features a whopping four hour run time and an impressive LCD touchscreen. The easy touch controls clearly show your battery life and chosen intensity mode, not bad for under $150!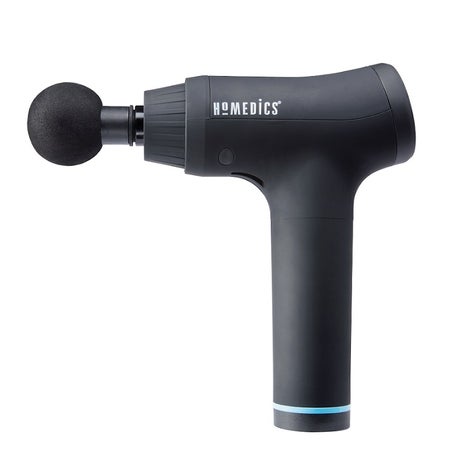 Attachments included: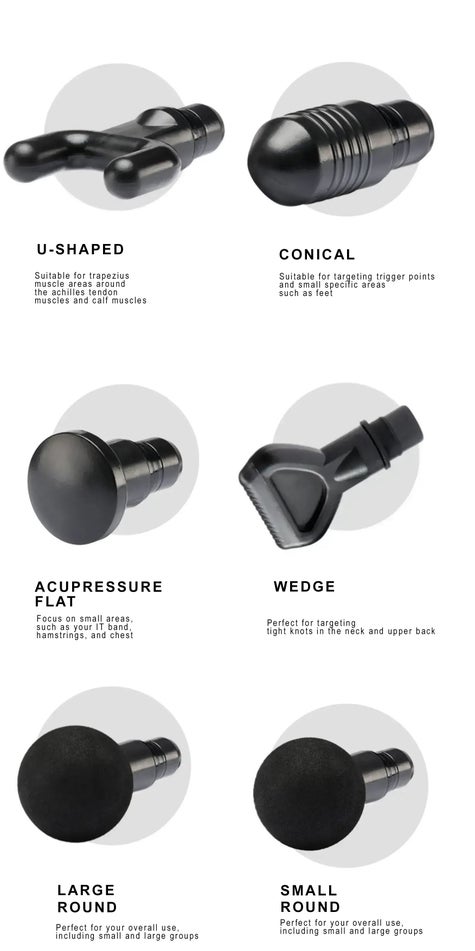 Verdict: If you want to enhance your pre-workout warmup or accelerate post-workout recovery this will help you do just that. The added run time also gives you peace of mind if it's a tool you'll be keeping in your gym bag. Don't worry it's not just for gym lovers, it will efficiently ease everyday aches and pains for the whole family with the varied treatments available.
UNDER $500
The Rolls Royce of massage guns is the Wahl Heat & Ice Massage Gun. Designed to relieve sore muscles post-workout and accelerate recovery from exercise injuries, it has five intensities to choose from with up to 3200 pulses per minute! It may have one less intensity mode and attachment than the Homedics Therapist Select Plus Percussion Massager, but it makes up for it with its Heat & Ice function. At the rear of the gun you have the option to further soothe stiff joints and relax the muscles with the added bonus of a cool touch or heat sensation - this is unlike any other models on the market! It's long and adjustable handle makes it easy to target hard to reach points, plus its two year warranty is the cherry on top. It's hard not to be impressed by this wonder of a product.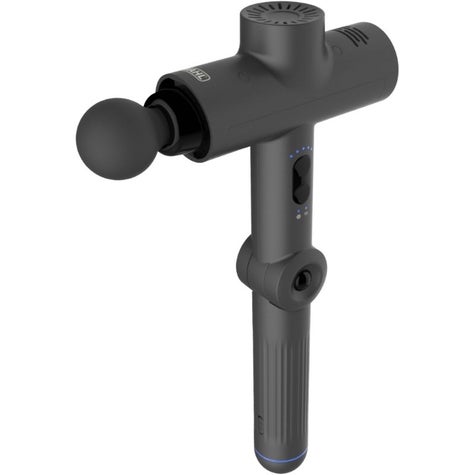 Attachments included: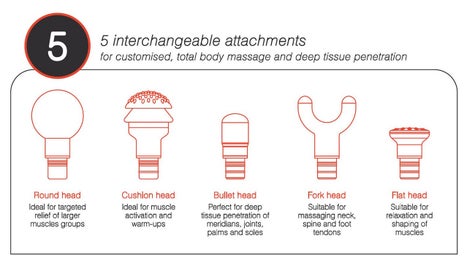 Verdict: This is the TOTAL package! If you're someone who is in the gym multiple times a week and you need to be able to rely on a tool to enhance your muscle recovery, this is the perfect investment for your wellbeing. Again, you don't need to be an avid gym member to be the only person who will benefit from this. The Heat & Ice function makes it extremely convenient knowing you have a massager, ice pack and heat bag in one! Perfect for absolutely anyone and everyone.
Remember to always use your tool according to its instructions and speak to a professional for further advice. To view our range of massage guns, click here to learn more.