Images
Hover to zoom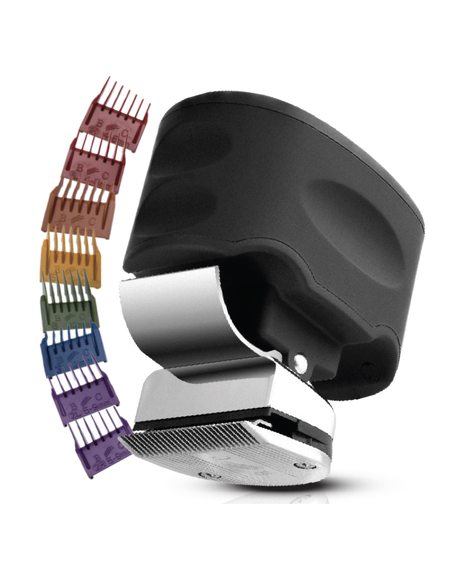 Product Description

Product Description

Precise and Fast DIY haircut
New and revolutionary approach to hair cutting. Discover the unique and ultimate device for DIY haircuts, allowing easy, fast and intuitive application to all types of hair, beard and moustaches. The Beast Clipper kit includes all the tools and accessories needed to get the perfect look everyday, without spending time, money and efforts.

Patented design and ergonomic handle
Discover the unique and innovative design of the hair clipper that perfectly fits your hand allowing easy access to all areas of your head. It has a pivoting head to easily adjust to all contours of the face and evenly cut beard and hair in the most delicate areas. The extra sharp cutting blade allow getting a perfect haircut in just few minutes.

Up to 60 minutes cordless operation
The Beast clipper is equipped with a powerful lithium-ion battery, which allows up to 60 minutes cordless operation. Thanks to this feature you are free to use your hair clipper anytime and anywhere. And if your charger runs out of battery you can easily use it in plugged mode.

8 combs included - get the hairstyle you want
The Beast clipper comes with everything you need for a perfect haircut and trim. The clipper adapts to any hair length thanks to the 8 cuttings combs of 3mm, 6mm, 9mm and 12mm.

Included Guards

No Guard Shortest Setting
No Guard Longest Setting
3mm
6mm
9mm
12mm
4-8mm Tapered Blending Guard
5-9mm Tapered Blending Guard

Product Reviews

Questions And Answers
Product Code
BEAST-CLIPPER
Details
https://www.shavershop.com.au/skull-shaver/beast-clipper-hair-clipper-for-the-head-beard-and-moustache-010798.html
Frequently bought with this item
Product features

Precise & fast DIY haircut
New and revolutionary approach to haircutting. Discover the unique and ultimate device for DIY haircuts, allowing easy, fast and intuitive application to all types of hair, beard and moustaches.

Patented design & ergonomic handle
Unique and innovative design, the hair clipper perfectly fits your hand allowing easy access to all areas of your head. It has a pivoting head to easily adjust to all contours of the face and evenly cut beard and hair in the most delicate areas.

Up to 60 minutes cordless operation
You are free to use your hair clipper anytime and anywhere. If your charger runs out of battery you can easily use it corded.

8 combs included - get the hairstyle you want
The clipper adapts to any hair length thanks to the 8 cuttings combs of 3mm, 6mm, 9mm and 12mm.