Images
Hover to zoom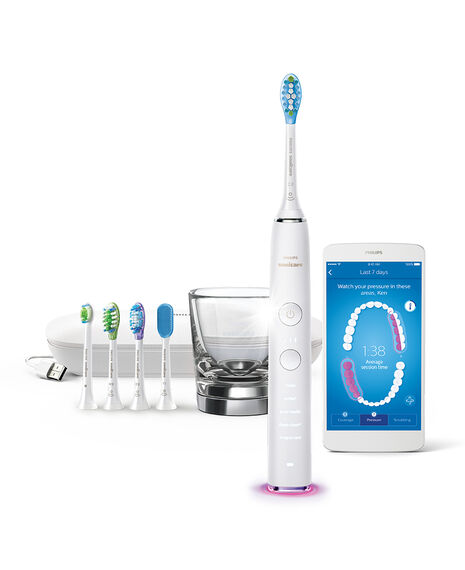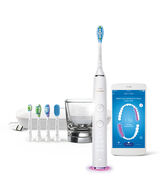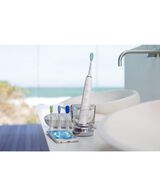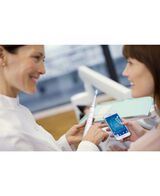 Sonicare Diamond Clean White Premium Electric Toothbrush
Details
https://www.shavershop.com.au/philips/sonicare-diamond-clean-white-premium-electric-toothbrush-009803.html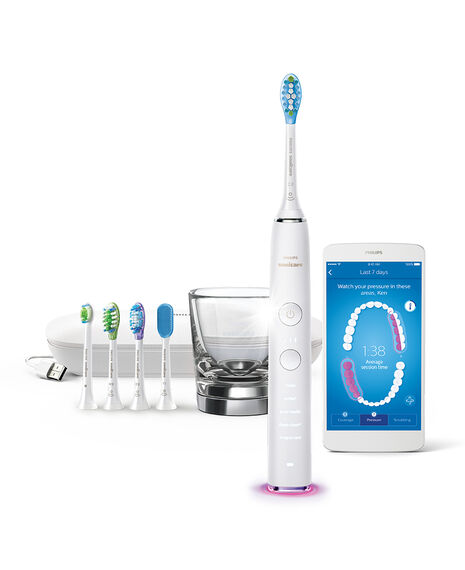 Product features

Say Goodbye to Plaque
Click on the Premium plaque control brush head to experience our deepest clean. With soft flexible sides, the bristles contour to the shape of each tooth's surface to provide 4x more surface contact and remove up to 10x more plaque from hard-to-reach areas.

Care for your Gums
Click on the Premium Gum Care brush head to improve your gum health. Its smaller size and targeted gum line bristles deliver gentle yet effective cleaning along the gum line, where gum disease starts. It's clinically proven to deliver up to 100% less gum inflammation and up to 7x healthier gums in just two weeks.

Whiter Teeth, Fast
Click on the Premium White brush head to remove surface stains and reveal your whitest smile. With its densely packed central stain removal bristles, it's clinically proven to remove up to 100% more stains in just three days.

TongueCare + Tongue Brush
Click on the TongueCare+ tongue brush to gently remove odor causing bacteria from the pores of your tongue. Its 240 specially designed MicroBristles get between all your tongue's ridges and grooves to remove bacteria and debris that lead to bad breath. Team with our antibacterial BreathRx tongue spray for superior cleaning and super fresh breath.

Never Miss a Spot
Thanks to our smart location sensor, you'll always know where you've brushed, and where you haven't. Real-time tracking on the Philips Sonicare app that lets you know when you've achieved a thorough clean, and coaches you to be a better, more mindful brusher.

TouchUp Feature
If you happen to miss a spot while brushing your teeth, your app's TouchUp feature will show you. You can then go back for a second pass, and be confident you are getting a complete clean, every time.

Focus Areas & Goal-setting
Any trouble areas your dentist has pointed out? We'll highlight them on your in-app 3D mouth map, and remind you to pay extra attention to these areas.

Too Much Pressure
You might not notice when you brush too hard, but your DiamondClean Smart will. If you use too much pressure, the light ring on the end of your handle will flash. This is a gentle reminder to ease off the pressure, and let your brush head do the work. 7 out of 10 people found this feature helped them become a better brusher.

Easy does it
With an electric toothbrush, you let the brush do the work. We've built a scrubbing sensor into your handle as a gentle reminder to reduce scrubbing. This way, you can improve your technique and get a gentler, more effective clean.
Product Description
Product Reviews
Questions And Answers
Product Description
Proven to improve oral health
• Removes up to 10x more plaque* for a deep clean
• Up to 7x healthier gums* in just 2 weeks
• Remove up to 100% more stains** in just 3 days
• Enjoy long-lasting fresh breath
Personalized in-app coaching to perfect brushing
• Tracks where you've brushed, highlights where you haven't
• Takes you back to any missed spots for 100% coverage
• Start taking better care of your trouble areas
• Alerts you if you're pressing too hard
• Guides you to reduce your scrubbing
Optimize your brushing
• Brush heads automatically select the optimal settings
• Make sure you're getting the most from your brush head
• Choose from 5 modes and 3 intensity settings
Sonicare Diamond Clean White Premium Electric Toothbrush
is rated out of
5
by
176
.
Rated

5

out of

5
by
AALI
from
this Philips HX9954/53 is amazing
in two weeks time no more bleeding gums, i can see the chanching. iam very happy this Philips HX9954/53, and i recommend it.
Date published: 2019-05-01
Rated

5

out of

5
by
RLHZur24
from
Satisfied Consumer
I have used Sonicare products for years and had a Sonicare Diamond Clean tooth brush that I enjoyed using. After a few years of use, the tooth brush malfunctioned and couldn't be repaired. After contacting Philips and being directed to their site, I researched the Diamond Clean Smart tooth brush and made the purchase. Setting up the Sonicare Diamond Clean tooth brush was extremely easy. It paired with my mobile phone, updated the firmware and was ready to use within 10 minutes. During this process, you get to select your brushing goal. I was extremely happy with the various cycles and attachment heads that came with the tooth brush. I can honestly say that it cleaned much better than the previous Diamond Clean tooth brush that I previously used. This toothbrush is amazing to use. Especially when you use the app to guide you through the brushing process. It highlights areas as you use it and displays areas that you missed or need to touch up. The Deep Cleaning cycle will run you through the cycle and highlight areas you need to touch up and run a touch up cycle on the missed areas. After the Deep Clean cycle, I will use the Whitening Cycle to polish my teeth which is also amazing. This cycle won't provide a touch up cycle if you missed any areas, however, you can run another cycle and it will combine the results from each cycle to create a complete picture of your brushing. Another great feature of using the app when brushing is it will alert you if you are brushing to hard and will flash a pink box with a message. This is extremely helpful during the brushing cycle so you don't brush to hard. I highly recommend this toothbrush for friends and family. It makes your mouth feel as if you just got out of the dentist chair having a deep cleaning done. Fantastic Product...
Date published: 2019-04-03
Rated

5

out of

5
by
jeromeo87
from
million dollar smile
my teeth feel polished and smooth. my gums are a healthy pink. even if I miss a morning of brushing my teeth still feel clean by the evening. Close associates know I drink coffee and are impressed how white and vibrant my teeth are. they are more shocked to find out its not by a whitening process but by the brush alone. the app is such a great help to improve my brushing and I actually look forward to brushing because of it. to see areas I miss gives me confidence I can go back and ensure I get a full clean mouth. the tongue brush head has my tongue the pinkest its ever been. im no longer subconscious about having close conversations with coworkers and friends.
Date published: 2019-03-28
Rated

5

out of

5
by
corvettegal
from
Great Company and toothbrush
I have a diamond clean toothbrush. I love this toothbrush it is the best one I ever had. It looks fancy and it works well with my cellphone. I love how it charges and the travel case is great. I think it is a tremendous toothbrush
Date published: 2019-03-27
Rated

5

out of

5
by
Mjhstyl
from
Perfect for those who care about good teeth health!
Philips hit a home run with this product! Love it!!
Date published: 2019-03-25
Rated

5

out of

5
by
AgiM
from
Brilliant clean!
I've been having my eyes on this product for soooooo long but I wanted to be 100% sure I want t before I invested in it. It was worth every penny! I've had it for a week and my teeth not only feel so much cleaner after every brush but also seeing the positive effects of the whitening function/brush. The app is a bit of a hit and miss - it doesn't always detect where I'm brushing but I like to use it anyway because I'm too impatient when it comes to brushing my teeth and never used to brush for long enough :)
Date published: 2019-02-05
Rated

5

out of

5
by
MikeS08
from
Teaches you how to brush teath and be efficent
I have always thought I was brushing my teeth the best way possible. But with this tooth brush it shows you where, how long and if you missed something. Besides the added features and a better toothbrush, it now takes less time to compete the job. Well done and well made.
Date published: 2019-02-01
Rated

5

out of

5
by
Mimi
from
Amazing toothbrush
I've bought several electric tooth brushes in the past and this one so far is the best. It has many features and modes to suit my needs. It thoroughly cleans my teeth and I can feel the difference. I'm very lazy and this device does all the brushing for me which is a great plus !!! The toothbrush is nice and small so I am able to brush the very back of my teeth.
Date published: 2019-01-30
Rated

5

out of

5
by
Anna1980
from
Mouth feels cleaner
A Christmas present to myself. Since using this amazing brush I think 2019 is looking good for my teeth! Mouth and teeth feel cleaner. I have more confidence in the way I clean my teeth thanks to the smart brush and matching app. Not too keen on the clunky charging base/glass but willing to put up with that because the brush is so good. Would definitely recommend.
Date published: 2019-01-10
Rated

5

out of

5
by
KRKR
from
Great clean, app is a novelty
Love the clean you get from this toothbrush, amazing. Charging is brilliant as well, you just place it in the glass and it's off to go. It comes with an app which is more of a novelty than anything, but it's pretty cool. There is a knack though to working it, you have to set it to record your brushing session after taking the toothbrush off the stand and before turning on the toothbrush on.
Date published: 2019-01-03
Rated

5

out of

5
by
Goldierox
from
Love it!
Upgraded from the previous model, didn't think it would be much different but brushing my teeth with it felt considerably better!
Date published: 2019-01-02
Rated

5

out of

5
by
MelB
from
Awesome toothbrush
I wish I had bought one of these sooner! Love the features and brushes that come with it, will definitely be using the travel adapter. Easy to charge. Fantastic price, thanks for the Black Friday sale
Date published: 2018-12-28
Rated

5

out of

5
by
Bec123
from
Fantastic toothbrush
I bought this toothbrush a few weeks ago and so far am really impressed. It cleans my teeth really well - probably the best they have ever had. It took a few weeks to get used to the 'buzzing' sensations but as you can set the speed I was able to start off on the low speed and increase over time. Highly recommend!
Date published: 2018-12-14
Rated

5

out of

5
by
thepenman
from
Better teeth
This is my third or fourth electric toothbrush. First sonic. After several months of use. And a couple of trips to the hygienist. She says my teeth and gums are doing so much better.
Date published: 2018-12-04
Rated

5

out of

5
by
Hilux1967
from
Rolls Royce of Electric Toothbrushes
Just wanted to say, ive had this for 2 days and it is the Rolls Royce of T Brushes, If you care about your mouth you will invest i this.
Date published: 2018-11-04
Rated

5

out of

5
by
iamclinthughes
from
Great Product!
I purchased this to replace my almost 6 year old Sonicare handle which was top of the range at the time. I didn't think there would be a huge difference between the two but I was wrong. I chose the white colour for the new brush. It feels as though Phillips have refined the "sonic" levels on the various settings which feels better. The product really feels premium with the finish on handle and the glass charging dock is a nice statement piece for your bathroom. Aesthetically, It's a shame the cord has to be always attached to the dock where the glass sits, but this is just opinion. I travel and the provided case is great. I find the app quite useful and informative and it is good that the brush is capable of recording your sessions so the next time you do have your phone and brush nearby it will upload the records for review. Overall, couldn't recommend it highly enough.
Date published: 2018-09-12
Rated

5

out of

5
by
BennyH
from
Fantastic clean
Have used this product for a week now. Cleans teeth really well. Even my tongue feels cleaner thanks to the tongue cleaning function. Automatically chooses cleaning setting when specific brush head is put on. The pressure sensor is a good feature as well. Not so excited by the app as it is just not my thing. Noticed significant improvements from the last model. Overall I highly recommend this product!
Date published: 2018-08-28
Rated

5

out of

5
by
Annamonica
from
The product is excellent
Is very easy of use. Lovely design. I'm very happy for the traveling option.
Date published: 2018-08-27
Rated

5

out of

5
by
Johndio
from
Much improved over previous models
I would highly recommend the purchase of this product.
Date published: 2018-08-23
Rated

5

out of

5
by
Jermlittle
from
The Best toothbrush
Best brush you can buy.My only complaint is the brush head cost.After a couple lessons you learn the correct way then your good to go.Phillips must make the brush heads cheaper.The unit cost &200-$300 So make the brush heads cheaper.
Date published: 2018-08-15
Rated

5

out of

5
by
JackJack
from
Product New has improvements over 5 years ago
Better and stronger motor, smart brush and has better pauses timed into the brush. Kinda wish the brush went up and down to get lower on the tooth.
Date published: 2018-08-15
Rated

5

out of

5
by
Zhanayah
from
Best toothbrush ever
This is an amazing awesome toothbrush love it and the tech in it is beyond this realm I recommend this product
Date published: 2018-08-05
Rated

5

out of

5
by
WantBrightSmile
from
Easy to use, great clean and polish
Never would have expected the great clean and polish with this new Sonicare Thanks Philips!
Date published: 2018-07-11
Rated

5

out of

5
by
Kathie0946
from
Great toothbrush
I am reviewing the brush it self instead of the "smart" part. I think Sonicare is the best electric toothbrush on the market. I have awesome reviews at Dentist appointments. I have owed probably 5 Sonicare brushes. As for the "smart" part. It was fun to have it hooked up to my phone and telling me where I miss brushing but to be absolutely honest the novelty has worn off on that part. I bought a new phone about 4 months ago and I still have not downloaded the app for the toothbrush to this new phone. I think this is a great idea to have it because I think most people don't brush correctly. The app shows you how to brush. I just sort of lost interest in that part.
Date published: 2018-06-29
Rated

5

out of

5
by
maxi76
from
My super Sonicare
This toothbrush makes my teeth feel the cleanest they have ever felt. It took a little getting used to compared to my previous round head electric brush but so glad I made the switch. Holds its charge very well. Very high tech.
Date published: 2018-06-21
Rated

5

out of

5
by
TimSeattle
from
Best Sonicare
The DiamondClean Smart toothbrush does it all. I love the three separate toothbrush attachments, each specific for cleaning, whitening and gum care. I use all three once a day and my teeth and gums are excellent.
Date published: 2018-06-14
Rated

5

out of

5
by
Ellie37
from
Great features
I like the design and the usage, it's very easy and self explanatory. I like how you can see your progress in the app with brushing your teeth.
Date published: 2018-05-22
Rated

5

out of

5
by
Happiness
from
Every day my teeth feel as if the hygienist just cleaned them
It takes a few days to learn to use - coverage, pressure, etc. the app helped a little but mostly it was practice. Because the brush is so "supersonic" toothpaste sprays on the mirror, but if I hold my other hand in front of my mouth the spray is controlled These are little things. The cleaning is why I love this brush. I wish I had had one years ago - I will say that I also use dental floss of course, and a water pick at least once a day as well. The combination is amazing - much much better than the combo with a regular dentist-recommended brush.
Date published: 2018-05-22
Rated

5

out of

5
by
Sheryllynn
from
great tooth brush
I am very pleased I bought the tooth brush. My gums are healthier, the teeth are whiter and my dentist saw a healthier teeth and gums
Date published: 2018-05-14
Rated

5

out of

5
by
Paula2018
from
Review
This is the best electric toothbrush I have ever used. My last dental cleaning was the easiest one in years thanks to this toothbrush.
Date published: 2018-04-11
bvseo_sdk, dw_cartridge, 16.1.1, p_sdk_3.2.0
CLOUD, getContent, 306ms
reviews, product
Can this toothbrush pair with multiple phones (ie each person has their own brush head and phone app)?
Hi, Thank You for your question. The Philips Diamond Clean Connected toothbrush can only be paired with one phone. Thank You. Kind Regards Shaver Shop
Date published: 2019-02-04
Hi there, is this the Sonicare Smart toothbrush that connects to an app?
Yes, it is.
Date published: 2019-01-27
Hi there. Is this the 9700 model?
Hi Kiet, No, this is the 9500 model. We do have the 9700 model available: https://www.shavershop.com.au/philips/sonicare-diamondclean-connected-luna-blue-premium-electric-toothbrush-009802.html Thanks, Shaver Shop
Date published: 2018-11-30
what is the exact model of this one?
Hi Ivan, Thank you for your question. Could you please advise which product you are referring to? Thanks, Shaver Shop
Date published: 2018-11-22
Hi there, I want to purchase Sonicare Diamond Clean White Premium Electric Toothbrush HX9924/06, and I noticed there is a $50 cash back on your website, I'm just wondering how can I claim back $50, I browsed Philips's website and it doesn't have this prom
Hello Yidi, Thank you for your question. A form is supplied with the device depicting how to redeem this offer. Kind Regards, Shaver Shop
Date published: 2018-08-02
bvseo_sdk, dw_cartridge, 16.1.1, p_sdk_3.2.0
CLOUD, getContent, 247ms
questions, product