Images
Hover to zoom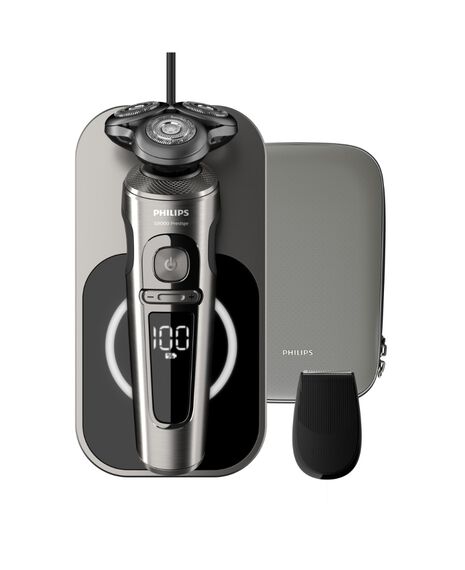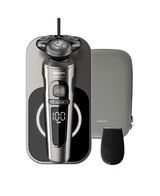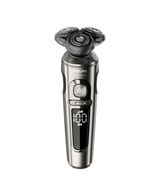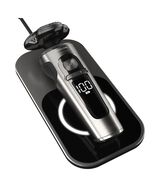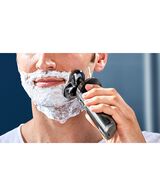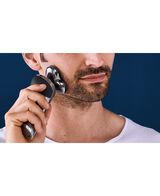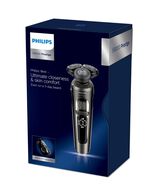 Series 9000 Prestige Shaver
Details
https://www.shavershop.com.au/philips/series-9000-prestige-shaver-010119.html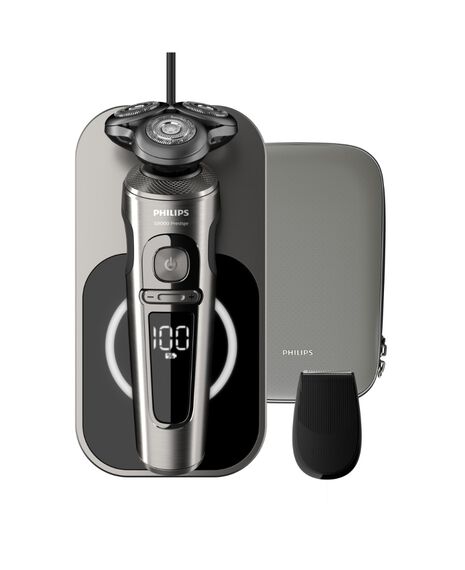 Product features

NanoTech precision blades
NanoTech precision blades are strengthened with nano particles and have extra strong and long-lasting sharp edges. They cut hair with the highest precision, delivering extremely close results at skin level.

BeardAdapt Sensor
Shave off even a dense 7-day beardeffortlessly. The BeardAdapt Sensor checks the hair density 15 times per second and automatically adapts the shaver to your hair.

Multi-direction ContourDetect
Get an extremely close, smooth shave. Multidirection ContourDetect heads follow every contour of your face, catching even difficult hairs.

Superb SkinComfort rings
Get a shave that glides extremely smoothly over your skin, with the Superb SkinComfort rings. The rings with metallic pigments have an anti-friction coating for superb gliding.

Excellent skin comfort systen
Our excellent skin comfort system enables you to get a highly efficient shave, even on a longer (up to 7-day) beard. Its new wider, rounder openings catch more hair per pass, resulting in a difference you can feel: excellent skin comfort.

SmartClick precision trimmer
Finish your look with the skin-friendly SmartClick precision trimmer. It is ideal for maintaining your mustache and trimming your sideburns.

Wireless Qi Charging
Wirelessly charge your shaver or any other Qicompliant device by simply placing it on the Qi charging pad which comes with the shaver.

Personal Comfort settings
Choose between 3 modes to customize your shave. Sensitive - for a gentle, thorough shave. Normal - for a thorough, everyday shave. Fast - for a quick shave that saves you time.

Premium pouch
The premium pouch protects the shaver as well as its accessories and wireless Qi charging pad.
Product Description
Product Reviews
Questions And Answers
Product Description
The closest electric shave
Blades with extra strong, sharp edges for ultimate closeness
Follow every contour, catching even difficult hairs
Uncompromised skin comfort
Rings coated with metallic pigments for superb gliding
Adapts 15x/sec for effortless shaving even on a 7-day beard
Fewer shaving passes for excellent skin comfort
Personalize your shave by choosing between three settings
Premium experience
Qi charging pad included, for wireless charging
Click-on trimmer for perfect mustache and sideburn trimming
Protects your shaver, accessories and Qi charging pad
Simply open the shaving head and rinse it for easy cleaning
Shave comfortably, wet or dry
Fully charge your shaver in three hours with Qi charging pad
Series 9000 Prestige Shaver
is rated out of
5
by
93
.
Rated

5

out of

5
by
ChrisB
from
Amazing how quick this model is
Used other Phillips shavers that are not expensive. This is worth the extra $$
Date published: 2019-07-21
Rated

5

out of

5
by
frankl
from
closest shave yet, comfortable in the hand
I love the prestige, and it is a quantum leap over the 9000 series I was using. Comfortable in the hand, again better than the regular 9000. Don't like the charging pad. too large, too heavy, and no real benefit. I am now hoping the Prestige heads last longer than the 9000 series heads I had before, they became very inefficient (blunt, loose etc) after 3 months.
Date published: 2019-07-16
Rated

5

out of

5
by
Ilan
from
The best shaver
I bought this shaver a month ago it's the best electric shaver I ever had I'm 60 years old it's does a best shave so smooth and close shave very happy with that
Date published: 2019-07-16
Rated

5

out of

5
by
David
from
Excellent
I have always been happy with my precious Phillips shavers but this one is absolutely the best. Shaves so close and smooth. Very quiet and easy to use. I use it every day both on my face and head . Can't praise it enough. Definitely worth the price. Love it.
Date published: 2019-07-10
Rated

5

out of

5
by
Andie72
from
Best shave!
Great buy...delivers a great shave. Would highly recommend this product. I prefer a close shave and this razor delivers.
Date published: 2019-07-09
Rated

5

out of

5
by
John
from
The best
I have owned cheaper models of Philips wet & dry shavers in the past & thought they were great. I was hesitant because of the price but now that I have upgraded to the 9000 Prestige I would never have believed it could do a better job than previous shavers. I am amazed at the closeness of the shave using the 9000 Prestige. Well worth the extra dollars.
Date published: 2019-07-03
Rated

5

out of

5
by
Willo2404
from
Best Electric Shave Ever
I brought this shaver to update one I have had for about 8 years. I should have done it sooner. The closest shave I have ever had from an Electric Shaver.
Date published: 2019-06-30
Rated

5

out of

5
by
Adam C
from
Taking a bit of getting used to...but loving it!
I have been using the Philips Prestige 9000 for nearly 2 weeks now and well into the so called adjustment phase. This was a birthday present to myself as an upgrade from my ageing Braun Series 7. Having used foil shavers for over 12 years I was reluctant to change but wanted a shaver that was a bit more suitable for travel and also still providing a close shave. The first three days of using the new Philips shaver I honestly hated it. I found it hard to adjust to the new shaving method and found the shave wasn't as close and was about to give up and return it. Now however after nearly 2 weeks my skin is adjusting and I am getting a very close shave better than I was with the Braun. I am also finding less irritation from the new shaver which I was surprised with. I also prefer the feel of the Philips Prestige in my hands and the shaver isn't as noisy. The shaver has a real premium feel and the quality overrides the Braun by far. An added bonus is that the shaver doesn't require a cleaning station and a simple rinse under warm water is all that's needed! An added bonus and saving long term. This is also a handy feature for travel! Overall I am very happy with the shaver and love the Qi charging pad which I also use to charge my iPhone. Give it time and you will be happy!
Date published: 2019-06-18
Rated

5

out of

5
by
Smithy
from
Simply the best!
I have to shave my whole head... and had been using a Panasonic. This shaver is super quiet, shaved close and easy to clean The wireless charger is a gimmick, but I like it. All well built and stylish. I love it so far.
Date published: 2019-06-12
Rated

5

out of

5
by
Mohsan
from
Best ever electric shaver
Don't look further than this razor. It actually works remarkably well on my very tough beard. So close its almost like a real shave using my blade shaver, but much more convenient.
Date published: 2019-06-11
Rated

5

out of

5
by
Desmo
from
Great shave
Very happy with the shave it gives, quick and easy to shave with. Very easy to rinse clean. The three blade retaining rings are a bit fiddle to refit.
Date published: 2019-06-03
Rated

5

out of

5
by
jason leach
from
great razor
this is the best electric razor i have ever used love it
Date published: 2019-05-29
Rated

5

out of

5
by
Gezza
from
Great for coarse beards!
Bought this for my husband who goes through 3 or more disposable razors on his 4-6 day beard. The series 9000 is AMAMZING! tough even on his 7 day growth. Can't recommend it enough. It is expensive but worth it's dollar snd saving us money in the long run
Date published: 2019-05-24
Rated

5

out of

5
by
Mandy
from
Great shaver
Brought this shaver for my son. He loves it. Purchased online and was delivered in less than 24 hrs. Great service
Date published: 2019-05-21
Rated

5

out of

5
by
Merina
from
Bought for gift
Gave it to my husband as his birthday gift. He has very sensitive skin. He said he loves this shaver and don't cause irritation. He rates 5/5.
Date published: 2019-05-20
Rated

5

out of

5
by
Shaawing59
from
Amazing!
I thought my old Philips Electric Razor was good enough until I bought this model. It truly is amazing and cuts down my shaving time by 30%.
Date published: 2019-05-12
Rated

5

out of

5
by
Todd998
from
Very good product
I bought this shaver best thing I done in a long time. Very easy to use close shave
Date published: 2019-04-25
Rated

5

out of

5
by
Lance
from
A great upgrade
Had a previous philips rotary for the last 10 years and it's still going strong (probably should have just bought a new head) but I was keen for something different The shave is better on the new model but only just and I do like the wireless charging Quality of build is great just wish it had a built in trimmer like my old model
Date published: 2019-04-11
Rated

5

out of

5
by
John M
from
Excellent performance.
I've been using this for three months. The first two shaves caused a little irritation to the skin but after that, it's been smooth sailing. I've been a blade shaver for 35 years and am very impressed with the results using the Philips. In terms of value for money, it was purchased on special for $499 (with $50 cashback from Philips). It's normal retail price is $699.
Date published: 2019-03-30
Rated

5

out of

5
by
Adam
from
Closest shave
I bought this shaver a month ago and love it. I normally only blade shave as most electric razors give me a rash while trying to get a close shave. This one gives as good a shave as blade shaving without the rash. Great product
Date published: 2019-03-27
Rated

5

out of

5
by
Bootscooter
from
Great product gives good shave quiet and efficient
I like everything about this shaver it is compact quiet and gives me a very good shave in quick time very satisfied customer.
Date published: 2019-03-26
Rated

5

out of

5
by
Bill
from
Best electric shaver so far!
I have had many top of the range Philips electric shavers before. So decided to upgrade one last time to see if Philips had made any improvement on the 9000 series prestige otherwise was going to swap to Braun or Panasonic. This is the best electric shaver I have ever used. It shaves as close as the blade shavers. i use a blade shaver every now and then if I want a really close shave. Throw away your other shavers and just upgrade to this. They even have a 90 day money back guarantee. I know for a fact that I will not be using it as I will not need to return mine. But I did wait for Shaver Shop to put it on special from $699 down to $499.
Date published: 2019-03-25
Rated

5

out of

5
by
Jimbo
from
The best shaver
This is by far the best shaver I have ever used I highly recommend this to anyone you won't regret it
Date published: 2019-03-25
Rated

5

out of

5
by
Elvis
from
Closer &smoother shave than I expected!
I have been shaving for a long time and predominately I have aligned with the Braun brand. Being of mediterranian background, my facial hairs are thick and grow on an acute angle which in turn creates the dreaded "in grown" hairs!. I decided to purchase the Philips Series 9000 Prestige shaver to hopefully use one form of shaver rather than use an electric shaver followed by a blade to remove hairs the electric shaver has missed. To my surprise, the Philips Prestige shaver is closer and smoother than expected. The unit is ultra lightweight and from my perspective I can resort to using one shaver as this is the closest shave I have endured in my lifetime. Well Done Philips on creating a shaving device for customers to experience the ultimate shaving experience.
Date published: 2019-03-19
Rated

5

out of

5
by
Turtle
from
9000 shaves
I am so happy with my Philips shaver... never want for any other brand this is the ultimate in shaving experience.
Date published: 2019-03-10
Rated

5

out of

5
by
Delaney
from
Best electric shaver I have ever owned
After a month of owning this shaver I can honestly say it's the best one I've ever used and love that I can charge my iPhone on the charging pad. Would highly recommend buying this to anyone considering buying this shaver
Date published: 2019-03-09
Rated

5

out of

5
by
Tom48
from
A good comfortable shave
I have used electric shavers for 50 years. Most have been Braun which are food as well as Panasonic, Remington, Phillips and more. I chose this one because it was top of the range with a steep discount. I have bought much cheaper Phillips before and they just don't compare. The ease of charging, changing head heights and gliding blades make this shaver so superior. My Mum used to say to me"you get what you pay for". This is a ripper.
Date published: 2019-02-11
Rated

5

out of

5
by
Maxwell
from
Best Shaver I've used
Philips shavers is all I have been using for the past decades, so I don't know any different. Shaving with S900Prestige gives me the closest shave ever. I clean my skin with soap and brush, dry and cool the skin down. Then i shave ( on mid speed). Result is comparable/ similar/ to a " cut throat razor" a shave. The difference is that I guide my Philips against hair growth. Highly recommended: looks impressive, seems well build, shaves Very Well!!!. Great at home Great when traveling ( just came back from three weeks on the road ) If this model will last me over 10 years ( like my old topoftherangePhilips shavers had), then I'd give it 6 Stars= Excellent. Bought at unsurpassed: ErinaShaverShop
Date published: 2019-02-01
Rated

5

out of

5
by
Aussiesnake
from
This is the best shaver I have ever had.
It shave fast and clean. I have use Philips shaver for the last 30 years and it never let me down. Actually this is the seventh shaver so far.
Date published: 2019-01-28
Rated

5

out of

5
by
leonie 7
from
compact unit
I bought this for a birthday present for my husband .He is so impressed with its close shave and the style of it .
Date published: 2019-01-22
bvseo_sdk, dw_cartridge, 16.1.1, p_sdk_3.2.0
CLOUD, getContent, 267ms
reviews, product
How many minutes of shaving time do you get after a full charge and can you do a quick charge enough for one shave after the battery runs out?
Battery hasn't ran out to know. Lasts forever.
Date published: 2019-08-11
Philips S9000 Prestige vs Philips S9111 - What are the main differences between these units?
As far as I can determine the Philips S9111 is no longer available so comparing it with the S9000 Prestige is irrelevant. From my experience on the S9000 Prestige, which is very positive, if your budget allows buy it since it is the best Philips shaver I have used.
Date published: 2019-07-08
Does anyone know if the replacement heads from this will fit on the 9000 Series S9111 Electric Shaver (or if they have annoying orange clips that break)? Phillips page indicates that the replacement Nano Blade heads are only compatible with the S98xx.
the new 9000 series prestige head fits my old one with the orange clips that is the whole assembly of the 3 blades havent tried the actual blades in
Date published: 2019-07-07
Can I use a spray cleaner recommended for other Philips brands on this shaver?
Yes
Date published: 2019-07-06
What cleaning stations are compatible with this shaver?
Currently there is no cleaning station available for this model. Manual cleaning methods for this razor, the one and only negative about the prestiege
Date published: 2019-06-18
Can this be used as a body groomer as well?
Hi, Thank you for your question. The Philips Series 9000 Wet & Dry Prestige SP9860/13 Electric Shaver is designed for use on the face. If used in areas other then the face, this may contradict the lifespan of the blades. Thank You. Kind Regards Shaver Shop
Date published: 2019-03-04
How is this shaver for thick beard shaving every two days?
I have a medium beard and need to shave every 36 hours. I don't think you would get away with a 2 day beard.
Date published: 2019-02-20
Need to ascertain where the Phillips Series 9000 Wet & Dry Prestige Electric Shaver is made and if this shaver has the 90 day money back guarantee option?
Hi Elvis, Thank you for your question. The Philips 9000 Prestige shaver SP9860/13 is made in Holland and contains a 90 day trial offer. Thank You. Kind Regards Shaver Shop
Date published: 2019-02-19
bvseo_sdk, dw_cartridge, 16.1.1, p_sdk_3.2.0
CLOUD, getContent, 8ms
questions, product