Images
Hover to zoom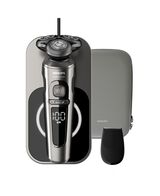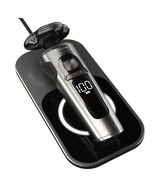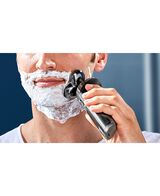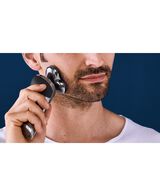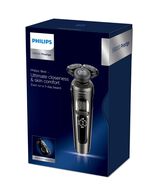 Series 9000 Prestige Shaver
Details
https://www.shavershop.com.au/philips/series-9000-prestige-shaver-010119.html

Product features

NanoTech precision blades
NanoTech precision blades are strengthened with nano particles and have extra strong and long-lasting sharp edges. They cut hair with the highest precision, delivering extremely close results at skin level.

BeardAdapt Sensor
Shave off even a dense 7-day beard effortlessly. The BeardAdapt Sensor checks the hair density 15 times per second and automatically adapts the shaver to your hair.

Multi-direction ContourDetect
Get an extremely close, smooth shave. Multidirection ContourDetect heads follow every contour of your face, catching even difficult hairs.

Superb SkinComfort rings
Get a shave that glides extremely smoothly over your skin, with the Superb SkinComfort rings. The rings with metallic pigments have an anti-friction coating for superb gliding.

Excellent skin comfort systen
Our excellent skin comfort system enables you to get a highly efficient shave, even on a longer (up to 7-day) beard. Its new wider, rounder openings catch more hair per pass, resulting in a difference you can feel: excellent skin comfort.

SmartClick precision trimmer
Finish your look with the skin-friendly SmartClick precision trimmer. It is ideal for maintaining your mustache and trimming your sideburns.

Wireless Qi Charging
Wirelessly charge your shaver or any other Qicompliant device by simply placing it on the Qi charging pad which comes with the shaver.

Personal Comfort settings
Choose between 3 modes to customize your shave. Sensitive - for a gentle, thorough shave. Normal - for a thorough, everyday shave. Fast - for a quick shave that saves you time.

Premium pouch
The premium pouch protects the shaver as well as its accessories and wireless Qi charging pad.
Product Description
Product Reviews
Questions And Answers
Product Description
The closest electric shave
Blades with extra strong, sharp edges for ultimate closeness
Follow every contour, catching even difficult hairs
Uncompromised skin comfort
Rings coated with metallic pigments for superb gliding
Adapts 15x/sec for effortless shaving even on a 7-day beard
Fewer shaving passes for excellent skin comfort
Personalize your shave by choosing between three settings
Premium experience
Qi charging pad included, for wireless charging
Click-on trimmer for perfect mustache and sideburn trimming
Protects your shaver, accessories and Qi charging pad
Simply open the shaving head and rinse it for easy cleaning
Shave comfortably, wet or dry
Fully charge your shaver in three hours with Qi charging pad
Series 9000 Prestige Shaver
is rated out of
5
by
247
.
Rated

5

out of

5
by
Bob W
from
Sharp as a tack
Chose the latest and greatest design after using Phillips for some years, this is every bit as good as it states, very close shave, blade like. Innovative charging device, all round looks, performs great, looking forward to many more years of clean shaving.
Date published: 2020-04-26
Rated

5

out of

5
by
morty1971
from
It is smooth quiet and a great cut
This product charges well lasts long on charge has a close cut definitely easy to clean best shaver I've ever had
Date published: 2020-04-24
Rated

5

out of

5
by
mhixi28
from
Best Shaver I've Used
This S9000 gives such a close shave, it look nice too. I like the battery feature which shows how much charge is left, my previous Philips shaver just ran out of charge without me knowing in advance. Battery life is very good. This is the second S9000 shaver I had bought in this last month, I bought this as a gift for my brother birthday next week - but I gave it to him the day after it arrived. I wanted him to replace his current old shaver. I know he will be amazed by its close shave and features. Something also to note is that Philips have a very good customer service, I had dealt with a Philips customer service representative called Greg.
Date published: 2020-04-22
Rated

5

out of

5
by
FootsieFan
from
Excellent product
Exceptionally smooth shave, easy to use and charge.
Date published: 2020-04-15
Rated

5

out of

5
by
m8mh
from
This is the BEST shaver I've used so far
I had been using the Philips SensoTouch 3D for a number of years and found it to be very good. Then last month I decided to treat myself and buy the S9000 - I was a bit hesitant at spending over £300 for a new shaver. I then ended up speaking to a Philips customer service agent named Greg. He told me that the new S9000 was superb and that this model was selling very well, so on his recommendation I bought one. I used it when it arrived a few days later. This S9000 was amazing, such a close shave and NO more buying expensive solution to clean the shaver, it's all now washed under the tap. Today I just bought another S9000 shaver for my brother - it's his birthday next week. This will be my gift to him. Thank you, Greg for your original recommendation.
Date published: 2020-04-14
Rated

5

out of

5
by
Big Mac
from
The best Philips shaver is true!
Such a smooth shave and stays smooth regardless of charge left in battery.
Date published: 2020-04-14
Rated

5

out of

5
by
PaulF73
from
Best Shaver
This is undoubtedly the best shaver I have owned. I have not normally gone for the top of the range Philips shaver and found them perfectly adequate. However, this is in a different league! Shaves even long stubble with ease and no pulling! Fantastic product!
Date published: 2020-04-07
Rated

5

out of

5
by
Dickyp18
from
Great Close Shave
Best electric shave I have had. Closest to a wet shave that I've found. A1
Date published: 2020-04-05
Rated

5

out of

5
by
Andrew
from
Great results
Very happy with both the performance and ease of use of the shaver. The quality of shaves is great.
Date published: 2020-03-31
Rated

5

out of

5
by
Wal71
from
Simply the best
The smoothest closest shaver I've had, no grabbing at the facial hairs even after 4 days growth. Worth every penny !
Date published: 2020-03-29
Rated

5

out of

5
by
Southy
from
What's shaver
The rating is worthy. What a product, I have been using for over two weeks and usually I need a razor to finish off my shave, not with this, picks up hairs at back of neck, chin. The quality outstrips the price. I have already bought another set of heads for the future. Cleaning is easy, recharging is quick, everyone needs one for birthdays and Christmas. Phillips get ready.
Date published: 2020-03-29
Rated

5

out of

5
by
Trobb
from
First electric razor
Having used a normal wet razor all my life I had to swap to an electric razor because every time I cut myself it took a long time to stop bleeding because of the heart medicine I have to take now. I am very suprised how quiet the razor is and how close a shave it gives me. I am very happy with the product. The only downside is the price, very expensive.
Date published: 2020-03-29
Rated

5

out of

5
by
Speedfreak
from
Absolutely brilliant
I was sceptical at first about the reviews of this model and that it would really be that good, but I can now honestly say it's the best shaver I've ever bought. I can shave even after a few days and it easily gets every hair without pulling or jamming and is so smooth on the skin it almost feels like it's not actually running. Easy to clean and the wireless charging is nice and easy too. Highly recommended to anyone looking for a new shaver!
Date published: 2020-03-26
Rated

5

out of

5
by
DBBr.
from
Well built
Shaves well and easier to clean far better than previous model with the unreliable smart clean unit
Date published: 2020-03-26
Rated

5

out of

5
by
colmal
from
The wet and dry option is good
Easy to keep clean. Easy to see exact battery status. Useful reminders on the display are helpful. Only disappointment is the charging pad is large when travelling and charging time is long.
Date published: 2020-03-21
Rated

5

out of

5
by
Snowspot14
from
Awesome
Best electric razor ever. As close as a razorworth the big $$ Recommended
Date published: 2020-03-20
Rated

5

out of

5
by
Big H
from
The best
I have been a lifelong user of Philips electric razors (aged 70+) and have lost count of how many Philips electric razors I have bought, but I thought long and hard about buying the Prestige, mainly on the price, but having bought one and used it for a couple of months I can honestly say this is the best razor I've ever bought, the shave is superb, the ergonomics great and pleasure to use, I would highly recommend buying, the best yet, thanks.
Date published: 2020-03-11
Rated

5

out of

5
by
RichieRichStoke
from
Best Electric Shave Ever!
Easily 5 stars. Effortless shaving. Lovely smooth finish. Battery last ages. Definitely recommend if you can afford,it is pricey but worth it.
Date published: 2020-03-04
Rated

5

out of

5
by
RM01
from
Close shave.
Very satisfied with the performance so far. Easy to use and easy to charge.
Date published: 2020-03-01
Rated

5

out of

5
by
Rocky007
from
This product just looks beautiful to look at.
It is the best shaver on the market with a super close shave,it gives a clean feel after a shave,I recommend this product as I have always used Philips shavers most of my life,best brand for shavers,new advanced technology in this shaver and it uses wireless technology for charging it.
Date published: 2020-02-23
Rated

5

out of

5
by
Saimax
from
Excellent shaver.
Best shaver I have ever used, and I have used both phillips and braun products.
Date published: 2020-02-22
Rated

5

out of

5
by
Myron
from
Series 9000 Shaver
This shaver is excellent. Very close shave and easy to handle. Feels very state of the art.
Date published: 2020-02-15
Rated

5

out of

5
by
Bennybullfrog
from
As good as a wet shave, brilliant
Was looking for a shaver that gave me the closeness of a wet shave but without the hassle.. this shaver fits the bill
Date published: 2020-02-12
Rated

5

out of

5
by
Johmau
from
Excellent Shaver
May I first of all state that I am very close to my Eightieth Birthday and I have used Foil Shavers for over 60 years! I ordered the Philips Prestige Shaver just over 3 weeks ago and it arrived within 24 hrs of placing my order so the first thing that I did was to charge it ready for use the following morning. The first thing that I noticed when I turned it on the following morning was the sound (or lack of it) that it made and because I wear Hearing Aids which I hadn't put in at the time, I wasn't sure that it was turned on but it was!!! My first Shave with the new Shaver was (user) difficult because I had to get used to the different shaving technique i.e. circular motion as opposed to up and down movement! The result after the first shave was good but over the ensuing weeks, the "smooth" finish has improved on a daily basis! It is so easy to clean i.e. initially with the Shaver turned on, under warm running water and with the Cutter head in place then hold the Cutter Head under warm running water after which I dab both parts on the towel and blow excess water out of them then leave both items to air dry for assembly later. I have now shaved 23 times and the display is still showing 28% capacity!!!!!! The build quality of the Shaver is excellent and it is extremely easy to remove and replace the Cutter Head during the cleaning process which I thought that I would struggle with as I suffer from severe Arthritis in both of my Wrists! I would thoroughly recommend this Shaver
Date published: 2020-02-09
Rated

5

out of

5
by
Sparky
from
Great shaver
Excellent shaver. No trouble Shaving a 5 day beard off.
Date published: 2020-02-07
Rated

5

out of

5
by
Volkswagon
from
Great Product
A great looking shaver and easy to use a great shaving experience with 3 shaving levels
Date published: 2020-02-06
Rated

5

out of

5
by
Brizzy99
from
Fantastic product
Simply the best all-round shave I've ever had. It is expensive but I believe it is worth it, a real step up after my 9000 series - would highly recommend
Date published: 2020-02-03
Rated

5

out of

5
by
Absabri
from
Closest shave ever
An amazing electric razor. Very quiet but yet powerful. Such a close shave even on stubble several days of growth. Lovely design, looks classy plus wireless charging! I've been using electric razors for 15 years this is the best ever, nothing compares or comes as close as this one.
Date published: 2020-02-03
Rated

5

out of

5
by
PAN1
from
Excellent Shaver
No risk of cutting myself which is a problem when taking warfarin medication.
Date published: 2020-01-31
Rated

5

out of

5
by
Johnny
from
Fantastic shaver
First electric shaver I have bought and used.Shaves very close and easy to use,great product
Date published: 2020-01-24
bvseo_sdk, dw_cartridge, 16.1.1, p_sdk_3.2.0
CLOUD, getContent, 276ms
reviews, product
Hi, is the battery Nicad or Lithium ion? Thanks.
Lithium ion.
Date published: 2020-05-30
Is this model waterproof, Can it be used in the shower ?
Yes it is waterproof, I have been using it in the shower for the last 12 months without issue.
Date published: 2020-05-03
Will this work if I travel to Japan and use an adaptor? Or will the voltage difference cause damage?
It comes with a 100 - 240V plug so you are Ok for using an adaptor overseas. The charging pad has a USB connector so can be plugged in that way as well. I can charge it on my Samsung phone charging pad too.
Date published: 2020-03-10
Dose this come with its own auto cleaning tube if not what model would have this as standard
Mine didn't I think they are a waste of money I had one before and have unopened cleaning fluid left over just as easy wash under tap each use
Date published: 2020-02-17
Is the 9000 series Cord and Cordless
Hi, Thank you for your question. The Philips Series 9000 Prestige shaver is cordless operated. Thank you. Kind Regards Shaver Shop
Date published: 2019-09-11
How many minutes of shaving time do you get after a full charge and can you do a quick charge enough for one shave after the battery runs out?
Battery hasn't ran out to know. Lasts forever.
Date published: 2020-03-12
Philips S9000 Prestige vs Philips S9111 - What are the main differences between these units?
As far as I can determine the Philips S9111 is no longer available so comparing it with the S9000 Prestige is irrelevant. From my experience on the S9000 Prestige, which is very positive, if your budget allows buy it since it is the best Philips shaver I have used.
Date published: 2019-12-22
Does anyone know if the replacement heads from this will fit on the 9000 Series S9111 Electric Shaver (or if they have annoying orange clips that break)? Phillips page indicates that the replacement Nano Blade heads are only compatible with the S98xx.
the new 9000 series prestige head fits my old one with the orange clips that is the whole assembly of the 3 blades havent tried the actual blades in
Date published: 2019-07-07
bvseo_sdk, dw_cartridge, 16.1.1, p_sdk_3.2.0
CLOUD, getContent, 224ms
questions, product