Images
Hover to zoom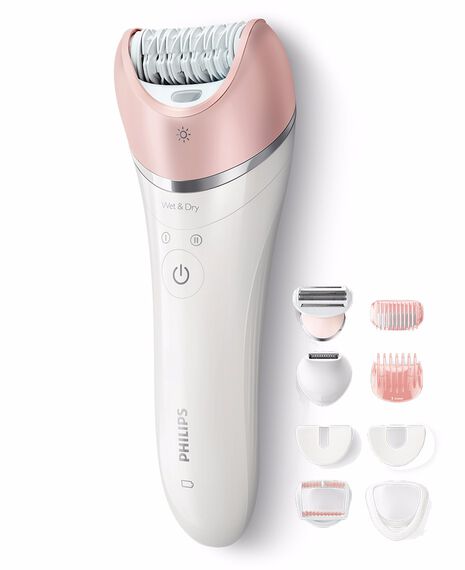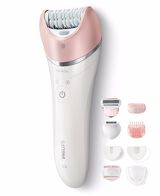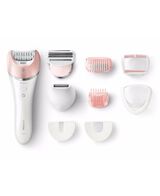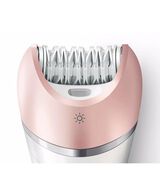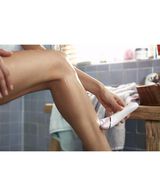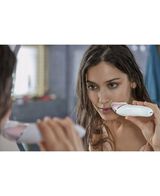 Satinelle Advanced BRE640 Epilator
Details
https://www.shavershop.com.au/philips/satinelle-advanced-bre640-epilator-008866.html
Product features

Unique Ceramic Material
Our epilator head is unique in being made from a rough ceramic material that grabs hair firmly, even fine hairs won't slip from its grip.

Patented Epilation System
All of our Philips epilators have a unique system where the tweezers lift and gather the lying hair, guide them to the pulling point firmly grabbing and pulling out the hair. Combined with the unique round ceramic discs it epilates closer to the skin for optimal results and more gentleness.

Use at 90 Degree Angle
The Philips Satinelle will always give you the best performance when used at a 90 degree angle.

Wet & Dry Use
For a gentle and comfortable use during your shower or bath routine with anti slip grip for optimal wet and dry use.

Widest Epilator Head
SWidest epilation head for optimal hair removal in one stroke for long lasting results.

Unique Light
Unique light ensures you don't miss fine hairs for best epilation results for all body parts.

Shaving Head
The shaving head and trimming comb provide close shave and more gentleness in different body areas.

Facial Area Attachments
For more gentleness in all different body areas it includes a facial area cap which removes unwanted facial hairs and a delicate area cap for hair from underarm and bikini.

Massage Cap
Massage cap eases the epilation sensation.

Skin Stretcher
Skin stretcher cap tightens skin during epilation.
Product Description
Philips Satinelle Epilator Range
Product Reviews
Questions And Answers
Product Description
Our fastest ever epilator has unique ceramic discs that rotate at a greater speed than ever before and firmly grip fine and short hairs. You can now smoothen your skin before and after epilating by treating all your different body areas.
Philips Satinelle Epilator Range
Satinelle Advanced BRE640 Epilator
is rated out of
5
by
137
.
Rated

5

out of

5
by
Claudia231
from
Satinelle wet and dry epilator
I received a free sample of satinelle advanced wet and dry epilator. This product is amazing. Easy to use, painless. Easy to storage and clean. Leaves my sling super soft. You can use it in wet or dry skin.
Date published: 2018-07-12
Rated

5

out of

5
by
bebita
from
Loved my Satinelle
I received my Satinelle epilator as a free sample to try 3 weeks ago, and since then I have used it 3 times, with excellent results. It comes with 2 shaver heads, a depilator head, and several safety caps. First thing you have to do is charge it for a couple of hours, and it is pretty much ready to use out of the box, no complicated instructions, or parts to assemble, if you need to switch heads, it is done with one button on the back of the unit. I tried the Satinelle on my legs, it was fast, and not much pain, less than waxing, the small light on the unit is very functional, no missed spots with it! I have used wet and works just as well as dry. Loved the battery life, I used it during 3 weeks (once a week) the battery is still strong. The unit itself is compact, sturdy, and lightweight, would like to have more colour choices, and a hard case to store the unit and pieces, I am keeping it in the box, as there is a small pouch included, but I think it is not sturdy enough for the set, but other than that, I really liked the Satinelle.
Date published: 2018-07-11
Rated

5

out of

5
by
Eve6000
from
smooth underarms
I received my shaver as a free sample. I love the fact that it has several attachments and a bag for storage. The razor on the second speed was a little sharp for the first use but it did the job I expected in all areas.
Date published: 2018-07-10
Rated

5

out of

5
by
MaryJohanna
from
Great Product!!
I received this product in exchange for my unbiased opinion. I have always wanted to try an epilator, so I was thrilled to receive this in the mail. I have been trying everything and anything to remove hair since the age of 13 and I was excited to try something that potentially can weaken the hair to not have to deal with it as much. After a few times using the epilator, mostly under my arms, I tried doing my legs but it was too painful to complete my whole legs. I have noticed that the epilator works very well when the hair is long enough for it to feed into the epilator. I must say it does leave some hair here and there and found my self running it through the same area over and over again, but after you get it all, you are left with beautiful smooth armpit!!! My favorite feature is that it is wireless and waterproof!!! So you can use it in the bathroom while taking a shower. The instructions it comes with are not very useful. I was hoping to see more details and suggestion on how to use it and some recommendations on what works best. The epilator is extremely easy to assemble. All you have to do is charge it, attach top depending on the area being treated and GO!! In comparison to other methods I have used for hair removal I must say it is very effective, my hair grows very fast. When I shave the hair it would come back within 2 days, after using the epilator it last up to 10 days!!! The epilator definitely met my quality expectations and will continue to use to hopefully weaken the hair enough to not deal with it so often. The only suggestion is to provide more details on the instructions, perhaps a website to reference for videos showing how to use it and tips. I found myself doing some research online, watched a couple of videos and read some comments until I felt comfortable enough to use it. Overall the product does a good job, in my opinion I which it would be able to pick up the hair shorter than what it currently does but I will continue to use it especially on my armpit as it is well worth the wait to not have to shave for over a week.
Date published: 2018-07-06
Rated

5

out of

5
by
Donya
from
This product did exactly what it said it would do.
I received a free Satinelle Advanced Wet & Dry Epilator to try and I was so excited to use and review this product. My expectations were exceeded! It did exactly what it said it would do. However, it is kind of painful using it the first time. But it left my legs and arms so soft and smooth and removed all the unwanted hair. I loved this product!
Date published: 2018-07-06
Rated

5

out of

5
by
NicoletteS
from
Fantastic epilator
In exchange for my unbiased opinion I received a Phillips Satinelle Wet and Dry Epilator for review. USE: I`m a very pleased with its ability to remove hair effortlessly. Charge life is also long lasting. Shape is perfect for holding and doesn`t slip around. Assemble and Directions: Simple to follow and attachments connect easily. Cleaning and storage: Easy to clean except I wish the bristles were a bit firmer. Everything fits nicely in storage bag and i love how it is washable. Wet VS. Dry: Both do a superior job with easy hair removal. Shave VS. Epilator: Nice close shave even dry. Epitator preferred for longer lasting removal. Overall I would give two `hairs up` and defenitly purchase isn`t of a competitor.
Date published: 2018-07-05
Rated

5

out of

5
by
BrittanyD
from
Don't be afraid to try it!
I received this product for free in exchange for an honest personal review. And honestly, I'm pleasantly surprised! Was anticipating some level of pain, but in most places I used it, I could barely feel anything. I DID see results though! The product comes with several different guards for the epilator, plus a head for shaving and one for trimming hair. This makes it easy to trim back hair in any areas needed before epilating. The guide gives many tips on how to most successfully use the device and get the desired results, and I was surprised to find that it did work well while in the shower. The only body part where I experienced some pain was my upper lip, but it was far less pain than I anticipated. Overall I am extremely pleased with this product and will be recommending it to friends and family! Better than shaving!
Date published: 2018-07-03
Rated

5

out of

5
by
NicoleM1
from
Perfect for smooth legs
I received the Phillips Satinelle Advanced Wet & Dry epilator for free in exchange for my opinion. I was initially nervous about using it however, now I love this thing. It's amazing and super easy to use, you simply charge it and go. I've been able to use it at least 4 times on one charge. It was very easy to use right out of the box. It came with very clear, easy to follow instructions. I love the fact that it has a backlight that helps you see what you are doing and in a dimly lite shower. That has been very helpful. It also comes with grooming tools to help navigate the finer areas. It's also not as painful as I thought It would have been. My legs have remained hair free and smoother significantly longer then if I just shave. This was a godsend at the beach. I love the bikini area attachment, it made getting a close, precise shave easy.
Date published: 2018-07-03
Rated

5

out of

5
by
Kimm7575
from
Hair Remover King!
I had the pleasure of receiving a free Satinelle Advanced Wet & Dry epilator to try out and I must say I`m quite impressed. I love everything about this Philips epilator; its extremely easy to use, fits nicely into your hands, but most importantly it does exactly what it`s supposed to do, remove hair. I shaved my legs first, in the dry form. And let me tell you it`s not painful at all and it took me less than 20 minutes to do both legs. I like the fact I can now shave in and out of the shower. I shaved my arms next and it was a breeze, left my skin super smooth and I applied some aloe to my arms and legs. I knew if it worked in the dry form it would excel in the wet form and it certainly worked to perfection. After shaving my bikini area I`m thrilled to say I will not be paying for waxing`s anymore!!! The attachments are easy to use and can definitely help remove all those unwanted hairs. One other big plus is the lighting on the epilator it really helps you see hair that you might miss otherwise. I highly recommend this product.
Date published: 2018-07-01
Rated

5

out of

5
by
LesaM
from
Nice epilator
I was excited to have the opportunity to review this wet/dry epilator. I have been wanting to try this for a while, with hormonal issues that cause rapid facial hair growth, this looks to be a lifesaver. I was most concerned with the hair on my chin and upper lip, but I surprisingly found that it works very well for underarms, legs, and other areas as well. First, I was so afraid that it would be painful and/or cause hair bumps. But, I found that this was not the case at all. In fact, it is very painless with the exception of my top lip. That area had a bit of snapping like rubber bands popping my top lip. If you have ever had laser hair removal, it sort of feels like that but milder. I assume that it is because the hair is finer there and that's a more sensitive area, but it is nothing to be alarmed about. It is a virtually pain-free process. I have found that it is most beneficial if you exfoliate and cleanse on a regular basis to keep your pores and hair follicles clear of dirt, debris and oil, so don't forget to do that between treatments. I did notice that there were some places where my chin meets my neck, that hair was most hard to get to; maybe three hairs from that area but that is understandable. For those, I was able to just pluck with tweezers. I have had no hair bumps or irritation, and plan to use this handy device exclusively for my face. There are so many attachments and even a storage bag included to keep everything together. I love that it's rechargeable and has a battery indicator plus two speeds. I highly recommend it.
Date published: 2018-06-30
Rated

5

out of

5
by
htmoonwalk
from
Turned my view of epilators around!
I`ve used an epilator before and was nervous to try again. I received a free Santinelle Advanced Wet & Dry epilator to use and review. It was awesome! First, it wasn't nearly as painful! I did both legs and my armpits. I used the massaging attachment and loved it! I didn't experience the same discomfort that caused me to previously stop using another brand. Next, the handle was so comfortable to hold and made moving the epilator around a breeze. Third, the light was great. I could see and get at all the hairs. Finally, I didn't have much irritation after use. I could have easily worn shorts and a tank top without fear of looking too red!
Date published: 2018-06-29
Rated

5

out of

5
by
PatC87
from
Great Epilator - Easy to Use
This review is not paid for in any way by the company. I was given this product in exchange for an honest and unbiased review of this product: First Impressions/Aesthetics: I love how sleek and pretty the epilator is, aesthetically. It's slender and lightweight and fits well in my hand. When I plugged it in for its first charge I was a bit surprised at how delicate the charger felt. I feel like I will have to take very good care of it because it could wear through quickly if not treated with extra care. The charger of my previous charger was a lot thicker and sturdier in general, but again, this was an epilator that could only be operated while plugged in. I love that the epilator comes with a little storage bag, which is convenient, but I'll obviously need to get my own to offer sufficient protection. First Use: For my first use I used the epilator on my legs with one of the skin stretching guards, with the massaging guard, and without any attachments. First of all I loved how I wasn't plugged into the wall like my previous epilator and I was able to move it around freely without limit. I also think it's fabulous that it can be charged because I won't need to hunt for an outlet when I travel or need to do a quick epilating session. I really enjoyed using the epilator with the massaging attachment. I could see the fine hairs collecting and a little light allowed me to see the hair that was about to go through the epilator. The room I was in was semi-dark so I thought I'd be able to rely on the light of the epilator to shine on the hair on my legs but it is such a soft light that it really only shines on the hair about 1cm or less out. So you can only see the hair you're about to epilate. I like how the tweezers on the epilator are firm enough to grab and remove fine hair but I did notice on thicker hairs that I had to go over a couple times. The "pinch" of their hair being pulled out on this epilator is softer than my previous epilator, although it's also more frequent because it's grabbing even the fine hair. There was much to epilator on the delicate parts but for the little that was there it seemed that the epilator did a good job. The inward curved shape of the epilator head definitely involved a learning curve for me as my previous and only other epilator has an ever so slight outward curve. For a first use it was more difficult to get the epilator to get the hair on my leg along the front bony part, but again this is probably part of the learning curve. The instructions are to rinse for 15 seconds after every use and I did this, unlike with my previous epilator, but because I live in a hardwater area that chews through metal pipes I think this could lead to an early demise for my epilator, so I think I'm going to opt instead for spritzing it with alcohol while it's on and rolling and maybe every couple weeks pouring purified water to give it an extra rinse. I feel that this will save the blades from being eaten through by hard water rinses. I'm also nervous about using the epilator wet for this reason. Final Feedback: Overall I like the feel of this epilator but I definitely want to see where we are in a couple months. I noticed that the blades are made from plastic as opposed to my old epilators stainless steel tweezers and it seems to me that the metal has a stronger grip on my hair than this epilator's plastic tweezers. If this epilator has metal/stainless steel tweezers blades it would be my favorite. Still a great epilator and a great feel.
Date published: 2018-06-25
Rated

5

out of

5
by
LisaM777
from
Great Product
I recently received a complimentary Philips Satinelle Epilator to review. It has a great ergonomic grip. The product works well. The product is easy to use.
Date published: 2018-06-24
Rated

5

out of

5
by
Fernanda
from
Very happy with my purchase
When I bought this epilator I was afraid I would not get used to the method but I couldn't be more happy with it. The results are incredible, it doesn't hurt as much as I imagined and it is easy to use, dry or wet, and has a lot of great accessories to take care of your skin during the treatment and depilation. I certainly recommend this product.
Date published: 2018-05-18
Rated

5

out of

5
by
CountessBassy
from
Works Great! Doesn't Hurt (at least it didn't hurt me)
I love this thing. Works great and it didn't hurt at all. Love the attachments and this really helps keep me hair free!
Date published: 2017-08-03
Rated

5

out of

5
by
KarenLeeB
from
Best Epilator I've Tried!!
I received this product as a free sample to try and review. I want to make it clear that the fact that it was free does not affect my opinion of the product. Since I have used different epilators for many years, I am very experienced in what to expect for such a product and have a basis by which to compare it. Overall, I was very impressed with this epilator. I frankly did not expect it to perform as well as it does. Here are some of the high points of my experience: 1. The appearance of the epilator is white with a satin purple section at the top. The product looks very ladylike and will look pretty even if left out on your counter. However, if you prefer, a white drawstring bag comes with it for storage. 2. The epilator is not too heavy and is easy to hold in your hand since it is curved. I also found it especially nice that the part which touches your skin with the `tweezers` is also slightly curved, so it goes over your skin easily and smoothly. There are also some raised lines on the sides of the handle that help you grip the device more easily. 3. I found the `ouch` factor with this epilator to be much less than what I was used to with my old ones. It does not hurt to use, even though it is pulling hairs out from the roots. It also has two speeds so you can go slower on more tender areas. 4. The charge on the epilator lasted for longer than what I am used to as well. After a month, I only needed to charge it once and charging it with the provided adapter is quick (about 1.5 hours). Of course, since the hair is being pulled from the roots, it does not grow in as quickly as shaving, meaning I did not have to use the epilator constantly. I also love the fact that the epilator is cordless, since reaching different parts of your body with a corded one can be so much more difficult. 5. The epilator comes with a number of accessories: a massage cap and two caps that are used for the face and tender areas. These cut down the area exposed to the tweezers for more comfort and for tighter areas. It also comes with the adapter for charging and a brush for cleaning. Finally, a shaving head is included if you wish to shave instead of epilating. This makes the device very versatile since you have two devices in one. 6. One of new features I love that I have never had on an epilator before is a light that comes on when you are using the device. This makes it much easier to see the hairs that you are pulling. There is also a light that indicates when the battery is charging (white for charging) and orange when the battery is running low during epilation. In conclusion, this epilator has many features my old ones did not have, is comfortable and easy to use, and is versatile I absolutely love it!!!
Date published: 2017-02-17
Rated

5

out of

5
by
NoNo1913
from
Epilator Bre630 Love
This epilator Bre630 is the best thing a company could send to me to test and review. This epilator is so easy to use and assemble that I was so ready to use without the need of reading any directions. But as a good product tester would do, I read the instructions and was interested and actually understood the steps. Now to the real test, after first use. I used the epilator tweezing cap which removed the long hairs from my chin and underarm. After most hairs were tweezed, I used the epilator foil shaver for the remaining hairs left behind. My chin felt nice and my underarm felt clean. As I went on about my day several days later, I received compliments on my make-up and coverage. I was like thanks, but it's the same as always. My sister noted that my face looked smoother. I told her it must be the new epilator I'm using (with a smile) Fast forward to a week later....using the epilator every two days as a maintenance manager and two weeks into use still waiting for more long stubborn hairs to appear. NONE WHATSOEVER!!! My hairs were actually growing slower in the problematic ears and much more finer. This epilator B630 is definitely one that I highly recommend to family, friends and anyone who wants long lasting hair removal. I also suggested to my sister to make the switch. This product has impressed me beyond what I thought it would. My favorite tool to use is the tweezer cap where all I do is maintenance thereafter. I give it a definite 5-star rating. Love my Epilator Bre630
Date published: 2017-02-11
Rated

5

out of

5
by
sirupp
from
Spa-like home treatment
I recently received a free sample of the Phillips Prestige Wet and Dry Epilator to review, and I must say that after using it for a while I really love it. It is so easy to use and I like that I can use it either wet or dry. My preferred place to use it is wet in the shower. It easily picks up my leg hairs by the root so I have smooth nice legs (much better than shaving and last longer before hair grows back out). The package comes with a trimmer as well as a massager and an exfoliator brush. My favorite attachment is the massager of course! Quality wise, the product looks great, well made and expensive. It feels comfortable in my hand and it is easy to figure out how to change the attachments even without reading the manual (which I barely ever do). I would definitely recommend this product to a friend and to anybody looking for a little spa-like pampering at home.
Date published: 2017-02-08
Rated

5

out of

5
by
KarenLy
from
Great way to remove hair and pamper yourself at the same time
I was given a free sample of the Prestige Wet and Dry Epilator in exchange for my honest review. What impressed me the most was that it can be used wet or dry. My old epilator could not be used in the shower and "yanked" out my hair. You do feel the hair removal but it is less painful than with my old device. This product comes with many attachments and directions on how to use each one which I think helps with your sensitive areas. I personally like how the face attachment gets rid of the little fuzzy hair on the sides of my face and upper lip. The exfoliator and massager attachments work get for a spa like shower experience. The size and shape of the Epilator is perfect and does not slide out of my hand. I would definitely recommend this product to anyone looking for hair removal assistance!
Date published: 2017-01-30
Rated

5

out of

5
by
Whittter2
from
Amazing product!
I received the wet and dry epilator as a free sample to review and was very pleased with it. I have fair skin and dark hair and need to shave almost everyday with this I made it a week. The attachments that were included were amazing I loved the shaver and the massager. It held a charge for three uses and was so easy to use.I was nervous that it would be painful, I've used one in the past and it was, but this one wasnt a little stinging but not painful at all. Overall a great product I would recommend to any women and its way less painful than waxing!
Date published: 2017-01-28
Rated

5

out of

5
by
AbbeyC
from
This one is a Keeper!
This one is a keeper! This epilator is one of the best ones I have ever used. If this is your first time ever using an epilator the first will always sting no matter which one you use. After using one a few times you won't even feel it. This one was a lot smoother the first time using it. I did not have to go over my legs multiple times because of missed hairs like I have had do with others before. I like that this epilator came with multiple attachments and can be used wet or dry. I have used it to remove hair from my under arms, legs, and bikini line. Although this was my first time using it for my bikini area and I think that area will take a little more getting used to. A few passes in I stopped and finished with the shaver head. I think I will have to slowly ease into that area. I like the easy to grip handle and built in light to use for the hard to see hairs. Overall I would highly recommend this product!
Date published: 2017-01-27
Rated

5

out of

5
by
Joanne51
from
Satinelle Prestige Epilator
This is a neat product. I received a free sample in order to write a review. I like the sleek handle which fits nicely in your hand and makes the hair removal quick and easy. I like the additional use to exfoliate and massage the skin. Overall a great product.
Date published: 2017-01-27
Rated

5

out of

5
by
Anonymous
from
Great product
I received this product in exchange for writing a review about my overall experience. I have used epilators for years and this is one of my favorites. The blades are sharp and it can be used on wet or dry skin. I loved all of the attachments that can be used for various parts of the body. Very well made and would definitely recommend purchasing this!
Date published: 2017-01-27
Rated

5

out of

5
by
RevaV
from
Great features!
I received this product to review and I`m so glad I did! I haven`t used an Epilator in years and was apprehensive of the pain but it wasn`t as bad as I thought it would be! It Takes a little getting used to, but does a great job removing unwanted hair. The massager afterwards was fun to use too!
Date published: 2017-01-25
Rated

5

out of

5
by
MichelleK
from
Compact but Efficient
I received this product, the Advanced Wet & Dry Epilator from Phillips in exchange for a truthful and honest review. I used it over the last 3 weeks, making sure that I switched out the accessories (heads) that come with it so I could get the full experience. I have had product similar to this in the past, made by the same manufacturer, so it was also helpful to me to compare how much better the evolution of this model has come. Let me first start off by saying that I really liked the shape of the product. It`s curved to fit your hand easily and doesn`t feel like it would slip. It`s a slimmer and sleeker size, which makes it easier to navigate through those hard to reach areas (especially the private region). The built in light on one of the attachments is particularly useful when in the shower, as your lighting may be limited if there is no window bringing in external light. Overall, I found it to be extremely easy to use and painless to switch out the accessories. The button that is used to dislodge the heads requires one simple push. I used it both in a dry and wet setting and, given that I used it over my whole body, including my face, I would highly recommend it. The only thing that I would add to this review is that, when you are trying to shave in those hard-to-reach areas, you press down a little heavier than you would, say, if you were doing your legs. It works best when the hairs are grown out a little (my previous model was able to pull up tiny hairs, but was much rougher and more painful), and there is minimal pain involved. It`s also very quiet relative to others I have had. One last note, I wasn't all that impressed with the small pouch they provide to house your unit and it`s accessories. The material seems a bit cheap and not big enough to support the product as well as the additional heads. Perhaps a case with compartments would be better, or something that has pockets within a small pouch.
Date published: 2017-01-22
Rated

5

out of

5
by
Suzyqmar
from
Silky Smooth Epilation
I received a free sample product of the Advanced Wet & Dry Epilator-Bre630 in exchange for writing a review of my honest opinion.I was a little late to get started as I had back surgery during the first stages of the sampling reviews.Boy was I glad I could use it after not shaving my legs for a few weeks!I love this unit!It is simple to use,the attachments come on/off easily and it does the job incredibly well.I have another epilator from another company and I just hate it as it "Hurts" terribly to use.I was a bit fearful and skeptical to try another of a different brand as I had made the assumption that there was no way around the pain caused by epilating.While using this system is not "completely" pain free it feels so much better than what I am used to. I found the smaller head without any attachments to be my overall favorite way to use this.I tried all of the attachments and while they all function as intended I just had better results without them.I used it on my legs,underarms,bikini area and face and was so very pleased!It left my skin as silky smooth as a babies butt!It has been 2 weeks and I still have no new hair growth on my legs,just now feeling a little prickly under my arms,still incredibly smooth in the bikini area and no new growth on my face as of yet.This is the Overall Best Sample Product to Review that I have ever received!I highly recommend the use of this product and have praised it's use to friends and family members.I should mention that it is so easy to clean too!I used it Dry but once it is safe for me to get in and out of the shower,I am going to try it Wet.I am sure I will not be disappointed.I just cannot say enough good things about this product and am so extremely happy with being chosen to try it.
Date published: 2017-01-21
Rated

5

out of

5
by
Laura01
from
Nice smooth Shave wet or dry
I absolutely love the Philips Advanced Wet & Dry Shaver. I was very fortunate to receive this item as a free sample to try it out and I could not be happier. The design is wonderful and its very easy to hold without slipping. Its rechargeable to I will be able to use for a very long time. It gave me a nice close smooth shave while I was in the shower and you can also use it dry which is great for those quick touch ups when your in a hurry. I did not experience any type of irritation like razor bumps which I usually do with regular razors. I would highly recommend this product to anyone in the market for a easy to use quality shaver!
Date published: 2017-01-19
Rated

5

out of

5
by
Griese70
from
Awesome product!
This is a very nice product. I wasn't sure what to expect. Using the device was easy and it came a lot of accessories so it can be used in many different ways. This is a very well designed device. I was given this product to try for an honest survey.
Date published: 2017-01-19
Rated

5

out of

5
by
KateD
from
Does the job well
I was pleased when I received the Phillips Prestige Epilator in the mail to write a review. There are many features I like about this product, the handle is a sleek design; it's comfortable to grip. You can use it in the bath or shower, which is an added bonus as it helps to have wet skin (it less painful to remove hair after I've taken a hot bath or shower). I also like the fact it has a light so you can see if you have gotten all of your unwanted hair removed. The guards that come with it are helpful when I used them on my legs. I did not find the guards helpful when using the product for my underarms. It was much easier to remove the underarm hair without the guard. The best part is the ceramic discs that grab the hairs do NOT grab your skin like other epilators I have used in the past. This product is much less painful! I also used the hair trimmer adapter, I had to pass over the area two to three times to get everything, not as efficient as I thought it would be at trimming but it did the job. It's incredibly easy to clean, you run it under water with the ceramic discs spinning after each use. It gets all the hairs out and dries it self out nicely. The battery holds the charge for a while; I've used it at least three times without having to recharge it. The only thing I would add to the package is a foot polisher, some other brands offer this as an additional add on. Other than that, it is perfect. I definitely recommend this product; it's worth the money!
Date published: 2017-01-18
Rated

5

out of

5
by
KAT62
from
Great Epilator
I received the phillips epilator as a free sample to review. I have a very old epilator that I have been using and the new phillips technology is amazing. The abililty for wet and dry, cordless and a light has my vote and would definitely spend the money on this. I also appreciate the different attachments. I didnt see any negative aspects of the epilator.
Date published: 2017-01-17
bvseo_sdk, dw_cartridge, 16.1.1, p_sdk_3.2.0
CLOUD, getContent, 513ms
reviews, product
Which attachment is for the face
The curved white piece with the smaller hole.
Date published: 2019-01-14
bvseo_sdk, dw_cartridge, 16.1.1, p_sdk_3.2.0
CLOUD, getContent, 321ms
questions, product