Images
Hover to zoom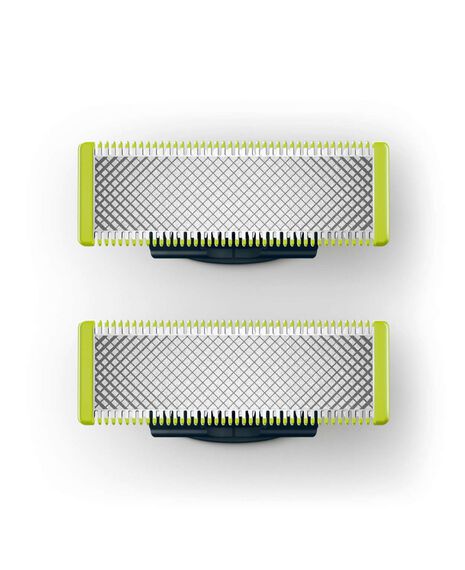 OneBlade Replacement Blade 2pk
Details
https://www.shavershop.com.au/philips/oneblade-replacement-blade-2pk-010129.html
Product features

Unique OneBlade Technology
The Philips Oneblade has a revolutionary new technology designed for facial styling and body grooming. It can trim, edge and shave any length of hair. Its dual protection system - a glide coating combined with rounded tips - makes shaving easier and comfortable. Its shaving technology features a fast-moving cutter (200x per second) so it's efficient - even on longer hairs.

Durable OneBlade
The blades are designed for lasting performance. For optimal performance, you will only need to replace each blade every 4 months*. Replacement is easy and hassle free.
>
Product Description
Product Reviews
Questions And Answers
Product Description
Trim, edge and shave any length of hair
Designed to cut hair, not skin
Trim, edge, shave
2 replaceable blades
Fits on all OneBlade handles
Each lasts up to 4 months*
OneBlade Replacement Blade 2pk
is rated out of
5
by
105
.
Rated

5

out of

5
by
21Pete
from
I wish I had purchase sooner
This product is well designed with many attachments.
Date published: 2019-03-06
Rated

5

out of

5
by
Sidney
from
Yes I would definitely recommend this product
When I started using this Philips one Blade I found it very useful for trimming and shaving. I have had it since October 2018 and have also Got a Arcitec Self cleaning Device which also has been very good and it is Philips product. But getting back to the one Blade yes I would very much recommend this to everyone who shaves.
Date published: 2019-03-03
Rated

5

out of

5
by
Andrew
from
Love it
I can't shave every day with a traditional razor because I get ingrown hairs and bumps but have been using this for two weeks and no problem. I wish the blades would come back in stock so I can reorder but it looks like they have been out of stock since December
Date published: 2019-02-18
Rated

5

out of

5
by
Sonya
from
Safety
I love the safety of these blades NO cuts best ever
Date published: 2019-01-10
Rated

5

out of

5
by
photogdan
from
NICE
Finally a product that acts like it does in the commercials.............and it is not expensive. Great product.
Date published: 2018-12-26
Rated

5

out of

5
by
whtsnanam
from
Convenient
This product is great for home but even better for travel. During a two week trip I was able to get by without a bag full of shaving tools.
Date published: 2018-12-12
Rated

5

out of

5
by
Duff
from
excellent shaver for the money-a real performer
I have been using the one shave for almost a year and it has never let me down. It gives a close shave and is easy to use to groom your beard or mustache. Love that it goes forever on a charge and is dependable.
Date published: 2018-12-12
Rated

5

out of

5
by
tony88
from
Went 6 weeks on one charge!
I bought the OneBlade Face & Body on 10-7-18 and decided to see how long I could go on the first charge. The charge finally ran out this morning 6 weeks later (11-18-18)! This was a concern of my when I bought the razor it can't be used when plugged in and my experience with other razors has been the battery won't hold a charge after a while. Unless you can still use the razor when it's plugged in, this makes the razor useless when it doesn't hold a charge. This first test is encouraging.
Date published: 2018-11-18
Rated

5

out of

5
by
RayC62
from
great product
I frequently skip days shaving and then razor has difficulty. This razor solves that problem quite handily, this is a great accessory cuts close and smoothly
Date published: 2018-11-16
Rated

5

out of

5
by
Dokojo
from
Excellent produc
Love this one blade shaver and guides that show you how long you have left
Date published: 2018-11-10
Rated

5

out of

5
by
LenB
from
One Blade Replacement blades
I love the One Blade and use it daily for trimming and touch ups. Since I was using the original blade I decided to order replacements from Philips. The price was good and delivery was fast. My One Blde is back in action.
Date published: 2018-11-02
Rated

5

out of

5
by
John1970
from
Fantastic
This product is simply superb, being a Philips fan I own several of their personal grooming systems , I was however sceptical about this purchase , since buying this though I have totally fallen in love with the one blade , its quick , clean and trouble free and gives me a very good shave . Perfect 5 stars
Date published: 2018-10-27
Rated

5

out of

5
by
gdepo
from
Fast & Easy
I love the way one can get a near regular shaver shave with a dry shaving means as the OneBlade affords. Some days one wants to get by with a direct shaving method without being tied to a sink to shave. It's really convenient that way. I also like how it is double bladed. I'm really glad I stumbled upon it and use it regularly whenever I want a quick shave to reduce the stubble to be out in public passably shaven. The only downside is the cost of the replacement blades, but they do at least last months. BTW, I think Costco where I got it has the best deal on it, giving you 3 total blades.
Date published: 2018-09-30
Rated

5

out of

5
by
fred
from
one blade
Philips OneBlade, won't cut your face, no razor rash
Date published: 2018-08-30
Rated

5

out of

5
by
DemichealS
from
Easy to use
I received this product as a free sample for a review. They were really easy to install onto the shaver and really easy to remove. they were just as good if not better than the original blade. I would more than likely get this 3 pack at the store.
Date published: 2018-07-30
Rated

5

out of

5
by
LarBear
from
Absolutely the best
I've always had sensitive skin and difficulty with different razors. This has exceed my expectations and I'll never use anything else.
Date published: 2018-07-29
Rated

5

out of

5
by
Morguen
from
This product is revolutionary
I had received a free pack of the replacement blades for the Philips One Blade trimmer and was throroughly impressed. It's so insanely convent to be able to buy replacement blades for a trimmer and I absolutely plan to purchase some in the future. I've used the oneblade for over a year now and I couldn't imagine life without it hahha. I travel NON stop and this thing has been a life saver in so many situations. I don't always have time to clean up and shave after a flight and before work. Having this packed and ready to go at any time has allowed me to clean up a bit and not look like such a bum.
Date published: 2018-07-28
Rated

5

out of

5
by
AlexCh
from
Long Lating
Everyone listen, I received this sample of one blades and it is amazing.I feel so refreshed after using this. skin feels smooth and light with no irritation. these blades last a long time so it definitely saves the money,
Date published: 2018-07-27
Rated

5

out of

5
by
NickT
from
Quick, easy, effective
I received a Philips Norelco OneBlade Trimmer over a year and a half ago and have been a big fan since the first time I used it. I have used it several times a week since then, sometimes with an attachment to keep my beard a reasonable length, and other times without one to get close like a shave without actually shaving. Through this time I haven`t had any complaints. I just recently found out you can get replacement blades and decided to swap out my old blade for a fresh one and give it a try. From my very first trim with the new blade, I soon learned I had fixed a problem I didn`t even know I had. Like I mentioned, I previously had no complaints with the OneBlade, but a fresh blade made my grooming even smoother than I ever remembered. Since swapping out the blade I haven`t had a single hair tug or snag as I`m buzzing and zero irritation. Changing the blade was simple, push a button to pop out the old blade and snap the new one in place, and I love that the blade changes color when it`s time to replace them again.I should mention that I was sent a free sample to use for this review but will definitely be purchasing my next replacement blade when it`s needed.
Date published: 2018-07-26
Rated

5

out of

5
by
Willbillie
from
Wow
During my trial with these blades I was blown away by how they've improved. Now they have a color indicator for when the blade should be changed. As an owner of the One Blade I am an advocate for this product and I will never not own it. My Barber ruined my haircut and I was only able to save it because I owned this product. No updates on the negative side for me. Go forth and purchase!
Date published: 2018-07-25
Rated

5

out of

5
by
JP625
from
Awesome Product
I received this three pack as a free sample in exchange for writing an honest review of the product. As an owner of the One Blade I can`t speak highly enough about it and also the blades. The replacement blades allow it to function and run as new as the day I got it every time they are swapped out. I continue to use the One Blade a couple times a week and really find it to be the best electric trimmer I`ve ever used.
Date published: 2018-07-24
Rated

5

out of

5
by
RyanB2
from
Great!
After receiving this product for free to review, I've used the replacement blades and let me say I forgot how nice it is to have a fresh blade on something. The old one was still going strong, but having a nice fresh blade is great. I love the razor in general, and love the small convenience of everything, so having solid refill packs just means I can keep on using it!
Date published: 2018-07-21
Rated

5

out of

5
by
BrentG
from
A year of shaves
I recently received a pack of replacement blades and continue to be a huge fan of the oneBlade system. First off, I could have kept using my old blade and probably would still be happy. I keep a beard and only use the OneBlade every couple of days to do some lining around my neck. With that amount of usage, I've been going for months on my first blade. Upon being provided a sample in return for a review I thought - what the heck, I will try replacing the blade. As well as the OneBlade was working months after starting with a single blade, it just worked that much better with a fresh blade. At the rate I'm going, that three pack may last me over a year and give me a quality / clean shave every time. I couldn't be happier with the system, and love not wasting my money on expensive blades and hurting my neck when I shave. The cartridges are very easy to use, and I didn't bother with the instructions. There is an eject button on the oneblade which worked perfectly, I took a new blade out of the cartridge and snapped it on. I was done. I was curious to know if there was a suggested shelf-life so I read the instructions to see that the blades change color when it's time to replace - the blade I had been using for months had only started to change shade - was barely noticeable. So in summary, for it's ease of use, quality, comfort, effectiveness and long shelf life this is by far my favorite shaving system.
Date published: 2018-07-13
Rated

5

out of

5
by
ColinM
from
Excellent blades for a phenomenal razor
I received this product in exchange for my unbiased opinion. I've had the OneBlade for a while now, so it was about time I replaced the blade. The unpackaging was easy, as was the installation. After about a week of use, as expected, it works wonderfully. It's so effective that it alleviates the need for traditional razors; it replaces them entirely and saves me a lot of money. This blade is also particularly cool, in that it has a wear-indicator, allowing for replacement at appropriate intervals. I'll be buying another 3-pack when these run out, because I see no reason to stop using the OneBlade. It has served me well for a long time, and these replacement blades have matching quality. I would highly recommend both this razor and these replacement blades.
Date published: 2018-07-09
Rated

5

out of

5
by
AdamW23
from
Nice to have extra blades
I've been instructed to start this review by saying that I received this product in exchange for my unbiased opinion. Having said that, I'm very happy that I was provided this product, as I've been a huge fan of my OneBlade razor for the year and a half I've had it so far. I keep a short beard, and find this razor perfect for keeping my beard at a length that I like while also using the razor to shape my beard and trim my neck, which it does very well. I had never changed the blade on my OneBlade, but upon receiving this 3 pack of blades I realized that a few of the teeth on my original blade had moved around, which could have been affecting my shave (although I never noticed this). Having a beard, I do get a fair amount of hair caught in the blade which I must remove, so I'm happy to have the replacement blades available. The replacement blades come in a very simple package and are easy to pop out and place into the OneBlade. Other razors I have can be quite frustrating to replace a blade, so I found it refreshing that it was quite clear how I should input the blade and hearing a satisfying click. I've been using this replacement blade for the past week and honestly have no complaints. The only negative I'd say is that I'm still not really sure that my blade needed to be replaced after a year of usage, but it's good to know that I have back-ups if the razor happens to break. If you like using the OneBlade, this replacement pack will keep it in its best condition and give you some additional blades in case anything happens to one. Very happy with all and would highly recommend.
Date published: 2018-07-09
Rated

5

out of

5
by
Anonymous
from
Bring your OneBlade back to glory!
I received this product in exchange for my unbiased opinion but was planning on buying it anyways so it was just an added perk! I've used the Norelco OneBlade shaver three times a week for the last few months and the blade was starting to get dull but popping a replacement blade on made me realize how much sooner I should have changed the blade. The OneBlade is a great shaver and the ease of switching blades is just another added perk. Pop the old one off and simply click the new one into place. One of my favorite features of the replacement blades is the wear indicator so I'll have a hint at when I should be replacing the blade again. Having the places in a three-pack also means I won't procrastinate changing blades so I'll get to experience the OneBlade in its full glory. Don't hesitate to get the refills for your OneBlade -- you'll be glad you did!
Date published: 2018-07-02
Rated

5

out of

5
by
Dino123
from
Works great
Nice and smooth shave. Love how easily it glides on the skin. Don't know why everyone's saying they didn't have any in stock. Just got my $10 off today. So I'm happy!
Date published: 2018-06-20
Rated

5

out of

5
by
DavRod53
from
Great Razor
GREAT!!! razor, I used to shave my face and head with a conventional razor. As Ive gotten older it has become more difficult. I usually look like a tiger used my head as a scratching pole. I happened upon this razor by chance. I thought to myself, try it and see what happens. My tiger has moved away and my head is not scared anymore. I love this razor, its simple to use, a strong motor, charges quickly and never nicks my head or face. Thank you.
Date published: 2018-05-31
Rated

5

out of

5
by
Tazz91
from
An exceptional product
The OneBlade is an exceptional product that turns the chore of shaving into a pleasure. It's very easy to use under a lot of conditions. No matter the beard the OneBlade can tackle anything according to your own preferences. Its battery life is great. Since purchasing this product I did not need to recharge it which is far more than I was expecting. The blades do not pull or irritate the skin and last a long time ultimately saving money.
Date published: 2018-05-17
Rated

5

out of

5
by
shaverraver1
from
Best gift ever received
I received this as a gift last Christmas and wish I had bought one a long time before. I was getting a little annoyed with my electric triple head shaver, was tuff on the skin causing razor burn etc and never had the time to wet shave all the time so when I got the one blade it fitted the job perfectly. Although not as close as a wet shave but gets close enough to give that clean shaven look and since using I have had no irritation or razor burn at. Would highly recommend this product, it's great for people on the move. Having read some of the other reviews I'm not really sure quite what people are moaning about when they say the heads are flimsy, I think they must be trying to cut their garden hedges with them. I have used mine twice a week for the last 12 months and it's still going great today and only now I thinking of getting a replacement head and that's only due to the manufacturers recommending to get a replacement every 4 months. If you looking for a wet shave finish this probably ain't for you but if your looking for a shaven look that's quick and hassle free then this is the way to go. So just to recap probably the best product I have used in a long time.
Date published: 2018-01-19
bvseo_sdk, dw_cartridge, 16.1.1, p_sdk_3.2.0
CLOUD, getContent, 265ms
reviews, product
bvseo_sdk, dw_cartridge, 16.1.1, p_sdk_3.2.0
CLOUD, getContent, 347ms
questions, product
bvseo-msg: Unsuccessful GET. status = '{0}', msg = {1};