Images
Hover to zoom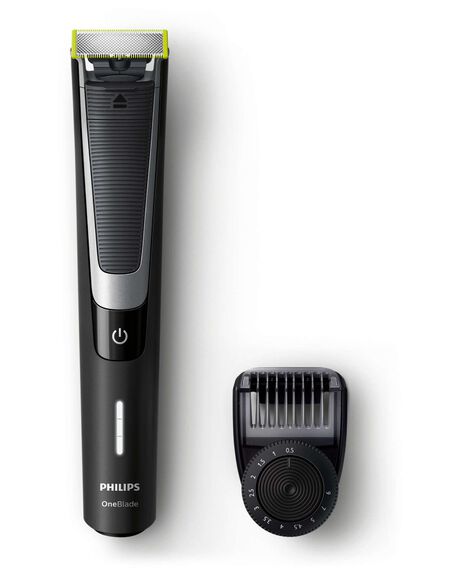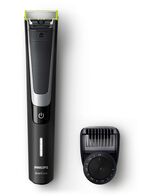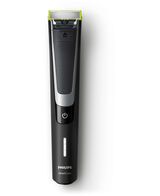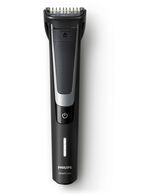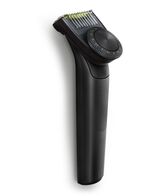 OneBlade Pro with Adjustable Comb
Details
https://www.shavershop.com.au/philips/oneblade-pro-with-adjustable-comb-010127.html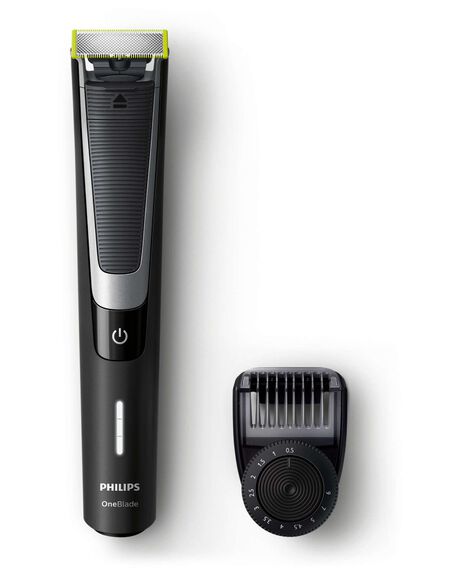 Product features

Unique OneBlade Technology
The Philips Oneblade has a revolutionary new technology designed for facial styling and body grooming. It can trim, edge and shave any length of hair. Its dual protection system - a glide coating combined with rounded tips - makes shaving easier and confortable. Its shaving technology features a fast-moving cutter (200x per second) so it's efficient - even on longer hairs.

Trim it down
Trim your beard to an even length with the included adjustable precision comb. Dial up one of the 14 lock-in length settings to get everything from a 5 o'clock shadow, to a tight trim, to a longer beard style.

Edge it up
Create precise edges with the dual-sided blade. You can shave in either direction to get great visibility and see every hair that you're cutting. Line up your style in seconds!

Shave it off
OneBlade doesn't shave as close as a traditional blade - so your skin stays comfortable. Go against the grain and shave off any length of hair easily.

Contour following
OneBlade follows the contours of your face allowing you to effectively and comfortably trim and shave all areas of your face.

Create precise edges & sharp lines with the dual-sided blade
OneBlade follows the contours of your face, allowing you to effectively and comfortably shave all areas. Use the dual-sided blade to style your edges and create clean lines by moving the blade in any direction.

Precision trimming comb has 12 length settings (0.5 to 9mm)
The versatile precision trimming comb offers length settings from 0.5mm to 9mm, giving you an even trim at exactly the length you want.

Durable OneBlade
The blades are designed for lasting performance. For optimal performance, you will only need to replace each blade every 4 months*. Replacement is easy and hassle free.

Water resistant: Use wet & dry
OneBlade is water resistant, so it is easy to clean: just rinse it under the tap. You can shave wet or dry, with or without foam - whichever you prefer.

LED light shows battery status
Be sure that your OneBlade is always ready to go by checking the battery indicator. It alerts you while in-use when your battery is low, and indicated charging progress when plugged in.

60 min Li-ion battery
Rechargeable Li-Ion battery delivers 60 minutes of constant performance after a 1 hour charge.
Product Description
Product Reviews
Questions And Answers
Product Description
Trim, edge and shave any length of hair
Designed to cut hair, not skin
Trim, edge, shave
For any length of hair
12-length precision comb
Rechargeable, wet & dry use
OneBlade Pro with Adjustable Comb
is rated out of
5
by
106
.
Rated

5

out of

5
by
Brian
from
Great product
My husband thinks this is great for trimming his beard.
Date published: 2020-03-06
Rated

5

out of

5
by
Bazz
from
Great little device
I actually use this on my body and not my face. The blade is super smooth which is good for multi directional hair. The comb also works well as it goes as short as 0.4mm. My only gripe is that the head is not as wide as some other groomers might be so takes a bit longer because it doesn't cut as much hair on each stroke. This isn't a surprise and not a flaw of the device. It's something I already knew would happen because I could see the head wasn't as wide as some others. The smaller head is better for the face but not as convenient for the body but just takes a few minutes longer than a wider head would.
Date published: 2020-02-20
Rated

5

out of

5
by
Frankie1130
from
What a brilliant shaver!
I hate wet shaving, but have never been able to find an electric shaver that's good enough until now! Great shaver, so quick and easy to use with great results. Battery seems to last for a good few shaves and the blade is still good - although I've not had it four months yet to know if it will last that long. Overall a very good shaver and I would definitely recommend.
Date published: 2020-01-23
Rated

5

out of

5
by
Gadget
from
Awesome all round experience
Great product and exceptional in store service! Ended up buying one for each of my sons as well!
Date published: 2019-12-15
Rated

5

out of

5
by
LN101288
from
Really easy to use, great product
Bought the product recently after my old shaver died. I read a lot of reviews and I am really impressed.The size-selecting grader is really handy to use and the product gives a good finish. I have quite sensitive skin after a shave but the redness is reduced using this product. It is comfy to hold and easy to use. The shape makes it really easy to match the contours of your face. It charges quickly and holds charge well. It is also a really good size and could easily be taken on holiday etc. I think it is a really good buy for the price. I'd highly recommend this shaver
Date published: 2019-10-28
Rated

5

out of

5
by
Anonymous
from
Spot on
I've been using oneblade for a month and I'm very happy with the product. I use the razor 3 times a week to maintain a goatee. It's small enough not to take your nose off, very accurate and light. The battery has gone from 90 minutes to 75 so theres lots of power there. It does not give a close shave. When I want that look I follow up my shaving with a normal wet razor used dry as there's not much to come off. As far as the comments on being easy to damage go, I've got the pro version with the dial on the comb. This protects the blade from damage. I can see how the blade could be broken, especially if thrown in a toilet bag without the comb attachment etc. You just cannot do that. It will brake the blade. I've bought spare blades for just over £9 each which is expensive but my current blade isn't showing signs of wear at the moment so we will see.
Date published: 2019-10-06
Rated

5

out of

5
by
Darren74
from
So Good!
I love this machine. It works fantastically as a beard trimmer and shaver. It's so well designed, easy to use, compact and at a great price. It replaces two items with one, without compromise. I highly recommend it. Go for the one with the adjustable comb if you have a beard. It saves time and space having the one comb that can cut at varying lengths.
Date published: 2019-06-25
Rated

5

out of

5
by
Edmel
from
Great features, easy to attach comb attachment.
I already had 1 of these trimmers with the exchangeable combs, when I saw this trimmer with the adjustable comb attachment I bought it, it's great, east to use, easy to attach the comb and had loads of settings. Works well both wet & dry, highly recommended.
Date published: 2019-06-24
Rated

5

out of

5
by
Dayok
from
Brilliant Innovation
As a black man I suffer from ingrown hair and I've invested a great deal in numerous electric shavers over the years. This is the only shaver that has given a close shave without producing any razor bumps or soaring. It is unreasonable for some people to compare the OneBlade to a traditional razor, as it is designed to give a close shave and prevent skin irritation. The flexibility of the shaving head makes you manoeuvring on the face very easy. It cleans out all stubborn hair on the neck that I usually struggle to get rid off with other electric shavers that cost a fortune. I have recommended this shaver to quite a number of people since I started using the OneBlade. Great innovation Phillips
Date published: 2019-05-12
Rated

5

out of

5
by
Anonymous
from
Very easy to use
Having had a beard up till 4 years ago I am familiar with beard trimmers Now I have a beard again I researched the trimmer market not wanting a trimmer with all the attachments & one that had a charger stand The one blade Pro was a standout for my requirements My beard was in a wild state (according to my wife) The first 2 attempts reduced the appearance of the beard to an acceptable level - Then the trimmer came into its own at 0.6 setting creating an even stubble that looks good - I guess this will form a basis for further trimming I read some negative reviews but I cant fault the ease of operation with the water cleaning as a plus which means no oil or brush The battery life is incredible - there is still 80% life in the battery after getting my beard from a wild state to a great looking stubble - I don't intend to use the shaver as I will continue to use a blade razor to tidy up under my nose & my neck under my chin Very satisfied with the result at first time use
Date published: 2019-04-06
Rated

5

out of

5
by
panico
from
oneblade
excellent product worth the money and excellent support
Date published: 2019-03-05
Rated

5

out of

5
by
Jeepster
from
Versatile shaver trimmer
As I have a beard I was looking for a shaver that would trim my beard to the right length and shave around the edges well. The Philips One Blade does the job.
Date published: 2019-02-26
Rated

5

out of

5
by
Ali27
from
Excellent all rounder
Purchased this product in June of 2018 as I had watched videos and read reviews. I must say this is a superb product simple to use very economical considering I use for approximately 20 minutes a day 3 days a week. The shaving process is very good very fast and as for the trimmer by far the best I have used . Obviously it works different for everyone as it depends on your beard and shape of your face. I would definitely recommend this as I can't go without it now.
Date published: 2019-02-22
Rated

5

out of

5
by
Willow222
from
Awesome and easy to use
I've used twice now and it works great. Great close shave
Date published: 2019-01-21
Rated

5

out of

5
by
Brady
from
Perfect for all applications i needed! Great Shave
Great shaver and excellent and precise trim. I used this for both a close shave and a beard trimmer. After trying many shavers over the years (i'm 38), this one is definitely the best. Money well spent :)
Date published: 2019-01-04
Rated

5

out of

5
by
kasimo
from
One blade - It's all you need
One blade is what a beard has been waiting for. The 'body' blade is a great blade for everywhere else. A smaller face blade would be a good addition for more detailed beard sculpting
Date published: 2018-12-16
Rated

5

out of

5
by
WayneTheWicked
from
The last razor I will ever buy.
I have been trying to find a razor that gives a good shave and doesn't leave me feeling sore after. I tried all the razors advertised on tv with the 5 blades and the moving head and the huge price attached and felt the pain in my pocket as well as the burn from the razor. So I decided to try going back to the original way of shaving with one blade but with the modern technology applied. I spent some time online looking into various razors and decided on giving the Philips One Blade Pro a shot. I went for the top model with the extra adjustable trimming attachment because I had the option then to use it for trimming and grooming a winter beard. After opening and charging the time had come to see if this was finally the end of years of razor burn after a shave. The One Blade is wet and dry so I went with a dry shave as my first choice as this is where I suffer the razor burn most. At this time my beard was about 1cm, so quite long for just a razor to handle.The instructions say go against the grain when shaving but I shave all directions to get a clean even shave as I'm sure others do, after a few stroke's down my down my sideburn it was gone, I didn't have to go up and down multiple times to get close to the skin, the same under the chin and nose, In just a few minutes with no effort, no water, no foam or gel, no cuts, no razor burn and no little bits of tissue stuck to my face after. I had the shave I wanted at last. This was fast, easy, effortless and painless shaving and I can clear out the bathroom cabinet and dispose of all the wet only razor's and blade's, finally get some space back. I still have to try a wet shave with the One Blade but after the result's of the dry shave I'm not sure I need to. The price of the One Blade varies depending on model, the basic kit is a reasonable price for the quality of shave and with one blade lasting around four month's with normal use the need for replacement blades are reduced, as with all replacement blades the cost is high but the one blade lasts longer unlike other replacement blades so is better value over a period of time. But after using the One Blade and having a close shave without the soreness after I wish this was available 33 years ago when I first started shaving, I would have saved a fortune in experimenting with the masses of other razors and blades, not to mention the pain. Finally a razor that does what it says it does. Well done Philips.
Date published: 2018-11-21
Rated

5

out of

5
by
JackieJ
from
Excellent product
I bought this shaver for my son, he loves it easy for him to use. He has special needs and it gives him some more independence.
Date published: 2018-11-13
Rated

5

out of

5
by
Junior
from
Exactly what is advertised..
Easy to use, nice and lightweight. Battery life at this stage has been excellent
Date published: 2018-11-05
Rated

5

out of

5
by
JackieJ
from
Excellent product
I bought this shaver for my son with special needs. It gives him some independence, so he can shave himself. I would recomend this shaver for any male.
Date published: 2018-11-01
Rated

5

out of

5
by
Ravanagh
from
Performs as Described
Trim any & all facial hair, to whatever length ... the OneBlade is new technology - you do have to replace the blade, but not very often (Shaver Shop have the blades, relatively cheap).
Date published: 2018-10-16
Rated

5

out of

5
by
Bones1234
from
Convenient and easy!
I got this as a gift for my partner. Having just one adjustable blade means they don't get lost and keeps his beard looking tidy at all lengths.
Date published: 2018-10-11
Rated

5

out of

5
by
Hamish
from
Good quality.
I have used this a couple of times now and I like it. Don't expect it to give you a razor blade close shave but it's good enough for a quick tidy up without risk of nicks or cuts. Perfect for those who like a bit of stubble.
Date published: 2018-09-23
Rated

5

out of

5
by
Muddy
from
User friendly, light and does the job!
I bought this for my partner for Father's Day, his old one broke and he absolutely loves it. Good price too.
Date published: 2018-09-13
Rated

5

out of

5
by
Chrisrrobbo
from
Different, but in a good way
I bought the One blade as a replacement for a Babyliss iStubble I'd had for 3 or 4 years. A Philips toothbrush I'd bought was impressive so I thought I'd give it a go. The Oneblade took a bit of getting used to - the 'action' with the guard is more of a push than a drag across the skin. Once I'd sussed it, it works really well - the guard moves the skin to raise the hairs, and the One blade cuts well. You can then easily finish off awkward parts of the face (eg close to your nose) without the guard. Impressed - and battery life is fantastic, as with the toothbrush. The replacement blades are over-priced, but they last better than the blurb suggests on my face at least.
Date published: 2018-09-11
Rated

5

out of

5
by
RagingBull60
from
ergonomic design
Easy to use Allows you to achieve the finish required with great ease
Date published: 2018-09-05
Rated

5

out of

5
by
Anonymous
from
Mens best tool
I've always had sensitive skin problems, and this is the ONLY product that makes a clean shave, quick and nice. Very practical, either dry or with shaving cream. Love the design and the battery durability!! Everyone has been asking what I've done to the skin, and I say Phillips One Blade pro. Congrats to you all and thank you for this invention.
Date published: 2018-08-29
Rated

5

out of

5
by
Manish
from
Great future
I m so happy for I bought this and work very well as I thought
Date published: 2018-08-26
Rated

5

out of

5
by
Trevs
from
Good buy
Bought this to upgrade an old cheap shaver, I'm glad I spent a bit more. It does everything I need without having to have extra additional parts. Gives a tidy shave and doesn't fire hairs everywhere which is a great bonus.
Date published: 2018-08-23
Rated

5

out of

5
by
Harbo
from
Great precision
Best birthday present just what I needed. Works really well
Date published: 2018-08-17
bvseo_sdk, dw_cartridge, 16.1.1, p_sdk_3.2.0
CLOUD, getContent, 275ms
reviews, product
Hi there, I'm looking for Philips OneBlade Pro travel hard case. Do you sell that?
Hi, Thank You for your email. No, we do not. Regards Shaver Shop
Date published: 2020-06-04
do i need to replace the blade? if only use it as a trimmer?????
Hi, Thank you for your question. We recommend replacing the Philips One Blade blade every 4 months, however if you find the blades are trimming without an issue, you can replace when it is needed. Thank you. Kind Regards Shaver Shop
Date published: 2019-04-10
Hi I have one of these i bought from you guys but the main head on it broke, how can i order that part seperately?
Hi, Thank you for your question. Could you please email customerservice@shavershop.com.au and provide an image of the head that is broken? As this will allow us to determine what you will require. Thank you. Kind Regards Shaver Shop
Date published: 2019-03-21
Is this product good for people with very sensitive skin who get ingrown hairs?
Hi Jimmy, This is good for sensitive skin as it does not shave off the hair to the skin which means it does not cause irritation. We recommend exfoliation & applying shaving cream or gel before use to prevent the re- occurrence of ingrown hairs. Thanks, Shaver Shop
Date published: 2018-12-28
Looking to buy as a gift, is it recommended for moustaches? As that's what they mainly would use it for. If not, any other recommendations? Cheers :)
Hello Rach, Thank you for your question, I would recommend the device featured in the below link to trim a mustache, It is equipped with all the necessary length combs to trim the mustache and a fine blade to navigate the harder to reach spots. https://www.shavershop.com.au/philips/3000-series-mg3740%2F15-8-in-1-face-%26-hair-multigroom-kit-009797.html?cgid=beard-trimmers Kind Regards, Shaver Shop
Date published: 2019-02-05
Is it a shaver
I'm sure it is. I haven't fully used, but if you watch the videos when you google reviews,they show for a week grown beard, it's perfectly shaved.The product also claims that it doesn't shave as close as a razor. For everyday shaving should be perfect.
Date published: 2019-02-05
Is this shaver suitable for a short, all over hair cut too? Equivalent to a number 1 or 2??
Hello Annette, Thank you for your question. The device is primarily recommended for the face. The trim style blade may struggle to navigate through the head on the hair because of the density. Kind Regards, Shaver Shop
Date published: 2019-02-04
bvseo_sdk, dw_cartridge, 16.1.1, p_sdk_3.2.0
CLOUD, getContent, 283ms
questions, product