Images
Hover to zoom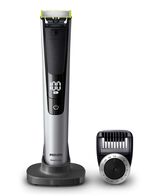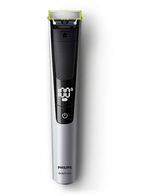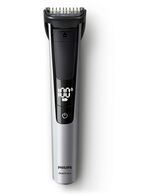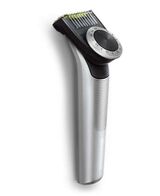 Details
https://www.shavershop.com.au/philips/oneblade-pro--010126.html

Product features

Unique OneBlade Technology
The Philips Oneblade has a revolutionary new technology designed for facial styling and body grooming. It can trim, edge and shave any length of hair. Its dual protection system - a glide coating combined with rounded tips - makes shaving easier and confortable. Its shaving technology features a fast-moving cutter (200x per second) so it's efficient - even on longer hairs.

Trim it down
Trim your beard to an even length with the included adjustable precision comb. Dial up one of the 14 lock-in length settings to get everything from a 5 o'clock shadow, to a tight trim, to a longer beard style.

Edge it up
Create precise edges with the dual-sided blade. You can shave in either direction to get great visibility and see every hair that you're cutting. Line up your style in seconds!

Shave it off
OneBlade doesn't shave as close as a traditional blade - so your skin stays comfortable. Go against the grain and shave off any length of hair easily.

Contour following
OneBlade follows the contours of your face allowing you to effectively and comfortably trim and shave all areas of your face.

Create precise edges & sharp lines with the dual-sided blade
OneBlade follows the contours of your face, allowing you to effectively and comfortably shave all areas. Use the dual-sided blade to style your edges and create clean lines by moving the blade in any direction.

Precision trimming comb has 14 length settings (0.4 to 10mm)
The versatile precision trimming comb offers length settings from 0.4mm to 10mm, giving you an even trim at exactly the length you want.

Durable OneBlade
The blades are designed for lasting performance. For optimal performance, you will only need to replace each blade every 4 months*. Replacement is easy and hassle free.

Water resistant: Use wet & dry
OneBlade is water resistant, so it is easy to clean: just rinse it under the tap. You can shave wet or dry, with or without foam - whichever you prefer.

LED digital display shows status of battery and travel lock
Be sure that your OneBlade is always ready to go by checking the LED digital display. It alerts you while in-use when your battery is low, and it indicates charging progress when plugged in. Activate the travel lock to take the OneBlade anywhere you go.

90 min Li-ion battery
Rechargeable Li-Ion battery delivers 90 minutes of constant performance after a 1 hour charge.
Product Description
Product Reviews
Questions And Answers
Product Description
Trim, edge and shave any length of hair. Designed to cut hair, not skin
Trim, edge, shave
For any length of hair
14-length precision comb
Rechargeable, wet & dry use
OneBlade Pro
is rated out of
5
by
54
.
Rated

5

out of

5
by
Anonymous
from
2 in one!
I bought two of these! They have replaced my razor and beard trimmers. So easy to use and great results too. Most of all convenient as they are so compact!
Date published: 2019-05-07
Rated

5

out of

5
by
Riceburna
from
Great shaver
Couldn't be happier with the one blade pro no more ingrown hairs and my face feels so much better. Should have brought one along time ago easy to use and highly recommend
Date published: 2019-04-17
Rated

5

out of

5
by
Beet
from
Very easy to use
Having had a beard up till 4 years ago I am familiar with beard trimmers Now I have a beard again I researched the trimmer market not wanting a trimmer with all the attachments & one that had a charger stand The one blade Pro was a standout for my requirements My beard was in a wild state (according to my wife) The first 2 attempts reduced the appearance of the beard to an acceptable level - Then the trimmer came into its own at 0.6 setting creating an even stubble that looks good - I guess this will form a basis for further trimming I read some negative reviews but I cant fault the ease of operation with the water cleaning as a plus which means no oil or brush The battery life is incredible - there is still 80% life in the battery after getting my beard from a wild state to a great looking stubble - I don't intend to use the shaver as I will continue to use a blade razor to tidy up under my nose & my neck under my chin Very satisfied with the result at first time use
Date published: 2019-04-06
Rated

5

out of

5
by
Christian
from
Never had such a close shave with an electric
Wow. I was sceptical. Electric shavers have always sucked. They never shaved my neck properly and often caused irritation as I went over the same spot over and over again. This was different. It's almost as close as shaving with a razor. My wife is very impressed.
Date published: 2019-04-04
Rated

5

out of

5
by
tomtom
from
Awesome product
Small, light, easy to use. Great battery life. Very well priced compared to others and a million times more versatile.
Date published: 2019-03-28
Rated

5

out of

5
by
Matt
from
Best Shaver I Have Owned
Great value. Easy to use and smooth shave. Can even could use without water.
Date published: 2019-03-20
Rated

5

out of

5
by
Lucy88
from
Great Product
A friend showed me their one blade razor and I just had to have one. I do not like shaving - this product has been amazing and convenient. Near impossible to cut yourself with.
Date published: 2019-03-09
Rated

5

out of

5
by
Mchew
from
Close shave. Good power. Good charge.
All good. Shave is close (not quite a razor shave). It's light. I rarely use more than 5% batter per face shave - I shave once a week. perfect little shaver!
Date published: 2019-03-01
Rated

5

out of

5
by
Silky
from
Gentle
This is ideal for men who have sensitive skin. My face rashes up just thinking about shaving. Yet with this one blade no rash at all.
Date published: 2019-01-19
Rated

5

out of

5
by
Seb L
from
Great cut easy use.
I bought this in December 2018 and I'm happy with it. I suffer from bad shaving rash and while this may not give as close a shave as a standard razor or electric razor it's pretty close and I don't suffer from nicks, cuts and shaving rash. Works just as well wet or dry though I find using shaving cream prevents facial hair ending up all over the bathroom sink.
Date published: 2019-01-03
Rated

5

out of

5
by
JohnnyP
from
Great features
Bought for myself for Christmas. Love it. Does everything needed
Date published: 2018-12-27
Rated

5

out of

5
by
Possum
from
OneBlade Pro
I gave this as a present to my son in law who has a very dark tough beard. He was amazed at the ease that it glided through it and left his face very smooth. He is very happy with my present.
Date published: 2018-12-27
Rated

5

out of

5
by
Mark
from
Most efficient beard trimmer I have owned
Cuts efficiently and smoothly with a long battery life.
Date published: 2018-11-21
Rated

5

out of

5
by
PatHyland
from
Great features
I bought this a few weeks ago and loving my shaves again thanks.
Date published: 2018-10-11
Rated

5

out of

5
by
Bone
from
Easy to Control
Very pleased with how quick and easy it is to use.
Date published: 2018-10-10
Rated

5

out of

5
by
Jacko
from
Awesome replacement for traditional razors
Bought this a month ago to try instead of using traditional type razor blades. I am very pleased with how close it shave and easy it is to use and a bonus is that it's waterproof so I can shave in the shower leaving no mess
Date published: 2018-10-03
Rated

5

out of

5
by
Connor
from
Amazing Product
I Didn't think such a tiny blade could do some many things quick and easy plus do a good job of it. just amazing
Date published: 2018-09-26
Rated

5

out of

5
by
Gagan
from
Great product
Been using Wahl for a long time but this is the best I have used. I was sceptical to begin with but can vouch after using this. The cuts are seamless and I love trimming my beard daily where I used to go to salon for special occasions. Saved me enough money that it paid for itself already.
Date published: 2018-09-17
Rated

5

out of

5
by
Redman
from
Fantastic beard trimmer and shaper
Received this trimmer for Fathers Day. I don't use razors as they cause irritation but this shaver trims close enough not to need to, and without any irritation. Close shave on the cheekbones and the double sided blade made trimming my moustache really easy. Yet to use it to clean up strays on my long beard (my beard extends past my neckline) but am excited to see how it stacks up in that department. Overall a great shaver and present!
Date published: 2018-09-17
Rated

5

out of

5
by
Ozo85
from
Excellent all in one trimmer!
I have had several Phillips beard trimmers, this is by far the best. Nice and light, plenty of length options plus waterproof. Some might be turned off by the fact that you need to change blades every 4 months, but in reality all trimmers blades should be sharpened if not replaced periodically.
Date published: 2018-09-12
Rated

5

out of

5
by
Pizza
from
Shaves perfect.
I got this for my husband for Father's Day and he has sensitive skin and he really love it. It cuts so close to the skin it's amazing and he said it doesn't pull which it awesome.
Date published: 2018-09-08
Rated

5

out of

5
by
g--P
from
no regrets!
should have bought this sooner.... good all in one product!
Date published: 2018-09-07
Rated

5

out of

5
by
Smoothroughface69
from
Freaking amazing
I suffer from shaving rash and ingrown hairs due to odd growth patterns. I have been smooth rough shaving( as close to smooth without bieng smooth) for many years. The devices to do this are very limited. I have found the holy grail, this thing was surely designed by a savant. The precision is next level. Well worth every single cent spent on this. Do yourself a favour and throw your old razor and buy this, your face will love you for it
Date published: 2018-08-25
Rated

5

out of

5
by
massour
from
Amazing shaver
I have had the philips oneblade for a while and have to say it's easily one of the best shaver's out there, i have always found shaving a chore due to having sensitive skin, that is until i got the Philips Oneblade Pro. I can highly recommend the philips oneblade to anyone espicially if you have sensitive skin.
Date published: 2018-08-14
Rated

5

out of

5
by
Jaked23
from
Best shaver/styler in years.
Hands down the best shaver / pro styler I have ever used, I work in the mines, so always trying to carry shavers and shaver heads is such a pain. The small yet powerful handheld shaver is perfect for traveling for work. It's such an impressive shaver, every mm setting is precise and cuts excellently. Best $149 I have ever spent on a shaver! Jake
Date published: 2018-08-12
Rated

5

out of

5
by
Sean40
from
It works great as expected
After a few days, I finally decided to buy, although I was not sure it can get the job done because the ultimate goal was to use for the underwear hair. It offers the speed of a trimmer with the head flexibility of a razor allowing for an extremely dexterous and agile shave. The result was unbelievable to me. OneBlade PRO is the pinnacle of quick, easy and most of all great performing products.
Date published: 2018-08-12
Rated

5

out of

5
by
mick...
from
It's great
It was an online order and delivery was very fast. I bought it for beard trimming and keeping the edges neat it is perfect for that job and the adjustable guide seems to work as designed. It is a neat looking unit sitting in the stand on the bathroom shelf and the digital battery indicator is a nice little feature.
Date published: 2018-08-10
Rated

5

out of

5
by
Dazza78
from
Just WOW!!
I added this to my routine every morning and my beard has never looked so neat and tidy. No need for all the attachments and gets the job done quickly and easily. It is the closest shave out of all the trimmers i have tried in the past, and having the straight edges means shaping is simple. WELL DONE!!
Date published: 2018-08-10
Rated

5

out of

5
by
bennyboy27
from
The One Blade to Rule them all
I have been using a One Blade since they came to Shaver Shop back in March. Since then, I haven't had any irritation or better yet, any pinching or pulling. It is actually quite amazing, because I have used cheaper ones in the past and experienced some pretty shoddy finishes (mismatched beard and what not), but haven't run into any problems so far with the One Blade. The comb is very tough, so the plastic doesn't bow and it has a decent amount of power, enough to tame my Ginger beard. To put it to the test, I actually shaved all my beard off on the 01/08/18. I had let it grow out to 12mm or so and it cut very clean. I honestly didn't experience any pinching or pulling and I went straight down to the bare blade, no trimming it down to different lengths inbetween. This is 100% a fantastic trimmer and would recommend to anyone who like to trim, shave or both.
Date published: 2018-08-07
Rated

5

out of

5
by
Cazzac
from
User friendly
We love the one blade ! So easy to use ... battery life is fabulous and it's nice and portable
Date published: 2018-08-07
bvseo_sdk, dw_cartridge, 16.1.1, p_sdk_3.2.0
CLOUD, getContent, 466ms
reviews, product
if used as a every day razor how long does blade last
I found that if used every day, the blade lasted approximately 2 months. I also found that it did not take anymore effort to shave if I had 1 day growth or 3-4 days. I have since only shaved each 3-4 days and I am quite happy with the results. By the way, I have been using the one blade for over a year now and still love it.
Date published: 2019-07-08
Is this the new one just seen on tv
This is the one on the shaver shop ads.
Date published: 2018-12-19
Can you use this shaver to clean shave your head?
The blade is similar to, but it doesn't cut as short as a bladed razor. If you want clean shave, this probably isn't the right razor for you.
Date published: 2018-11-05
I have sensitive skin and was wondering if this would be a good purchase for sensitive skin or I should look elsewhere?
I also have sensitive skin but I find this blade works well. I will occasionally end up with a small rash on my neck but otherwise I find it works well.
Date published: 2018-11-05
I need a shaver for my head and I don't want to shave it to the skin, I like the stubble look on my head, is this the shaver for this?
Yeah pretty much this will do it. It may go though the blade a bit fast tho. Have you tried something called the rapid cut clipper? I think it could be more suitable.
Date published: 2018-10-02
How often do you need to change the blade and how much will it cost
Roughly every 4 months if you use it 2-3 times a week. You can get a 2 pack of blades for about $40.
Date published: 2019-03-07
I am bald and use the foil of a Philips BodyGroom 3280 to shave my head every few days to get rid of fluff/misc hair. Will OneBlade Pro give as close a trim? 0.4mm sounds pretty impressive.
I have found it pretty awesome.. the girlfriend loves it..
Date published: 2018-09-05
This product says one shave attachment and one trim attachment. Does this mean it can be used for down below trimming as seen on one of the Philips adverts?
It works like a dream anywhere and anyone!!
Date published: 2018-08-22
bvseo_sdk, dw_cartridge, 16.1.1, p_sdk_3.2.0
CLOUD, getContent, 272ms
questions, product