Images
Hover to zoom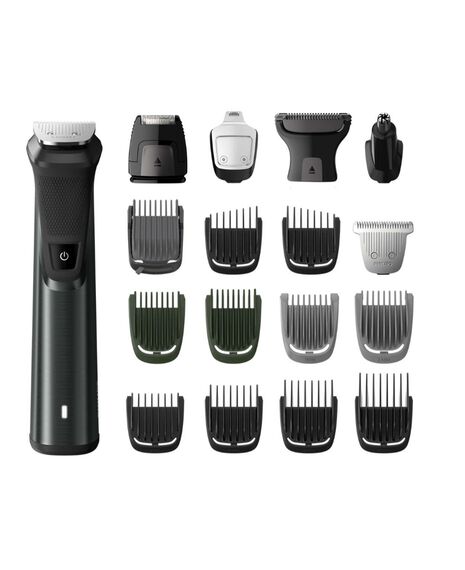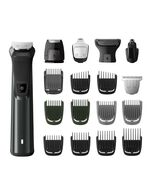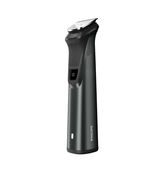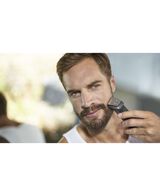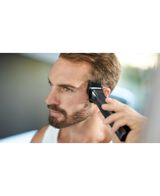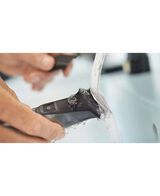 Details
https://www.shavershop.com.au/philips/multigroom-18-in-1-010274.html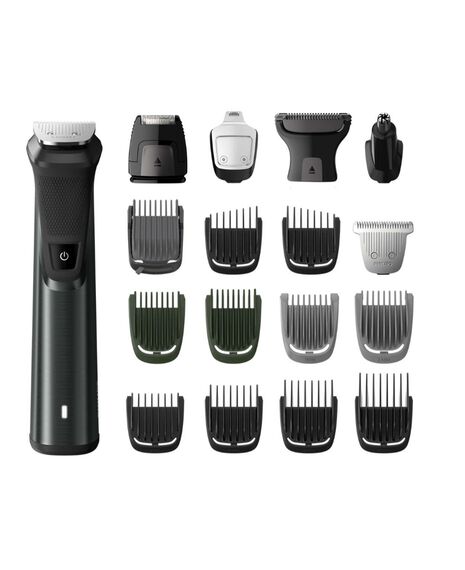 Product Description
Product Reviews
Questions And Answers
Product Description
Ultimate styling & precision
18-in-1 premium trimmer for ultimate versatility
18 tools
DualCut technology
6 hour runtime
Showerproof
MultiGroom 18 in 1
is rated out of
5
by
43
.
Rated

5

out of

5
by
Sgreview
from
Awesome Product, too expensive for what it is
Too many parts you'll never use! Otherwise great product and nice little case. Could be smaller if there wasn't so many pieces to it. Could have also come with a comb.
Date published: 2019-02-02
Rated

5

out of

5
by
Andyroo
from
Great package with travel case
Definitely a great deal with a wide range of attachments and handy travel case, can't fault one bit, very good cutting capabilities
Date published: 2019-01-16
Rated

5

out of

5
by
Wayno
from
Easy to use! Works so well)
I decided to buy this to keep my stubble being stubble and not a full blown beard...it works soooo good, nice to be able to use it in the shower as it's showerproof, run time is great and it's so easy to change the heads over on it. Really happy with my new trimmer!
Date published: 2019-01-11
Rated

5

out of

5
by
crosso
from
Fantastic Quality
I purchased this trimmer for my partner for Christmas and it is by far the best one we have purchased to date Quick postage and easy transaction is another bonus with this site
Date published: 2018-12-27
Rated

5

out of

5
by
Erich
from
Great so far. Oly used it twice but seems great
I've used it twice and really like the product. 123
Date published: 2018-12-17
Rated

5

out of

5
by
Floki
from
Best Trimmer in 2018 for sure
I have been using Wahl for over 10 years and I am still using their clippers n trimmers but Philips brought the trimmers to next level, but I would like to give some suggestions to Philips designers Philips trimmer do not need this much guards as Pro I use bigger Hair clipper to do blending, for whose who does use the trimmer at home, as Pro Barber, they really don't need that much guards. I would love and prefer extra sharper blades rather than guards to see in next version, that's all Many thanks for reading xD
Date published: 2018-12-15
Rated

5

out of

5
by
Sams
from
Perfect trimmer!
Bought this as a beard trimmer and is the best I've ever used, it's worth spending a bit more than the basic trimmer and the blades cut it first time, even on the jaw line. Highly recommended.
Date published: 2018-12-10
Rated

5

out of

5
by
Lial
from
Great product
I always use Philip's and I haven't had any problem for 5 years. Great company. I bought this new one and so satisfied so far.
Date published: 2018-11-02
Rated

5

out of

5
by
Dirkxe
from
Great product for every day use.
I love this trimmer, use it for all facial hair and also body hair, sensitive places as well.
Date published: 2018-08-13
Rated

5

out of

5
by
STASH9
from
I love Philips trimmers as they last longer
Their is no product named Philips multi-groomer 9000. If see that at best buy, amazon, xyz... it's norelco-multigroom-7000-face-head-and-body model:MG7770_49. Don't get confused while registering the product as you will not be able to see that 9000 once. Print mistake its... No issues with product, they last longer and this product as 10 years warranty and only think you need to do is have to get the product registered online at philips.com by creating account then click on register my product. Thanks!
Date published: 2018-08-03
Rated

5

out of

5
by
BobbyJoe
from
Absolutely the best trimmer
Previously bought Wahl and Andris trimmers - always disappointed. The MG9000 is by far the best performing. Worth the premium price.
Date published: 2018-07-28
Rated

5

out of

5
by
SteveWalt
from
Impressive quality
I received a free sample of this product to review and I have to say, I was quite impressed. Upon opening the box, I was surprised to see so many attachments included. There is literally an attachment for any grooming activity you can think of, and it does the job well. The quality of the groomer is impressive as well. It is a bit heavier than trimmers I have used before, but actually feels better in your hand. The only improvement I noticed that could be made is that when used without an attachment, it tends to bite if too much pressure is applied. The blades could be designed a little better to reduce the nicks. Overall I really like the product and would recommend it to others.
Date published: 2018-07-12
Rated

5

out of

5
by
BosMark
from
Excellent trimmer. Powerful and versatile
I recently was asked to participate in a review of the Norelco Multigroom 7770. In return for trying it and writing a review, I was rewarded with keeping it. Overall, I was very satisfied, as it`s performance exceeded other units I have tried. It charged reasonably fast and surprised me with the power it has. Considering the amount of trimming options it comes with, it also proved to be the most versatile trimmer I have used to date. I found it quick to clean and easy to store in the convenient carry case. It took a few try`s to get the changing of heads down at first, but once you get it, they all work the same and interchange easily. Although some of the adapters are color coded, and all are labeled, with the amount of options available it may take a minute to find the one you are looking for.
Date published: 2018-07-11
Rated

5

out of

5
by
Scrltngry
from
Everything you need for Grooming Consistently.
I received this product in exchange for my unbiased opinion. With this being said I was pleasantly surprised how well it worked for all of my grooming needs. When I received the product I opened it up and was amazed how many attachments it came with. I was a little overwhelmed at first but once opening and organizing all the heads it became much more clear how the product was to be used. Assembling the heads on the tool was quick and easy which made the grooming process much more pleasant. For facial hair it work better than I predicted it would. I like to keep a close stubble look and the trimmer head performed well for this. I also like clean lines on the face and this is where the product could use some improvement. I could achieve a clean shave look but it took longer than just using a traditional blade. For grooming body hair it performed the best. Multiple attachments worked for this and didn't leave any cuts in the sensitive areas like other similar products. Overall this will be the only grooming tool I'll ever use from now on and would recommend to anyone who likes to stay well groomed consistently.
Date published: 2018-07-11
Rated

5

out of

5
by
Fernandito
from
High quality
This trimmer is actually identical to philips norelco 7000 model 7750: premium groomer
Date published: 2018-07-09
Rated

5

out of

5
by
Mitchell
from
Amazing quality
This is the first shaver (and I have owned many) that actually does an amazing job. The quality is like nothing I have owned either. Whoever designed it needs to be applauded, even simple things like it standing upright makes life a lot easier. I have owned what many would consider the benchmark of trimmers and they have all fell short until this one. Do yourself a favour and look into this trimmer.
Date published: 2018-07-08
Rated

5

out of

5
by
Tabarat
from
Expectations exceeded
I received this Norelco Multigroom 7770 in exchange for my unbiased review on it. That being said this product blew all my expectations out of the water. The Norelco 7770 is by far one of the best built Multigroom tools out there on the market, it comes with a sturdy and reinforced case to store the item in when not using. The vast array of attachments make it usable anywhere on your body with an easy attach and detach feature you can change out the different guards or attachments in seconds. Never once while trimming my body did I have to worry about pinching my skin like i have to do with my head trimmer. Clean up was a cake walk a little bit of water on the attachments and a quick pat down with a towel made cleaning off hair a ease. The only thing i would recommend would maybe include a little brush and a small tube of the white lube that is used on the attachments. After cleaning off the attachments i found that I had cleaned off some of the lube. All and all i really loved this product and would buy it no questions asked and plan on sharing my experience with all my hairy big footed friends.
Date published: 2018-07-07
Rated

5

out of

5
by
Mitsorock25
from
Norelco Multigroom 7770
I received the Philips Norelco Multigroom 7770 as a free sample to try it on myself and I must said it was such a powerful tool. Although one feature I would like it to change is the instruction. It was not clear and often time it`s confusion on how to put each different size clipper on. I wish it was easy to follow with step by step (pictures). I had a hard time to figure out how to change heads and struggle with it.
Date published: 2018-07-06
Rated

5

out of

5
by
KevinP
from
A tremendous trimmer that can do it all!
I received this trimmer for free, but to be honest, I love it so much that I would`ve gladly paid for one. At first glance at the packaging, I could tell this was one serious trimmer...maybe too serious in the sense that I was nervous that it may be too complicated for a schlub like me! My concerns were quickly put the rest the moment I unpacked everything and started taking inventory of the attachments. The instructions were concise and the labeling on the attachhments themselves was as clear as can be. This is like a basketball MVP of trimmers -- sleek, versatile, dependable, and extremely effective! It can literally be used for any grooming situation, which is great because I`ve had to purchase `specialized` products in the past (e.g., one for shaving my face, another for my body, a trimmer for the nose and around the ears, etc.). No more! The Multigroom 7770 is a one-stop chop shop! What`s more is that it is as effective in the shower as it is out of it, and the lithium battery gives it enough juice for any grooming job!
Date published: 2018-07-06
Rated

5

out of

5
by
miked151
from
Need to try this
I received a free sample of the Norelco Multigroom 7770 and was not expecting to get to much out of it. Well I was completely wrong. This multigroom model was hands down the best I have used. First off the packaging alone made me feel confident in it, as it was packaged in a great case. I was pleasantly surprised with all the different attachments and the durability of each. I have seen ones before that were thin cheap plastic attachments and this was not even close to that. The 7770 handled my facial hair perfectly was ergonomically easy to use and left me feeling confident in how I looked. The nose trimmer was perfect and did not pull hairs at all, but cut them softly and comfortably. The 7770 was also amazing in `certain` areas so much so that my wife made a comment. I highly recommend this product. Durability, ease of use, ability to style, and overall comfort was 100% perfect. Thanks Norelco, you hit a home run with this one!
Date published: 2018-07-06
Rated

5

out of

5
by
MikeSTL
from
Noreclo 7770 Multigroom -fantastic product
I received this Norelco Multigroom 7770 as a free sample in exchange for my unbiased opinion. I`ve bought many different groomers over the last few decades, and have always been disappointed with the quality and accessories. I was skeptical that this would be different, and I have to say I was pleasantly surprised. I am large and very hairy, and most groomers simply don`t work well or last long. This Norelco was different. Metal instead of plastic, solid feel, rechargeable battery, and a wide assortment of accessories. To be honest there are so many it`s confusing, but better to have and not need than need and not have. The motor is powerful and didn`t drag trying to trim my very thick back hair. The shaver attachment was good, but could have been a tad wider for my taste. I didn`t get to use all the attachments, but I did test the fit and check out if they looked up to their tasks. Best groomer I`ve ever tried. Fantastic hard case comes with it as well. My two complaints, other than the narrow shaver are no charging stand and the small opening in the attachment bag. My hands aren`t that large and I had trouble getting the attachments out. Neither of those are a reason to avoid this kit. It is by far the best grooming kit I`ve ever encountered.
Date published: 2018-07-04
Rated

5

out of

5
by
TylerB
from
Everything you need for grooming!
I recently received a free sample of the multigroom trimmer. It will meet your every need in terms of body hair care. It can literally do it all. I am constantly trying to trim my beard to keep it short and this is the perfect product for that. The trimmer is easy to use and it has a great quick charge for when I forget to charge it but need it right away. It's a great product.
Date published: 2018-07-03
Rated

5

out of

5
by
Orlando2568
from
Norelco Multigroomer
This is a very excellent product, especially for removing head hair. The trimming features are well above what I had expected or anticipated. Mine was a free sample, but I would refer this to other persons for purchase and even include them as gift items.
Date published: 2018-07-03
Rated

5

out of

5
by
JonG
from
Great trimmer for well groomed beards
I received this product in exchange for my unbiased opinion High quality shaver/trimmer gives me a clean, easy, and comfortable shave. It is very sturdy, built to last, and comes with a number of pieces to allow you to shave any body hair including a proper haircut (most likely). I used this to maintain a well groomed beard. It may not be the best for longer beards (over 7mm) due to the size extensions available. It also comes with a little electric shaver piece to get a close shave on my neck/cheeks without having to bring/buy a true shavers or razors. Works great overall, I was even asked if I got a professional trim. Pros 1) Durability - metal and built to last 2) Great unboxing experience 3) Comes with travel case 4) Charges quickly 5) smooth on the face (feels nicer than most shavers) 6) many options and extensions for types of shaving/grooming 7) Pieces change easily once you figure out how to use it 8) comes with a small foil shaver to get a very close shave. It is small so it can get facial angles and areas on the cheeks without shaving off too much. 9) adjustable 3 - 7mm piece so you can change lengths without changing the head 10) great shave on the back of the neck to buy time between haircuts Cons 1) A bit difficult to learn all how to put on all the pieces (have to push up a bit forcefully to change the shaver head, I was scared it would break, but that is how it works) 2) Can`t use while charging (but has 5 min quick charge) 3) On button doesn`t have a guard or lock so it can go off in your bag 4) Beard trim length maxes out at 7mm (I prefer to keep my beard at 9). The hair clippers may be able to provide more length, but I have not tried them
Date published: 2018-07-01
Rated

5

out of

5
by
JM1234
from
Quality Product
I recieved this hair trimmer for free to review. It works well and is made well. The trimmer is a little small for shaving your head, if you do that, but the trimmer is great for shaving your beard closely at any length. Comes with every length you need. The nose and ear attachmemts are great, too.
Date published: 2018-06-29
Rated

5

out of

5
by
KevinGfromWI
from
Excellent product
Item: Norelco Multigroom 7770 (MG7770/49) Overall: This multigroomer is top notch. It comes with plenty of attachments to cut, shave, and trim from head to toe. All of the attachments and guards are incredibly easy to remove and snap into the shaver body. Having a double sided cutter with a body guard is a really nice touch. Using the different attachments they all cut really well with no hair pull and gave a consistent cut. The shaver charges quickly and holds a charge for a long time. I would definitely recommend this product to anyone looking for a high quality groomer. The product feels excellent in your hands, it has some heft to it and does not feel cheap at all. Pros: Easy to assemble/change out attachments, great battery life, no pulling/tearing of hair, tons of attachments, sturdy case. Cons: The only thing I disliked about the product (which is a little nit picky) is how the case holds all of the extra attachments. For such a high quality product i would of liked a nicer way to store all the different guards. The guards are stored on the left side underneath a mesh pocket. The pocket holds everything in there well but a nice formed side like the right side would be a really nice touch. I received this product in exchange for my unbiased opinion and I am so glad they sent it to me. 4.75/5 stars
Date published: 2018-06-29
Rated

5

out of

5
by
Henderson526
from
feels very well made
just got the shaver/trimmer in the mail this morning. Plenty of atachments and feels very well made. The other brand I had was 50% lighter and felt cheaper. This unit has some weight to it, feels good in the hand. So i charged it up to full, used it to trim my beard and around my ears to blend it in with the beard, and eyebrows to. Almost looks like the profesional cutters in the barbershop just a tad scaled down. But way better then the other brand i had.
Date published: 2018-06-03
Rated

5

out of

5
by
JC2105
from
Best I've owned
Performs well. Good battery life. Cuts through hair much faster than any that I've owned previously
Date published: 2018-05-10
Rated

5

out of

5
by
Sandshoes22
from
Great quality - easy to use!
Cuts so much closer and so much quicker than any other product like this I have used. Feels great to hold and looks awesome!
Date published: 2018-01-23
Rated

5

out of

5
by
ScoJo
from
Well worth the money!
I have been persisting with a cheap set of clippers for years - never again. This has all the attachments to suit any style of hair, facial hair/beard, body hair etc. The end result is a much cleaner and more professional looking cut. 100% worth every dollar spent. Love that it is showerproof and all of the attachments can be cleaned out under a tap.
Date published: 2017-12-20
bvseo_sdk, dw_cartridge, 16.1.1, p_sdk_3.2.0
CLOUD, getContent, 299ms
reviews, product
Hi. what is the model of this product?
Hi, Thank you for your question. The Philips MultiGroom 18 in 1 is the MG7785/20. Thank you. Regards, Shaver Shop
Date published: 2019-06-06
Which country is this made in?
Hi, Thank you for your question. The Philips 18 in 1 Multi groomer is made in Indonesia. Thank You. Kind Regards Shaver Shop
Date published: 2019-05-06
Can larger hair comb attachments be purchased for the wider T blade? 18mm, 20mm, 22mm, 24mm
Hi, Thank you for your question. Unfortunately we don't have any larger attachments to cater to the hair cutting blade. However I would recommend contacting Philips regarding their availability and if not, recommending they become available. Thank You. Philips 1300 363 391 Kind Regards Shaver Shop
Date published: 2019-04-30
Hi, I currently I have the Philips 18 in 1 Multigroom. What is the comparison to Wahl Stainless Steel Superior Performance Lithium Ion Plus Black Beard Trimmer?
Hi , Thank you for your question. The Philips 18 in 1 Multigroom MG7785/20 contains a steel handle and is showerproof. The Wahl S/S Superior Performance Li Ion Plus trimmer has a stainless steel handle and is smaller in design. The accessories on the Wahl are easier to source should you lose any accessories. However you can purchase the Philips accessories directly through them. Both units contain a nose and ear trimmer, precision trimmer, detailing blade and hair blade. Thank You. Kind Regards Shaver Shop
Date published: 2019-02-22
I am concerned about cleaning. Other trimmers (Remington BHT250 for eg) says they are washable by running under a tap but in reality the hair gets stuck underneath the blades and you can't get it out. Can you fully clean all the hair out of this device?
You can fully clean it if you want by purchasing a T8 Torx driver and unscrew the 2 screws on the plate which will separate the blades for removal of any debris that might get lodged in there.
Date published: 2019-01-21
What's the difference between this shaver and the 7000 series 18-in-1 shaver set?
Hi Ty, This model comes with a premium hard travel case to fit all your bits and pieces in and has a slate coloured finish. Thanks, Shaver Shop
Date published: 2018-12-13
Will this come with a comb piece of number 2 and 3? Looking at beard trimmer but also a clipper to use on my head
Hi Poofinger, This device comes with a comb that will do 4mm which is about 0.5mm short of a number 2 and 9mm which is a number 3. Thanks, Shaver Shop
Date published: 2018-12-03
bvseo_sdk, dw_cartridge, 16.1.1, p_sdk_3.2.0
CLOUD, getContent, 274ms
questions, product