Images
Hover to zoom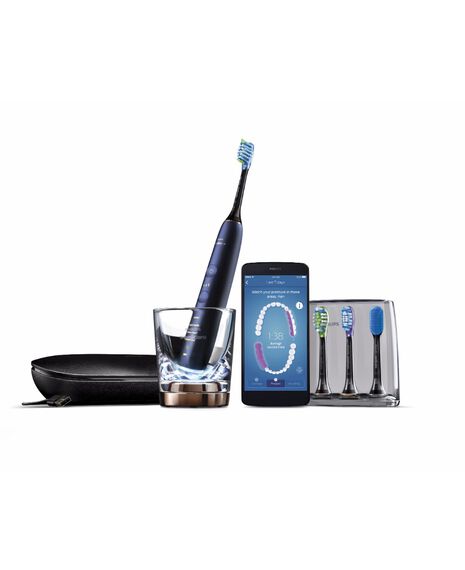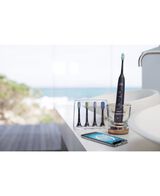 DiamondClean Connected Luna Blue Premium Electric Toothbrush
Details
https://www.shavershop.com.au/philips/diamondclean-connected-luna-blue-premium-electric-toothbrush-009802.html
After cash back price - $348.00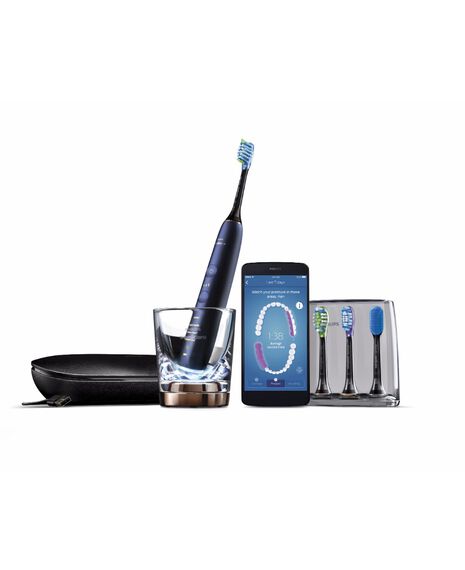 After cash back price - $348.00

Product features

Say Goodbye to Plaque
Click on the Premium plaque control brush head to experience our deepest clean. With soft flexible sides, the bristles contour to the shape of each tooth's surface to provide 4x more surface contact and remove up to 10x more plaque from hard-to-reach areas.

Care for your Gums
Click on the Premium Gum Care brush head to improve your gum health. Its smaller size and targeted gum line bristles deliver gentle yet effective cleaning along the gum line, where gum disease starts. It's clinically proven to deliver up to 100% less gum inflammation and up to 7x healthier gums in just two weeks.

Whiter Teeth, Fast
Click on the Premium White brush head to remove surface stains and reveal your whitest smile. With its densely packed central stain removal bristles, it's clinically proven to remove up to 100% more stains in just three days.

TongueCare + Tongue Brush
Click on the TongueCare+ tongue brush to gently remove odor causing bacteria from the pores of your tongue. Its 240 specially designed MicroBristles get between all your tongue's ridges and grooves to remove bacteria and debris that lead to bad breath. Team with our antibacterial BreathRx tongue spray for superior cleaning and super fresh breath.

Focus Areas & Goal-setting
Any trouble areas your dentist has pointed out? We'll highlight them on your in-app 3D mouth map, and remind you to pay extra attention to these areas.

Never Miss a Spot
Thanks to our smart location sensor, you'll always know where you've brushed, and where you haven't. Real-time tracking on the Philips Sonicare app that lets you know when you've achieved a thorough clean, and coaches you to be a better, more mindful brusher.

Easy does it
With an electric toothbrush, you let the brush do the work. We've built a scrubbing sensor into your handle as a gentle reminder to reduce scrubbing. This way, you can improve your technique and get a gentler, more effective clean.

BrushSync Mode Pairing
Wondering which mode and intensity you should use? Wonder no longer. A microchip in your brush head tells your DiamondClean Smart which one you're using. So if you click on a gum-care brush head, for example, your toothbrush knows to select the optimal mode and intensity to provide a gentle yet effective care for your gums. All you need to do is to press the power button.
Product Description
Product Reviews
Questions And Answers
Product Description
Proven to improve oral health
• Removes up to 10x more plaque* for a deep clean
• Up to 7x healthier gums* in just 2 weeks
• Remove up to 100% more stains** in just 3 days
• Enjoy long-lasting fresh breath
Personalized in-app coaching to perfect brushing
• Tracks where you've brushed, highlights where you haven't
• Start taking better care of your trouble areas
• Alerts you if you're pressing too hard
• Guides you to reduce your scrubbing
• Takes you back to any missed spots for 100% coverage
Optimize your brushing
• Brush heads automatically select the optimal settings
• Make sure you're getting the most from your brush head
• Choose from 5 modes and 3 intensity settings
Items included
Toothbrush Handle
Plaque Control Brush Head
Gum Care Brush Head
Premium White Brush Head
TongueCare Brush Head
Brush head holder
Glass charger
Travel case
USB charging travel case
DiamondClean Connected Luna Blue Premium Electric Toothbrush
is rated out of
5
by
40
.
Rated

5

out of

5
by
Poge
from
Amazing results
I have been using this toothbrush for a few weeks now and I love it. There are different brush heads for different kinds of brushing and the handle sets the speed and duration for each head. It connects to an app via Bluetooth to keep a track of your brushing technique but I have not had much luck with that. My teeth look and feel so clean and shiny and my gums are in much better condition. They no longer bleed during brushing and look healthier. The charging glass looks great and the charge lasts well. It also comes with a travel case with built n usb charger, so useful for taking on holiday.
Date published: 2020-03-04
Rated

5

out of

5
by
liverpool2608
from
Best toothbrush I've ever used!
I can't imagine a better electric toothbrush than this! It is such a great quality and has lots of functions to help you have healthy teeth! I'm really impressed with it, also with the app which will help you improve your oral hygiene. The toothbrush does a fantastic job and it is easy to use and charge plus it makes my teeth cleaner. It comes with 3 heads one of them for the tongue plus a spray for a fresh breath which is impressive! That's not just a toothbrush, it is like a whole system to help you make your teeth whiter and cleaner. The app helps you learn lots of things like how fast to move the brush, it also shows on which part of your teeth to use it on so you don't miss anything. The DiamondClean Smart includes a nice travel case with integrated USB charger that should come in handy when on the road so you don't need to bring your charger. This is a wonderful toothbrush and I'd definitely recommend it to anyone who wants to change or improve something in his routine and who wants healthier teeth!
Date published: 2020-03-03
Rated

5

out of

5
by
Albert27
from
Amazing product
Great toothbrush, is really doing an amazing job and I'll recommend it to anyone. I'm really impressed with this
Date published: 2020-03-03
Rated

5

out of

5
by
Daste78
from
Best toothbrush ever!
Des anything ud ever want except hold the brush. Delighted with it. App not so ke n as old phone didn't work so good but love the brush etc [This review was collected as part of a promotion.]
Date published: 2020-03-02
Rated

5

out of

5
by
Baz123
from
Love this toothbrush
I love all the settings on this toothbrush, I feel my teeth and easier to clean, and feel cleaner longer. They are staying whiter too. Highly recommend this toothbrush! [This review was collected as part of a promotion.]
Date published: 2020-03-01
Rated

5

out of

5
by
Slawek1
from
Amazing product
What a fantastic toothbrush.Starting from the design so sleek even the charger been a glass that sits on the mains disc is unique. The variety of different brush heads is great thinking of individual needs in oral care. I found the app very easy to use and very helpful as it prevented me from brushing too hard. A high end device from start to finish. [This review was collected as part of a promotion.]
Date published: 2020-02-26
Rated

5

out of

5
by
Claudine1980
from
Best toothbrush I ever had !
I am well impressed with this toothbrush. If came in big box, everything was packed nicely - could be great for a gift. I immediately fall in love with the silky blue colour. It is also so smooth and nice to touch. It can be charged with charger included or in the box that also is a protection while travelling. My teeth never been that clean and fresh. I love the doing cleaning head and spray - it keeps my whole mouth fresh for whole day. I never has such sophisticated and posh toothbrush that is working that good. I am definitely sticking with this one from now onwards. [This review was collected as part of a promotion.]
Date published: 2020-02-23
Rated

5

out of

5
by
Honest88
from
Amazing
The Sonicare DiamondClean Smart Sonic electric toothbrush is an incredibly high tech toothbrush that leaves your teeth and mouth feeling clean and fresh. Being able to connect your toothbrush with the app on your phone is astonishing and really helps you achieve the maximum performance of your brushing. The app informs you where you have cleaned and amazingly, how much pressure has been used. You get 3 individual brush heads and 5 modes tailored for different needs. The intensity can also be adjusted to what is comfortable to the user's teeth and gums. The brush comes with a very stylish and modern charging glass that fits well in every bathroom. Additionally, the battery life is long lasting so a big bonus is that you don't need to constantly charge it. Another bonus is that you can choose the option to have your brush heads automatically reordered for you when it's time to replace them.There is nothing I can fault with the Sonicare DiamondClean Smart Sonic eclectic toothbrush and therefore I would definitely say it is excellent value for money. [This review was collected as part of a promotion.]
Date published: 2020-02-23
Rated

5

out of

5
by
Galaxy21
from
High quality premium toothbrush
A very high quality premium product. I found the entire package premium, from the great packaging, to the soft feel of the toothbrush. In the package you receive everything needed to use the brush at home and away. The case that comes with the toothbrush is a charging case so if you're away for long periods of time it will mean you always have charge(the brush keeps charge for many weeks at once anyway). Included is a variety of heads and a head holder to keep then clean. The brush itself is amazing, so many features and different modes you can use. Extra to the standalone features are the smart features, the brush will connect to your phone and tell you how you're brushing and give you goals to achieve(if you like), you can also see how long is left on your head (yes they're also smart). Overall a premium product that works excellently at cleaning teeth and has a ton of smart features. [This review was collected as part of a promotion.]
Date published: 2020-02-21
Rated

5

out of

5
by
Lucyjayne90
from
Sleek design and amazing clean
What a stylish high quality product this is. I used an electric toothbrush a good 10 years ago but the power wasn't great on them back then and I felt like I could have been neglecting parts of my teeth. This toothbrush has changed how I feel about electric now and I will never go back to manual. The power and coverage of this brush is brilliant, and with all the different settings I'm sure everyone would find this a great product to accustome to their needs. I love the sleek design, it feels really nice to hold and looks the part. All the accessories that are included in the box are excellent. Wireless charging is super fast and easy in the glass or travel case. The app is a great bonus, helps you keep track of your brushing and since using it I have realised the right angle to brush and correct pressure to use. Each head thats also included within the box gives a different clean and I cant wait for my next dentist appointment for them to tell me what difference this has made. The price maybe high end, but if oral care is top of your list then I highly recommend this toothbrush. [This review was collected as part of a promotion.]
Date published: 2020-02-21
Rated

5

out of

5
by
mammymoo
from
Fantastic product
This is amazing, definitely keeps teeth and mouth healthy, so easy to use also easy to charge with the little charging cup, teath feels so clean and fresh after use definitely recommend this to family and friends [This review was collected as part of a promotion.]
Date published: 2020-02-21
Rated

5

out of

5
by
MunchKim2020
from
Great cleaning and easy to customise
This is a very stylist toothbrush, it looks great and has a charger that actually doesn't look out of place in the bathroom. After selecting the head that I thought would work best for me it was interesting that the handle knew which I'd picked and had a program for that. It was also great that I could customise this and reduce the intensity for my sometimes over sensitive teeth. After brushing my teeth felt so clean and smooth, like the feel you get after being at the hygenists! I also enjoyed using the tongue 'brush', I've never really considered cleaning my tongue to that degree but it does make a difference. The app gives great information and shows you where you've been missing in the routine you have gotten into over the years so you can correct and give your teeth the best possible clean. I'm very impressed with this brush, yes it's premium but it proves itself to be worth it. [This review was collected as part of a promotion.]
Date published: 2020-02-21
Rated

5

out of

5
by
Dove83
from
OMG amazing
LOVE this brush, been using for a week and I swear my teeth are whiter already. The charging tumbler is a nice touch. The app takes a bit of getting used to for a luddite like myself but it certainly was a learning experience. [This review was collected as part of a promotion.]
Date published: 2020-02-21
Rated

5

out of

5
by
Ashi2309
from
Sleek design
Have only been using this a few days but love it. I can actually feel it cleaning between my teeth. I had an older different brand rechargeable toothbrush but it did not feel anything like what I feel when I brush with the Philips Sonicare. I LOVE that the brush heads each have their own cover. Every time I brush my teeth it feels like I have got a cleaning from the dentist, I feel my teeth have also gone a shade white and no more bleeding gums which is brilliant. With its sleek design and black finish looks good sitting on the counter,it seems powerful so it's doing a good job on my teeth. Comes with a hard case which looks really durable and handy as I travel alot. I highly recommend this Philips Sonicare toothbrush you will not be disappointed great for any age make great gift to. [This review was collected as part of a promotion.]
Date published: 2020-02-21
Rated

5

out of

5
by
Sammyt
from
Powerful deep cleaning toothbrush
This toothbrush is incredibly powerful and very good at cleaning the entire mouth. Within two weeks I have noticed whiter teeth and the gum bleeding and swelling I suffered with has reduced significantly. What I love about this toothbrush is how smart it is. The app will show me how well I have cleaned my teeth and has actually taught me how to clean my teeth properly! It even showed me areas I have missed or could spend more time brushing which I think is astonishing. The different modes have really helped me efficiently remove the stubborn stains, remove plaque build up and help with my gum health. The app would also tell you when you when the heads need replacing which is a bonus. The design of this toothbrush is so stylish and modern and I love the wireless charging and portable case it comes with. Its definitely the centrepiece in my bathroom!! I would definitely recommend you buying this toothbrush as it is shocking to discover that alot of us dont brush our teeth properly! I love the fact that you get spare heads and how smart this toothbrush is. You can set the toothbrush as to how you need your teeth and tongue cleaned, whether that be a standard clean, deep clean or whiten. [This review was collected as part of a promotion.]
Date published: 2020-02-18
Rated

5

out of

5
by
Redrosered
from
This product is amazing
I loved trying out this new sonic toothbrush.i loved that you get different attachments ie tongue cleaner etc. The tooth brush has a amazing features ie app making sure your teeth are really clean & fresh. Since using this product I felt my teeth were definitely cleaner than the conventional electric tooth brush. Would highly recommend to friends & family. [This review was collected as part of a promotion.]
Date published: 2020-02-18
Rated

5

out of

5
by
Clairecar73
from
Amazing toothbrush that helps you brush properly!!
The toothbrush is really stylish. It comes with different type of head to help with plaque removal, gum etc.brushing is the app that pretty much tell you what you are doing when you brush your teeth. For example if you pressed too hard while brushing or if there are areas that you miss so this has really educated me to how i should brush my teeth. Anyone looking for a good quality toothbrush with the added extra of being able to track your brushing habits with the app i would definitely recommend! [This review was collected as part of a promotion.]
Date published: 2020-02-17
Rated

5

out of

5
by
Nb74
from
Amazing toothbrush!
Well what can I say about this toothbrush, I got this the other week and firstly charged it up for a day. It looks really stylish and the charging glass looks good too. It came with 4 brush heads for whitening, gum care, plaque defense and tongue care and a special holder to keep them in when not in use. There is also a travel usb case which charges up your toothbrush whilst it's in it, which is fantastic for taking on holiday rather than having to take the glass charger, plus keeps everything in one place! Next I downloaded the app and its great, it goes through a series and shows you where to brush your teeth, then moves on to the next part. The brush handle itself will tell you if you're brushing too hard which is handy as I realised this is exactly what I do. The app will also tell you how many brushes your head has left so that you've got time to replace them. There was also a breath rx tongue spray in the set. All in all this toothbrush really covers all your dental hygiene needs, you'll never need to look for a decent toothbrush again! Highly recommended [This review was collected as part of a promotion.]
Date published: 2020-02-17
Rated

5

out of

5
by
emly gre
from
great fantastıc
The app is good, the brush is brilliant I've read a few reviews on here saying the app is a bit of a gimmic, or that the bundle is overpriced - I'd have to take exception to both of these arguments, having had other so called 'premium' brushes at the lower price points in the past I can say hands down this is in another league. The build quality and attention to detail is next level. The performance of the brush feels so powerful but doesn't damage gums or hurt at all, they've somehow balanced a gentle clean with impressive power. Then for the app, it connected easily to the brush and was displaying real time data as you brush, turns out I had a few things to learn and at 32 years old that was a surprise, from things like moving the brush head around too quickly, applying too much pressure and even missing certain zones entirely. I'll say that eventually I probably won't use the app forever, but it is really useful for fixing old bad habits and getting into new good ones. Lastly, the charger - wow, how to make something which is usually so ugly and function into something aesthetically pleasing and a welcome addition to the bathroom. All round an amazing product, and worth the price, you get what you pay for in this life, if you want quality then put your hand in your pocket and pay for it. [This review was collected as part of a promotion.]
Date published: 2020-02-17
Rated

5

out of

5
by
Connie
from
Best Electric Toothbrush
I bought the Phillips Sonicare Diamondclean a few weeks ago; it's the best purchase I've made. It's advanced technology really makes it easy to look after your teeth and gums. Thank you Phillips and Shaver Shop.
Date published: 2019-08-04
Rated

5

out of

5
by
Caza
from
Takes the Work out of Cleaning your Teeth!
I love my new Sonicare Diamond Clean Connected Luna Blue Premium Electric Toothbrush!!!! My teeth have never felt so clean. I love the time & everything about it. This brush is the best.
Date published: 2019-07-20
Rated

5

out of

5
by
Sam73
from
Great Features
I bought this approx two weeks ago. Excellent toothbrush. Great features.
Date published: 2019-07-10
Rated

5

out of

5
by
AALI
from
this Philips HX9954/53 is amazing
in two weeks time no more bleeding gums, i can see the chanching. iam very happy this Philips HX9954/53, and i recommend it.
Date published: 2019-05-01
Rated

5

out of

5
by
Anonymous
from
Very Clean Teeth
My teeth have never been cleaner, the phone app is great for guiding you on where you should be paying more attention to. The phone app can be temperamental when connecting, but after working out the best way I have had no problems. The instructions don't tell you, first start the app, wait until it has fully loaded, then pick up the toothbrush (if the lights on the toothbrush don't come on put it back and pick it up again) it should then connect (image of the teeth is on the app).
Date published: 2019-01-11
Rated

5

out of

5
by
Pearlywhites
from
Best ever
I tried lots of electric and manual toothbrushes and nothing does the job on teeth and gums like this one. Happy ... yup ... very happy.
Date published: 2018-08-09
Rated

5

out of

5
by
Mike
from
Better Habits
Bought this toothbrush a few weeks ago, already I am noticing an increased shine and cleanliness to my teeth. I find the reminder function "Did you floss" and "Did you clean your toung" has actually formed as habit the few times I have used without the app. Package content is awesome with everything you need and more four "Brush Heads", a very sleek and well made "Carry Case" for when you are travelling, which also charges the device via USB and my favourite, "Glass" for rinsing and wireless charging. I could never go back to the other brushes I have owned!
Date published: 2018-04-03
Rated

5

out of

5
by
Susie8000
from
Best Toothbrush
Love this toothbrush. Easy to use. Charging glass is an excellent idea and the travel pack which charges the toothbrush is also great for travels.
Date published: 2018-02-20
Rated

5

out of

5
by
PeterMcW
from
Truly the Rolls Royce of oral care.
I heard someone describe this product with that sentence and quite honestly I have to agree. This is the best toothbrush I've ever used. The amount that comes with it too, the travel charging case, the glass and charger combo, the four brush heads and their covers, the holder/stand for the brush heads, the app functionality. At first the pressure sensor was slightly too sensitive but now with the updates, it is perfect. I love how the app tells me where I should brush more. The intensity level button definitely comes in handy when brushing the front teeth which tend to be more sensitive, and the deep clean mode is the best clean I've ever felt. The fact that it beeps to tell you when to move on to the next section takes all the guess work out of how long you've been brushing for.
Date published: 2018-01-15
Rated

5

out of

5
by
Jajom
from
The Rolls Royce of toothbrushes
Expensive it may be but it is also incredibly stylish and looks great in its charging glass. With brush heads with microchips so your toothbrush intuitively knows which setting it should be on and with an app to help you see what you miss, where you should be and whether you press too hard or move too much, it gives a really good clean. And the USB charging travel case is just a darn fine idea. Love it.
Date published: 2017-09-07
Rated

4

out of

5
by
Sailor boy 123456
from
Great brush not so sure about the app.
Really good tooth brush which cleans teeth and gums extremely well. Really difficult to use after using a manual brush as it feels fairly vigorous at first. Found app hard to use. [This review was collected as part of a promotion.]
Date published: 2020-03-02
bvseo_sdk, dw_cartridge, 16.1.1, p_sdk_3.2.0
CLOUD, getContent, 263ms
reviews, product
Can i get a duplicate set of all the brush heads - in the black? I can only see them listed in white. Also in the glass case?
Hi, Thank You for your question. Yes, you can get brush heads in black colour. They are listed on our website. Regards Shaver Shop
Date published: 2020-07-19
Can this product be charged via USB
Yes
Date published: 2020-03-16
Is the glass charge is 240v?
Hi, Thank you for your question. The Philips DiamondClean Smart HX9954/56 tootbrush is 110-220 V. Thank you kindly. Kind Regards Shaver Shop
Date published: 2020-03-04
How does the glass recharge work, is there no cord and plug? thank-You
Hi Data, The DiamondClean range is rechargeable via the glass. The charging class has a magnetic base with plugs into the outlet & the toothbrush, whilst standing upright in the glass, will charge through this. Thanks, Shaver Shop
Date published: 2018-12-30
Why would I buy this model over 9500? it seems like a lot more money for what benefit? Does it have extra brush heads at least?
Hi Ricardo, The Lunar Blue model is functionally the same as the white one, however this Lunar Blue model comes with a holder for brush heads and 4 heads. Thanks, Shaver Shop
Date published: 2018-12-10
I just made a layby the Philips Sonicare premium Luna BLue Toothbrush with the travel case etc incl 399.00 . Does it also include the cord to charge with the USB ?
Hi Alan, the USB is included. It's attached in a compartment in the bottom of the travel case. You won't regret the purchase. The toothbrush gives an exceptional clean.
Date published: 2018-04-14
What's in this package?
Hi, Thanks for contacting us. We have listed the contents below. Items included - Toothbrush Handle - Plaque Control Brush Head - Gum Care Brush Head - Premium White Brush Head - TongueCare Brush Head - Brush head holder - Glass charger - Travel case - USB charging travel case Regards, Shaver Shop
Date published: 2018-01-18
where is the form to obtain cash back on this product please
Hello Teresa, Thank you for reaching out to us. Please visit the below link for this offer. https://www.philips.com.au/c-w/promotions/sonicare-xmas-cash-back.html Kind Regards. Shaver Shop
Date published: 2017-11-21
bvseo_sdk, dw_cartridge, 16.1.1, p_sdk_3.2.0
CLOUD, getContent, 248ms
questions, product