Images
Hover to zoom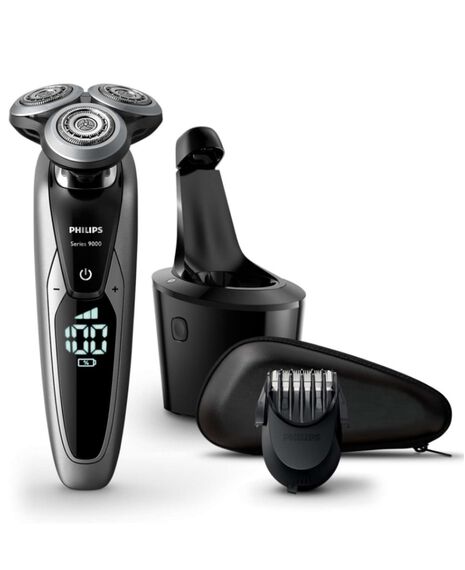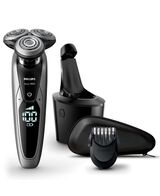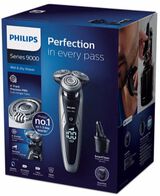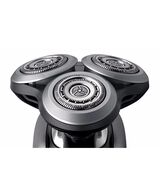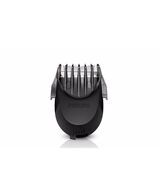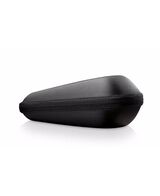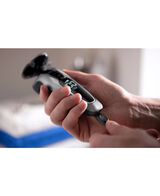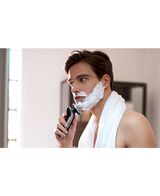 9000 Series S9711/31 V-Track Electric Shaver with Smart Clean & Styler Attachment
Details
https://www.shavershop.com.au/philips/9000-series-s9711%2F31-v-track-electric-shaver-with-smart-clean-%26-styler-attachment-009772.html

Product features

V Track Precision Blades
Get the perfect close shave. The V-Track Precision PRO Blades gently positions each hair in the best cutting position, from 1 day up to 3 day beard and even the flat laying and different length of hairs. Cuts 30% closer* in less strokes leaving your skin in great condition.

8 Direction Pivoting Heads
Follow every contour of your face and neck with 8-directional ContourDetect heads. You'll catch 20% more hairs with every pass. Resulting in an extremely close, smooth shave.

Personalise your shave
Choose between 3 modes to customize your shave: Sensitive – for a gentle, yet thorough shave. Normal – for a thorough, everyday shave. Fast – for a quick shave that saves you time.

Shave wet or dry
Choose how you prefer to shave. With the Aquatec Wet & Dry seal, you can opt for a quick yet comfortable dry shave. Or you can shave wet – with gel or foam – even under the shower.

SmartClean System
At the touch of a button SmartClean PLUS cleans, lubricates, dries and charges your shaver, so it'll perform at its best every day.

Click-on Beard Styler
Change your look with the SmartClick Beard Styler attachment. Choose from 5 length settings to create anything from a perfect stubble look to a short, neatly trimmed beard. Rounded tips and combs are designed to prevent skin irritation.

Intuitive Display
The intuitive display shows relevant information, enabling you to get the best performance out of your shaver: - 3 digit (%) battery indicator - Cleaning Indicator - Battery Low Indicator - Replacement Head Indicator - Travel Lock Indicator

Lithium Ion Power
Now with the most superior battery life of all Philips Shavers, the charging system gives you two convenient options: 60 minutes of running time after a single one-hour charge, or quick charge for one full shave. All Shaver series 9000 models are designed to operate only in cordless mode to ensure safety in wet environments.

Fully Washable
Simply open the shaver head to rinse it thoroughly under the tap.
Product Description
Philips 9000 Series Shaver Range
Product Reviews
Questions And Answers
Product Description
Perfection in every pass
Cuts up to 20% more hair* in a single pass
V-Track blade system PRO
8-direction ContourDetectHeads
SmartClean System Plus
SmartClick beard styler
9000 Series S9711/31 V-Track Electric Shaver with Smart Clean & Styler Attachment
is rated out of
5
by
31
.
Rated

5

out of

5
by
ayar
from
Great Shaver
Comfortable to use and gives a clean shave. The device is quiet and charges quickly.
Date published: 2018-06-11
Rated

5

out of

5
by
benjie
from
quiet and smooth
I recently bought this and have been pleased with its quietness and smoothness the variable speeds help with shaving in sensitive areas its comfortable to hold and use wet or dry it works well and far better than my previous cool skin shaver that I had for many years The holder charger and quick clean system is brilliant it rinses well under the tap anyway
Date published: 2018-06-03
Rated

5

out of

5
by
Anonymous
from
Great Electric Shave
This shaver is flawless. It is ergonomically comfortable, as I have arthritis. This also means it has terrific manoeuvrability. The shave is clean, even with a long, thick, 5 day growth. Rinsing is easy and cleaning is simple, along with charging. I also got myself an Smart Click Ear & Nose Trimmer which works well.
Date published: 2018-02-09
Rated

5

out of

5
by
Neil62
from
best shaver ever
I purchased it this morning 27/1/18 from Shaver Shop Adelaide and Dale in the shop was most helpful in ensuring I got the model I wanted. This has given me the closest thing to a blade shave I have ever had from an electric shaver and with the cleaning station and trimming attachments buying this was a no brainer. Clear LED gives remaining battery life percentage. - and + buttons will vary the blade speed. Highly recommended. The best shaver a guy can own
Date published: 2018-01-27
Rated

5

out of

5
by
NEIL
from
best shaver ever
Bought this morning from Shaver Shop Adelaide. Closest thing to a razor shave I have ever had from an electric razor.
Date published: 2018-01-27
Rated

5

out of

5
by
Anonymous
from
Great features and easy to use
This would be my 5tgh Philips shaver and by far the best. It gives a clean shave very time and the charging and cleaning system is brilliant.
Date published: 2017-01-23
Rated

5

out of

5
by
BunyipBill
from
Brilliant, just brilliant
A beautiful shaver to look at and hold, lightweight and quiet to use. The interchangeable Shaver and Trimmer heads are so innovative. Highly recommended.
Date published: 2016-12-16
Rated

5

out of

5
by
Albirch
from
9000 Series Shaver
I fined the 9000 series a excellent produce but I keep turning it off when shaving.
Date published: 2016-11-15
Rated

5

out of

5
by
Anonymous
from
Best electric shaver I have ever used. Almost as close as a blade shave!!!
This is a great shaver and I would recommend it to anyone. I have no regrets purchasing one. This is the best electric shaver I have ever used.
Date published: 2016-08-18
Rated

5

out of

5
by
Johna72
from
Great razor, best one I have had in 50 plus years
Does everything the description says it will do, plus more. Very smooth action across skin and no drag at all. Also use it to shave whole of head and only takes a couple of minutes to do the whole face and head daily. A bit costly but worth every dollar.
Date published: 2016-05-13
Rated

5

out of

5
by
Fish1
from
Ease of use and cleaning.
This is my third Philips Shaver and am always pleased with the performance of the Shavers.
Date published: 2016-02-04
Rated

5

out of

5
by
RobSmith
from
Best shaver I have used
This shaver is the best one. Speed control feature works great on my sensitive skin. Allows me to use slow speed on neck to avoid irritation. Philips should make this feature standard on all models.
Date published: 2015-04-28
Rated

5

out of

5
by
Waynesworld1948
from
Great Shaver
Best Electric Shaver I have ever had, as close a shave as if it was a razor. Highly recommend.
Date published: 2014-08-20
Rated

4

out of

5
by
Mark2020
from
Like it
I bought this a month ago and so far very happy with the easy, fast close shave. The improvement in cutting from my previous 5 year old philips is noticeable. Faster, quicker.
Date published: 2018-09-24
Rated

4

out of

5
by
Darryl67
from
This is the best electric shaver that I have used
Flagship model with excellent features. Still prefer to have 'minutes left' in the display instead of percentage.
Date published: 2016-10-18
Rated

4

out of

5
by
Anonymous
from
Still getting used to it
Gives a good shave around the face however still find some hairs in the neck / throat region after a shave
Date published: 2016-05-16
Rated

4

out of

5
by
Anonymous
from
This product is great but still can improve some features
I really like this product but by the time that I experienced there have some features which I found it van be improve. For example the shaver design can improve to suit everyone's hands .Another feature is the travel lock. I would like to have a button to press it rather than hold a button which can be use on other function. Overall I love this product because of the good shaving that Phillips bought to me. Thank you so much.
Date published: 2016-01-25
Rated

4

out of

5
by
BBStar
from
Great Engineering
This is the quietest electric shaver I have ever used, and the cleaning station is easy to use etc. Very powerful shaver, especially when I haven't shaved for a couple of days. Worth the money...
Date published: 2015-10-28
Rated

3

out of

5
by
Colin
from
Good shaver, but quality may be slipping.
The shaver works well enough. Not a better shave than my previous RQ1285CC, maybe a little quieter. Philips seem to be cheaping out on the kit though. Every Philips shaver I have bought since 1984 has had a plastic blade / head cover except this one. My previous two shavers have also come with a counter-top stand but not this one. Apparently Philips expect me to store the shaver in the travel case at all times - the reason given for these accessories being dropped from the kit. The "sensitivity" setting seems to be a bit of a gimmick - it just seems to change the speed. The shaver itself doesn't feel as solid as previous shavers, and the cleaner seems pretty basic and flimsy compared to the previous model as well. I do have a concern about the little orange locking rings that hold the blades in place - there seems to be many reports online about them breaking the minute locking tabs off. I would probably rate it 3½ stars, but it seems to be either 3 or 4 stars.
Date published: 2018-08-04
Rated

3

out of

5
by
Anonymous
from
Keep your old one
I expected a new model would be much better than my 5 year old one but apart from 3 speeds you may as well hang onto your old one & save your money.
Date published: 2016-06-27
Rated

3

out of

5
by
Anonymous
from
The shaver is quite
The shaver works ok on the skin , but the shaver doesn't give a close shave . I need to use a razor shaver to get a close shave after using the Phillip shaver .
Date published: 2016-02-18
Rated

2

out of

5
by
Gerkov7000
from
Blades blunt quickly
Initially blades ok for about a month and then slowly deteriorated so they are now quite blunt after 8 months. Shaver has been maintained according to manufacturers instructions. In the past I have never had this problem with Philips products
Date published: 2016-01-05
Rated

1

out of

5
by
Jacko68
from
This product doesn't work.
This shaver does not cut the hair at all, I believe it is the biggest waste of money I have spent. If anyone is looking for an electric shaver this is not the one to look at, I have had cheap and nasty shavers do a better job.
Date published: 2017-02-13
Rated

1

out of

5
by
Anonymous
from
Too expensive and not satisfied with the product
I bought it as a Christmas gift to my husband last year (December 2015). My husband is not very satisfied with the product from the first weeks he was using it and turned back to use the cheap manual razors from the supermarket. So disappointing because it's very expensive.
Date published: 2016-08-01
Rated

1

out of

5
by
SADDAD
from
Product does NOT do what it claims to do- cut hair!!!!!
Product does NOT do what it claims to do- cut hair!!!!! My 84 year father who we gave this too as a present is very disappointed. It pulls at his hair leaving his face red and painful while using it. He has used this brand before but NEVER,NEVER again he prefers to use disposable shavers to this unit. Very disappointing.
Date published: 2016-07-15
Rated

1

out of

5
by
Piperye
from
Very disappointed
I purchased this razor in September, two months later it was replaced, as the Smart Clean system stopped working, 4 months later, it has stopped working again, I would like a refund.
Date published: 2016-03-26
Rated

1

out of

5
by
Lloyd72
from
I sent this back because it doesn't have the built in beard trimmer
I upgraded to this new top-of-the-line model and although I'm sure it shaves just as well as (or likely better than) my current Philips shaver, the lack of built-in beard trimmer is a complete deal breaker, so I sent it back. I don't enjoy shaving, it's a purely functional activity. I have chosen Philips in the past because their shavers got the job done in the least time with the least fuss and nuisance. I could shave quickly with the great shaving heads, then simply flip out the trimmer and lay waste to the few pesky hairs left over. Being forced to use a clip-on beard trimmer is a massive nuisance. - First, there's the extra time to swap heads - unnecessary nuisance value. - Second, I have to clip it on/off, on a daily basis, without accidentally breaking it or the regular shaving head. I have no doubt that I'll mess this up eventually. - Third, it WILL get separated from the razor by one of my children or someone cleaning up the bathroom. - Fourth, I have to remember to bring it with me when I go away, and then remember to bring it home. I will mess this up eventually too. The clip-on beard trimmer probably has it's uses, but to have it as the ONLY option for this function is a real design flaw. Sadly, for me, this flaw RUINS an otherwise great product. Philips, why would you let me go over something so easy to fix?
Date published: 2016-02-05
bvseo_sdk, dw_cartridge, 16.1.1, p_sdk_3.2.0
CLOUD, getContent, 285ms
reviews, product
Is the product I ordered Phillips 9000 series S9711/31/31 was a wet dry one ie you can use with shaving cream or in the showsr
Yes it can be used in the shower and with shaving cream.
Date published: 2019-03-02
I am trying to decide between the S9711 which includes a cleaning and charging station, and the series 9000 wet and dry prestige shave.  Can you just confirm for me if the blades are essentially the same.
Hi Michael, Thank You for your email. The Philips Prestige 9000 Shavers Nano Tech blades are coated with metallic pigments for superb gliding and adapts 15x/sec for effortless shaving even on a 7-day beard. The Philips S9711 shaver has V Track Pro blades that gently position each hair in the most suitable cutting position, which can cut hair up to 3 days worth of growth. Thanks, Shaver Shop
Date published: 2019-01-28
It looks like this unit comes with a beard trimmer, not the sideburn trimmer. Can the beard trimmer be used as a sideburn trimmer or do I need to buy the sideburn trimmer extra?
No, just take the beard trimmer attachment off and use as normal. This will trim sideburns.
Date published: 2018-08-02
Is the JC301 cleaning fluid the same as the JC302?
bvseo_sdk, dw_cartridge, 16.1.1, p_sdk_3.2.0
CLOUD, getContent, 276ms
questions, product