Images
Hover to zoom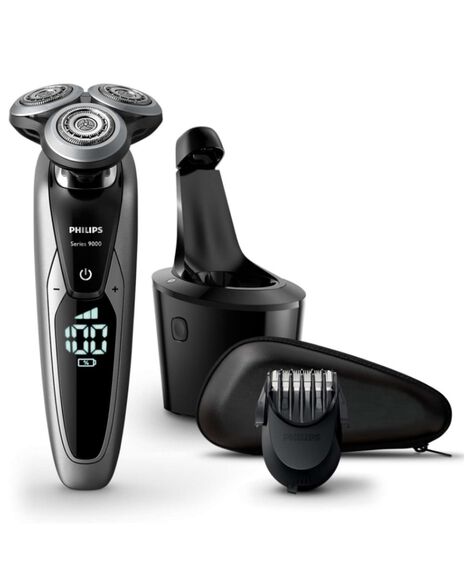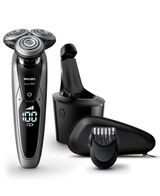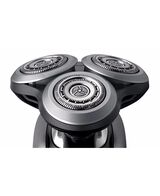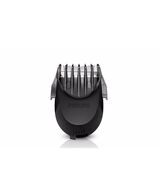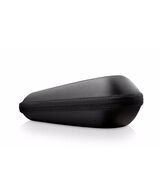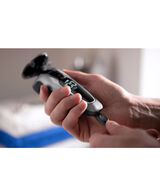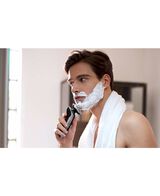 9000 Series S9711/31 V-Track Electric Shaver with Smart Clean & Styler Attachment
Details
https://www.shavershop.com.au/philips/9000-series-s9711%2F31-v-track-electric-shaver-with-smart-clean-%26-styler-attachment-009772.html

Product features

V Track Precision Blades
Get the perfect close shave. The V-Track Precision PRO Blades gently positions each hair in the best cutting position, from 1 day up to 3 day beard and even the flat laying and different length of hairs. Cuts 30% closer* in less strokes leaving your skin in great condition.

8 Direction Pivoting Heads
Follow every contour of your face and neck with 8-directional ContourDetect heads. You'll catch 20% more hairs with every pass. Resulting in an extremely close, smooth shave.

Personalise your shave
Choose between 3 modes to customize your shave: Sensitive – for a gentle, yet thorough shave. Normal – for a thorough, everyday shave. Fast – for a quick shave that saves you time.

Shave wet or dry
Choose how you prefer to shave. With the Aquatec Wet & Dry seal, you can opt for a quick yet comfortable dry shave. Or you can shave wet – with gel or foam – even under the shower.

SmartClean System
At the touch of a button SmartClean PLUS cleans, lubricates, dries and charges your shaver, so it'll perform at its best every day.

Click-on Beard Styler
Change your look with the SmartClick Beard Styler attachment. Choose from 5 length settings to create anything from a perfect stubble look to a short, neatly trimmed beard. Rounded tips and combs are designed to prevent skin irritation.

Intuitive Display
The intuitive display shows relevant information, enabling you to get the best performance out of your shaver: - 3 digit (%) battery indicator - Cleaning Indicator - Battery Low Indicator - Replacement Head Indicator - Travel Lock Indicator

Lithium Ion Power
Now with the most superior battery life of all Philips Shavers, the charging system gives you two convenient options: 60 minutes of running time after a single one-hour charge, or quick charge for one full shave. All Shaver series 9000 models are designed to operate only in cordless mode to ensure safety in wet environments.

Fully Washable
Simply open the shaver head to rinse it thoroughly under the tap.
Product Description
Philips 9000 Series Shaver Range
Product Reviews
Questions And Answers
Product Description
Perfection in every pass
Cuts up to 20% more hair* in a single pass
V-Track blade system PRO
8-direction ContourDetectHeads
SmartClean System Plus
SmartClick beard styler
9000 Series S9711/31 V-Track Electric Shaver with Smart Clean & Styler Attachment
is rated out of
5
by
45
.
Rated

5

out of

5
by
Hiker
from
Best Phillishave I've ever owned
I have been shaving with Philips' shavers for the last fifty years and I can say that this is, without doubt, the best shaver they have made. It shaves closer and more completely than any of my previous shavers and is very easy to both use and to recharge/clean
Date published: 2018-09-18
Rated

5

out of

5
by
Bob52
from
Great product
This shaver is the best I've used and had it shaves like a razor and it cleans well really can't fault it
Date published: 2018-09-04
Rated

5

out of

5
by
Pete
from
S9711
Brillant shave even my son likes it!. Does anything its supposed to!. Love the cleaner too.
Date published: 2018-08-19
Rated

5

out of

5
by
Pjh1950
from
Great product
This is easily the best shaver I have ever had. Really close shave, and I like the digital battery indicator.
Date published: 2018-08-09
Rated

5

out of

5
by
Brick
from
Probably the best Philips shaver yet.
I have been shaving for many, many years, mostly with electric shavers. This is the most effective yet and the smoothest.
Date published: 2018-07-09
Rated

5

out of

5
by
Franco99
from
Even better than I expected.
I bought this razor to replace an old basic Philips razor, and having read customer reviews. It looks great, feels good in my hand and gives a close comfortable dry shave. I am impressed with the battery life with over twenty shaves between charges. Cleaning after a shave is very easy as the blades come off very easily and the hair can be blown or brushed out in a few seconds. I use the SmartClean system when I charge the razor, which looks very clean and lubricated afterwards. I don't have a heavy beard, but I recently tried using the razor with foam for a wet shave. For a close dry shave the face has to be very dry, so I didn't know what to expect as it seemed odd to use an electric shaver for a wet shave. Well the result was amazing. The razor goes over the skin so smoothly, I can hardly feel it and the shave is even closer. The difference becomes significant the next day, when I have so little beard growth, I needn't shave. This is as good as a safety razor. I haven't used the beard trimmer, as I don't have a beard. These razors do more than traditional electric razors and I went on the Phillips website for guidance. I was expecting a step by step guide with voice instructions. The 'wet shave' video has a voice, but assumes that you are familiar with using an electric shaver for a wet shave, so is very lacking in detail. For taking the head apart, it would be good to have someone show you how to do it, rather than poor quality diagrams.
Date published: 2018-06-22
Rated

5

out of

5
by
ayar
from
Great Shaver
Comfortable to use and gives a clean shave. The device is quiet and charges quickly.
Date published: 2018-06-11
Rated

5

out of

5
by
benjie
from
quiet and smooth
I recently bought this and have been pleased with its quietness and smoothness the variable speeds help with shaving in sensitive areas its comfortable to hold and use wet or dry it works well and far better than my previous cool skin shaver that I had for many years The holder charger and quick clean system is brilliant it rinses well under the tap anyway
Date published: 2018-06-03
Rated

5

out of

5
by
Mo10
from
This is a great razor
Having upgraded to this from a previous Phillips razor after some years, I am impressed with the technological advances. It's easy to use, recharge and clean, and the only thing I still don't get (but may learn over time) is the practical difference between the razor's three settings - comfort, dynamic and efficient. Surely we want all three!
Date published: 2018-05-05
Rated

5

out of

5
by
OrleyMan
from
Love it! Very easy to use and I get a fantastic shave!
I have always been very sceptical about electric razors. I have tried one or two in the past but I always found them pretty useless. Have always gone back to wet shaving with a blade. I was persuaded by my father in law to give the Philips a go, against my better judgement! I was wrong! I absolutely love this gadget! I get a brilliant shave and it's very easy to use! Am a complete convert and a very happy customer!
Date published: 2018-04-29
Rated

5

out of

5
by
Steve55
from
very quick shaver
Excellent shaver, very quick to shave. 3 speeds a bonus. Very easy to clean.
Date published: 2018-02-21
Rated

5

out of

5
by
BrianJ
from
Excellent product but pricey
Bought this to replace an ageing Arcitec & it is very much quieter. The design is very similar & could probably get a similar shave by replacing the old heads on the Arcitec. Beard/sideburns trimmer much better & it is a minor inconvenience that it needs to be attached rather than being built in as on the Arcitec. A bit pricey but shop around. Perhaps inclusion of some more attachments would soften the blow.
Date published: 2018-02-20
Rated

5

out of

5
by
Saleem
from
Great Electric Shave
This shaver is flawless. It is ergonomically comfortable, as I have arthritis. This also means it has terrific manoeuvrability. The shave is clean, even with a long, thick, 5 day growth. Rinsing is easy and cleaning is simple, along with charging. I also got myself an Smart Click Ear & Nose Trimmer which works well.
Date published: 2018-02-09
Rated

5

out of

5
by
Neil62
from
best shaver ever
I purchased it this morning 27/1/18 from Shaver Shop Adelaide and Dale in the shop was most helpful in ensuring I got the model I wanted. This has given me the closest thing to a blade shave I have ever had from an electric shaver and with the cleaning station and trimming attachments buying this was a no brainer. Clear LED gives remaining battery life percentage. - and + buttons will vary the blade speed. Highly recommended. The best shaver a guy can own
Date published: 2018-01-27
Rated

5

out of

5
by
NEIL
from
best shaver ever
Bought this morning from Shaver Shop Adelaide. Closest thing to a razor shave I have ever had from an electric razor.
Date published: 2018-01-27
Rated

5

out of

5
by
Ed209
from
1st in class
Finally come back to an electric shave after 15years. Massive improvements in shave quality, cleaning and grip combine with one of the quietest shavers I've tried to give a great all round shave. Still getting to grips with the sideburns and nose areas as these seem to come out scraggy but I suspect that's more my fault than the shaver.
Date published: 2017-12-21
Rated

5

out of

5
by
Maca
from
Great wet and dry shaver
I wrote a review recently about my new shaver being the 9211/26 the shaver was that good my eldest lad borrowed it for life if you get my meaning. I can't stress enough how good these shavers are and as I stated in my last review they last a good few years. I've bought the 9711/31 to replace my borrowed shaver and once again I thank you Philips for a great product. Oh and my Son thanks you as well.
Date published: 2017-08-05
Rated

5

out of

5
by
Garfield
from
Great features and easy to use
This would be my 5tgh Philips shaver and by far the best. It gives a clean shave very time and the charging and cleaning system is brilliant.
Date published: 2017-01-23
Rated

5

out of

5
by
BunyipBill
from
Brilliant, just brilliant
A beautiful shaver to look at and hold, lightweight and quiet to use. The interchangeable Shaver and Trimmer heads are so innovative. Highly recommended.
Date published: 2016-12-16
Rated

5

out of

5
by
Anonymous
from
9000 Series Shaver
I fined the 9000 series a excellent produce but I keep turning it off when shaving.
Date published: 2016-11-15
Rated

5

out of

5
by
Steve16
from
Best electric shaver I have ever used. Almost as close as a blade shave!!!
This is a great shaver and I would recommend it to anyone. I have no regrets purchasing one. This is the best electric shaver I have ever used.
Date published: 2016-08-18
Rated

5

out of

5
by
Johna72
from
Great razor, best one I have had in 50 plus years
Does everything the description says it will do, plus more. Very smooth action across skin and no drag at all. Also use it to shave whole of head and only takes a couple of minutes to do the whole face and head daily. A bit costly but worth every dollar.
Date published: 2016-05-13
Rated

5

out of

5
by
Fish1
from
Ease of use and cleaning.
This is my third Philips Shaver and am always pleased with the performance of the Shavers.
Date published: 2016-02-04
Rated

5

out of

5
by
Anonymous
from
Best shaver I have used
This shaver is the best one. Speed control feature works great on my sensitive skin. Allows me to use slow speed on neck to avoid irritation. Philips should make this feature standard on all models.
Date published: 2015-04-28
Rated

5

out of

5
by
Waynesworld1948
from
Great Shaver
Best Electric Shaver I have ever had, as close a shave as if it was a razor. Highly recommend.
Date published: 2014-08-20
Rated

4

out of

5
by
Mark2020
from
Like it
I bought this a month ago and so far very happy with the easy, fast close shave. The improvement in cutting from my previous 5 year old philips is noticeable. Faster, quicker.
Date published: 2018-09-24
Rated

4

out of

5
by
Highlanderman
from
Excellent product but it does have some flaws.
Firstly let me say that this model shaves more efficiently than my last shaver the Philips Sensotouch, In that regard this is a real update to the shaver. These were not not cheap products so was a bit surprised at a couple of real flaws or omissions to the 9000 series. S9711.31. The lack of a stand to house the shaver when not in use is a real omission in this model. The lack of a built in trimmer is also (IMO) an omission although it does have a detachable trimmer which is included with this model. The design of the hand grip could be better or placing of the power level setting which I keep moving inadvertently when in use. A minor point but a tad annoying none the less. The lack of a three pin UK plug to the charging/cleaning unit is an omission. I had thought all UK devices should be equipped with a three pin power plug? Removing the shaving head from its base after every shave to wash the unit is not as easy as the previous model and tends to be fiddily. This is still a great unit and does provide a clean shave and a lot quicker than my last model. It is a excellent shaver but the design could be improved upon.
Date published: 2017-12-21
Rated

4

out of

5
by
ClanMaster
from
But for penny pinching, an otherwise very good shaver.
I used a Philips Arcitec before this, so was expecting great things from this product. I find this new shaver unit just as handleable and well finished and indeed seems to do the job of actually shaving very well. It's definitely an improvement on my previous unit and makes less noise!). The shaver heads do seem to cut more of those difficult hairs under your chin. The display, is a step or two up, as well. Although, I preferred having the trimmer built-in, instead of having to swap over the head units. But the supplied trimmer is far more able to deliver the flexibility to style your beard. So overall it does deliver for it's target, the premium end of the market. The cleaning/charging unit is quite some tool, it reminds me of a James Bond-ish gadget (I quote: "Is that all it does?"). But it is very slick, with a very high black gloss finish. As long as no-one confuses it for a coffee machine in your bathroom, it seems to do an excellent job. But then: However upon unpacking, I was surprised to note there wasn't a cleaning brush nor a clip-on shaving head protective cover in the box! Surely this wasn't such a big deal to supply with such a prestige kit! The next surprise was the power lead, which was a three pin UK model. While this is probably fine to power the charging/cleaning unit if not kept in a bathroom. It isn't quite so convenient when using the shaver away from home when in hotels etc or when abroad. My previous model had come with a two pin power adapter as standard which has proven its flexibility over the years. Then there is the storage pouch! which while it's small and hard sided construction is good and it even has built in ventilation and a zip closure. But what it doesn't have is space for the supplied accessories, not even the power cord and adaptor! While I accept that the battery will usually last for up to two weeks (If your lucky.). As this unit requires its own special charger, which are unlikely to be readily available, I wouldn't what to risk going without one. So it seems that I will have to source these things for myself, which just seems plain wrong on such an expensive product. Having reviewed the whole package, I am still happy with my purchase and haven't seem anything else to surpass it, but it does still sting, to know that there wasn't even a brush or cleaning brush nor a clip-on shaving head protective cover included in the box.
Date published: 2017-07-20
Rated

4

out of

5
by
Darryl67
from
This is the best electric shaver that I have used
Flagship model with excellent features. Still prefer to have 'minutes left' in the display instead of percentage.
Date published: 2016-10-18
Rated

4

out of

5
by
Hilt
from
Still getting used to it
Gives a good shave around the face however still find some hairs in the neck / throat region after a shave
Date published: 2016-05-16
bvseo_sdk, dw_cartridge, 16.1.1, p_sdk_3.2.0
CLOUD, getContent, 320ms
reviews, product
Is the product I ordered Phillips 9000 series S9711/31/31 was a wet dry one ie you can use with shaving cream or in the showsr
Yes it can be used in the shower and with shaving cream.
Date published: 2019-03-02
I am trying to decide between the S9711 which includes a cleaning and charging station, and the series 9000 wet and dry prestige shave.  Can you just confirm for me if the blades are essentially the same.
Hi Michael, Thank You for your email. The Philips Prestige 9000 Shavers Nano Tech blades are coated with metallic pigments for superb gliding and adapts 15x/sec for effortless shaving even on a 7-day beard. The Philips S9711 shaver has V Track Pro blades that gently position each hair in the most suitable cutting position, which can cut hair up to 3 days worth of growth. Thanks, Shaver Shop
Date published: 2019-01-28
It looks like this unit comes with a beard trimmer, not the sideburn trimmer. Can the beard trimmer be used as a sideburn trimmer or do I need to buy the sideburn trimmer extra?
No, just take the beard trimmer attachment off and use as normal. This will trim sideburns.
Date published: 2018-08-02
Is the JC301 cleaning fluid the same as the JC302?
bvseo_sdk, dw_cartridge, 16.1.1, p_sdk_3.2.0
CLOUD, getContent, 276ms
questions, product