Images
Hover to zoom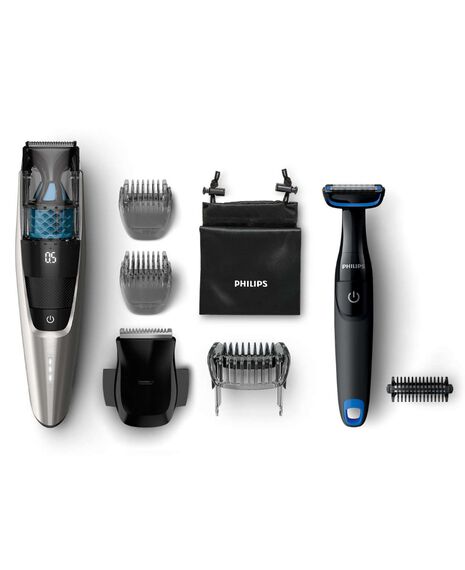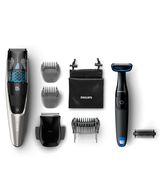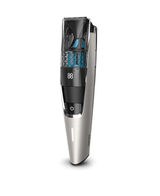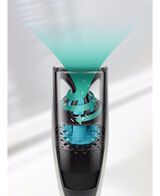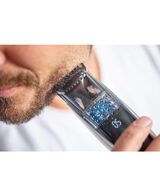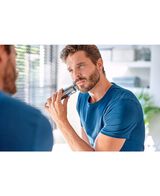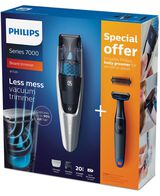 7000 Series BT7220/85 Vacuum Beard Trimmer
Details
https://www.shavershop.com.au/philips/7000-series-bt7220%2F85-vacuum-beard-trimmer-009793.html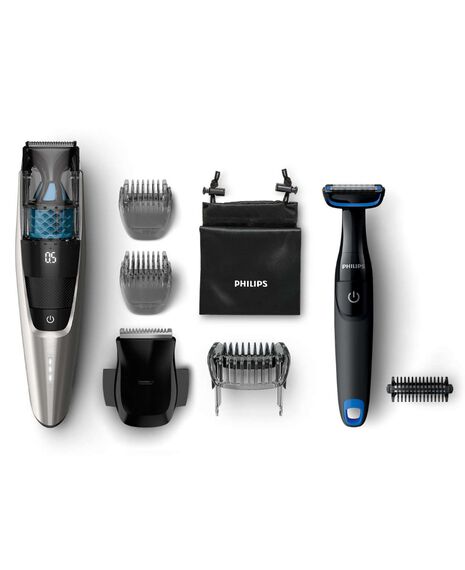 Product features

Less Mess with Integrated Vacuum
Trim your beard, mustache and sideburns while keeping tidy with this trimmer. Its powerful vacuum catches cut hair as you go along, giving you a mess-free trim.

Lifts and Guides Hairs
Trim your stubble in one quick stroke. Our innovative lift & trim system raises each hair, then guides it toward the double-sharpened stainless steel blades. The result is an even stubble or trim in just one go.

80 minutes run time
Charge your beard trimmer for 1 hour to get 80 minutes of cordless use. If you need more energy while trimming, you can simply plug the trimmer into the wall. This trimmer has been designed to run both cordless and plugged in.

20 Length Settings
Select your preferred trim length by simply turning the zoom wheel on the handle until the length you want is displayed from 0,5 - 10mm with 0,5mm precision. Your chosen length is now "locked in" for a perfectly even trim.

Digital LED Display
Turn the zoom wheel to view your chosen length setting in mm on the LED display.

Stainless Steel Blades
Strong steel blades are double-sharpened and made to last a very long time to cut through even thick hair. They sharpen themselves by lightly brushing against each other as you trim.

Washable Blades
Once you are done, simply rinse the blades and comb under the tap, empty the hair chamber and brush away any loose hairs with the added cleaning brush for long-lasting performance.

Precision Trimmer
When you are done trimming, just click on this precision trimmer to finish up your style with defining details and edges or trimming your moustache with clicking the precision comb on the trimmer.
Product Reviews
Questions And Answers
7000 Series BT7220/85 Vacuum Beard Trimmer
is rated out of
5
by
40
.
Rated

5

out of

5
by
Nate88
from
Easy to use
Item is easy to use, cuts really well without effort. Vacuum does the job. Precise trimming lengths. Best trimmer I've used
Date published: 2019-05-08
Rated

5

out of

5
by
wazblack
from
Great kit
one of the best trimmer out there. Just handle it with care. Especially, when you are removing\changing the Plastic clips
Date published: 2019-04-30
Rated

5

out of

5
by
AussiePh3nom
from
Great Shave and Easier Cleanup
Really happy with this product, Shaves better than other products I have had before. The vacuum part picks up almost all of the clippings (really depends on how you hold it which I found out too late). Would highly recommend this product and have told a few friends who have also bought.
Date published: 2019-03-27
Rated

5

out of

5
by
Atif
from
Always work and does a great job
This was my very first beard trimmer, and in past two years never had any dramas. sometimes, it stucks on 2mm and does not go to 1mm. other than that very happy with this trimmer.
Date published: 2017-09-04
Rated

5

out of

5
by
Hugh41
from
Love this beard trimmer
I've had this for 6 months now and love it. Just one or two runs over the beard is enough to do the job (unlike my last trimmer that required repeated passes). The vacuum function doesn't capture everything but it collects most of the trimmings and it makes cleaning up after use so much easier. Add to this great battery life and you have a fantastic product
Date published: 2017-01-26
Rated

5

out of

5
by
Lukey2016
from
Good Product Easy to use
Does exactly what it claims it can do, battery life is reasonable, easy to clean and look after and is well suited to everyday use even for a reasonable close shave. Does not grab hair or pinch like some other products i have used. Overall i would recommend this product for anyone looking for a affordable easy to use solution.
Date published: 2016-09-30
Rated

5

out of

5
by
Stotty
from
One of the simplest yet most effective head design of any trimmer I have used.
I specifically search for the Philips brand of trimmer as I have found the simple design of the shaving head and trim guide to be the most effective of any other trimmer that I have found in the market place to date.
Date published: 2015-12-28
Rated

4

out of

5
by
Prasun
from
Steel trimmer clips are flimsy and broke
And add to.misery I cannot buy replacement parts anywhere . That's means to need to replace whole thing
Date published: 2018-02-06
Rated

4

out of

5
by
Dino2017
from
A great trimmer
Bought as a replacement for an earlier version bought in another country that broke after some years of service from being dropped. Other reviews have lamented on being unable to find parts that have broken online. Same was experienced after almost a year of use, called Phillips support, replacement part shipped under warranty. The experience with support staff was very easy, smooth and pleasant. Although it can be a bit a chore to keep pristine, it does a great job of collecting the hair it trims and the overall trim. It is very reliable and easy to use. Obviously the more beard hair you have and if it's not completely dry it will need to be emptied and gently unclogged more frequently.
Date published: 2017-08-08
Rated

4

out of

5
by
lcrsr
from
Beard Trimmer
This product does what it claims . have not had it long enough to comment further
Date published: 2016-07-01
Rated

4

out of

5
by
POLJAL
from
Few great design tweaks
The new comb for longer hair is great and means that the comb teeth don't catch on the skin (bending or breaking them). Was hoping it would be a little bit quieter than the old model but can't complain when the vacuum component works so well.
Date published: 2016-06-08
Rated

4

out of

5
by
BeardedMess
from
Wife loves it :D
"You got it for your wife???" I hear you ask? In a way, yes! I'm a full face of hair kinda guy, and in the process of grooming, I also make a bit of a mess... I promise, I clean up! But with every other trimmer I've used, those beard cuttings (the finer ones) seem to quantum teleport behind toothbrush cups, soap dispensers, crevices... The list goes on! And as a pro, my wife keeps telling me that "the hairs go everywhere!!!" Since I bought this trimmer, "bye-bye annoying little offcuts!" The little vacuum does the trick! Turbo on, and away she goes! Light, nimble, ergonomic design, digital LCD display measuring accurately the length in millimetres, rotating height "click" adjustment. Great piece of equipment. Bought it in Jan/2016 and still going strong (I use it 2-3 times a week). 2yr warranty (great!), comes with a little pouch and the charge seems to last forever (I've charged it 3 or 4 times since I got it!). The only place I'd fault it is its cutters are not fine enough for me (I still use a Wahl for lines) and may catch skin if used without the guard. Great for what you pay and mess is not included ;)
Date published: 2016-06-01
Rated

3

out of

5
by
Coops88
from
Breaks easily
Have had the trimmer for just over a year now but have only used it a couple of times a week over the past few months. The steel blades no longer stay attached and jump, in doing so the plastic head you use to change the length of the cut didn't work and ended up cutting my beard at the skin. The plastic sides of the blade have now broken. Also the styler cutting head has cut me several times and misses a lot of the hairs I want to remove with the styler.
Date published: 2019-06-02
Rated

3

out of

5
by
Noble53
from
Trims well but the trimmer blade is flimsy and breaks very easily
Request for replacement of Philips Series 7000 Beardtrimmer blade. Very disappointed in the way it has been manufactured.
Date published: 2019-01-02
Rated

3

out of

5
by
Rafa
from
Poor Plastic Hooks then all is Damaged
I love the Vaccum feature, but after a while the plastics hooks that hold the trimmer were broken and then the complete machine is not properly working without that, :(
Date published: 2018-09-08
Rated

3

out of

5
by
mickie
from
not worth the price paid
Captures up to 70% cut hair! missing stuff from the package compared to the picture online
Date published: 2018-01-31
Rated

3

out of

5
by
Tony123
from
Great Product ...However
Ive had this trimmer for a year and a half now and its great, cuts really well and easily. The only thing is one of the clips on the back of the cutting head broke when I unclipped it from the main trimmer body for cleaning. The clips at the back as it turns out can break quite easily. This has hapened to me this week and Im not sure if this part can be replaced and if its worth the cost to do so rather than buy a whole new trimmer. The clip-on system should be stronger! Thanks.
Date published: 2017-12-10
Rated

2

out of

5
by
Dan Mac
from
Not the best
The vacuum function is useful but the clippers feel under powered and tend to miss hairs. A disappointment compared to the first Philips I owned which was great.
Date published: 2019-07-16
Rated

2

out of

5
by
siztec
from
Too Flimsy
Have loved using this beard clipper for the two months that I've had it before it broke. The detachable trimmer heads teeth chip too easily and has rendered my beard trimmer unusable. Have looked everywhere and can't seem to find a way to get replacement heads. Beware of this before you purchase.
Date published: 2018-11-29
Rated

2

out of

5
by
Viktor
from
Flimsy cutting head lets it down
Cuts well enough and the adjustable comb delivers various lengths. The vaccuum probably manages to suck up 60-70% of hairs but no more. The cutting head clips in with two flimsy plastic clips that easily break in everyday use - poor design. The heads cannot be found to purchase seperately to replace.
Date published: 2018-09-09
Rated

2

out of

5
by
Henrik
from
Poor plastic parts make the machine useless
Quite easy to use. Appreciate the vacuum system and charging time. BUT the plastic part that keeps the blades in place is so poorly designed and broke within first couple of month using the machine. Too bad. Now I have Wrapped sticky tape around it to get it work.
Date published: 2018-05-21
Rated

2

out of

5
by
Madyan
from
Blemish design
this item is a very good performance, but the problem the design of the two heads is not practical. they are broken during the using.
Date published: 2017-08-21
Rated

2

out of

5
by
zecc
from
Performs well - breaks easily
Although the trimmer is one of the best performing trimmers I have used, there is a weakness in clips used to engage the blade to the body of the shaver. The small clips are paper thin plastic that extent from the bottom of the blade. These clip into the body of the shaver, a slight knock and they break, this means the blade doesn't stay in place and makes the razor difficult to use.
Date published: 2017-04-06
Rated

1

out of

5
by
r1mick
from
Been through 3 of these, I don't know why
As many people have stated.. The plastic lugs that hold the shaver head into the body break EASY and you can't replace the shaver head. So then it just keeps falling out. Save your money and buy something else
Date published: 2019-07-29
Rated

1

out of

5
by
MattinSydney
from
Cheaply made, hard to use gimmick
Do not waste your money on this rubbish. For a start the design shape makes it near impossible to trim the moustache area close to the nose, it's too bulky. Secondly it's cheaply made, the plastic lugs are prone to breaking. Finally the shaver in my case for unknown reasons just kept popping out the actual razor bit and wouldn't work anymore (wouldn't hold in). I'd got so sick of it I literally threw it full force onto the marble floor twice and enjoyed finally watching this heap of junk shatter into pieces. This razor is the worst, terrible gimmick.
Date published: 2019-07-15
Rated

1

out of

5
by
RLIS
from
Agree with the poor design of clips. Previous designs were way better.
Had this for few month. Clips broke and now hold with tape. Annoying and disappointing. Had previous vacuum model, worked many years until little spring slipped. But this model very disappointing and as this is such wide issue appreciate if someone contact me to enable part replacement.
Date published: 2019-05-03
Rated

1

out of

5
by
towy
from
Wish I had read these reviews before purchasing
Worked great for a month until one of the clips that holds the trimmer in place broke. This is clearly a bad design looking at the other reviews on here. The thickness of the clip is something like 0.5mm, its simply not strong enough for the trimmer to be taken out so that you can clean it. Very disappointed that a big name like Philips would produce such a poorly designed product which was not cheap. Im having to hold the trimmer in place with tape currently until I buy a new one (BTW it will be Braun !)
Date published: 2019-01-19
Rated

1

out of

5
by
WillNeverBuyPhilipsAgain
from
Miserable quality
Miserable quality. The plastic tabs retaining the cutting head broke in a couple of months, had the head changed and it broke again.
Date published: 2019-01-02
Rated

1

out of

5
by
Jeremy77
from
Poor design. Can't reach the hairs beneath my nose.
I purchased this product thinking since my previous cheap Philips trimmer was so good, the top of the line version must be amazing, but it's been terribly disappointing. I keep quite a short beard, but the design of this trimmer prohibits me from reaching the mustache hairs just below my top lip. It simply can't be maneuvered into that space, as the comb is so bulky and extrudes along way past the blades on the sides. With the hairs I can reach, it's just not very good at cutting them. Unfortunately, this product is useless to me.
Date published: 2018-06-12
Rated

1

out of

5
by
frange25
from
Very poor build quality
I have now brought 3 of these as I loved the vacuum feature which has worked well, however each one has had a small plastic part break making the shaver completely useless, I was hoping they would improve quality but each one has failed in the same way.
Date published: 2018-05-09
bvseo_sdk, dw_cartridge, 16.1.1, p_sdk_3.2.0
CLOUD, getContent, 289ms
reviews, product
Does this come with the body groomer ? 
Hi, Thank you for your question. The Philips 7000 Series BT7220/85 Vacuum Beard Trimmer contains a body groomer. Kind Regards Shaver Shop
Date published: 2019-03-18
bvseo_sdk, dw_cartridge, 16.1.1, p_sdk_3.2.0
CLOUD, getContent, 286ms
questions, product