Images
Hover to zoom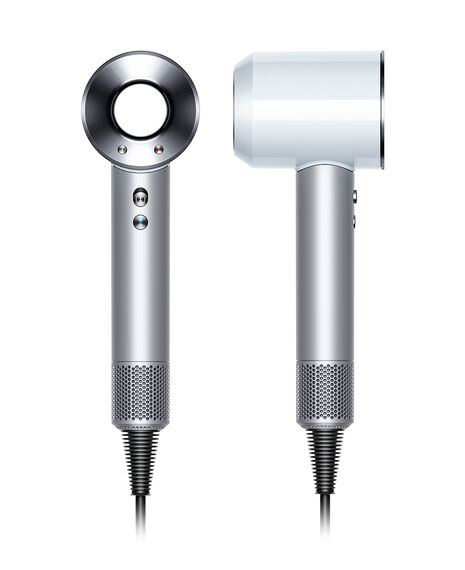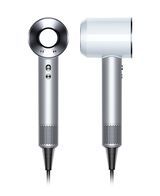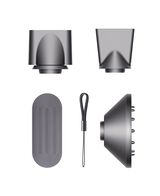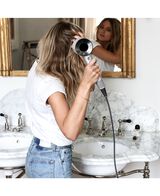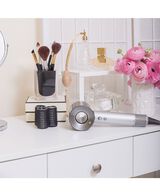 Product Code
Supersonic white

Supersonic Hair Dryer - Silver and White
Details
https://www.shavershop.com.au/dyson/supersonic-hair-dryer---silver-and-white-009823.html
Product features

Engineered for balance
We've turned convention on its head and put the motor in the handle. Completely rebalancing the dryer's weight and shape.

Fast drying
Drying shouldn't take forever. For fast drying you need controlled, high velocity airflow.

Helps prevent extreme heat damage
Air temperature is measured 20 times every second, keeping the temperature under control.

The Dyson diffuser
Natural drying, accelerated.

The Dyson Smoothing nozzle
Dry and style at the same time.

Styling made simple.
Magnetic attachments

Controlled by just four buttons
The Dyson Supersonic™ hair dryer
Product Description
Introducing the Dyson Supersonic™ hair dryer
Product Reviews
Questions And Answers
Product Description
Negative ions:
Helps reduce static
3 precise speed settings
Fast drying, Regular drying and Styling
4 precise heat settings
100°C Fast drying and styling
80°C regular drying
60°C Gentle drying
28°C Constant cold

Easy to clean - Simply twist and release to clean the filter

Specifications:
Power: 1600 Watts
Airflow: 41 Litres per second
Weight: 618 g
Dimensions: 245 x 78 x 97 mm (H x W x D)
Cable Length: 2.7m
In the box:
Dyson Supersonic™ White/Silver
Diffuser
Smoothing nozzle
Styling concentrator
Non-slip mat
Storage hanger
Introducing the Dyson Supersonic™ hair dryer
Supersonic Hair Dryer - Silver and White
is rated out of
5
by
3224
.
Rated

5

out of

5
by
Carter120
from
My hair feels and looks so much sleeker with the magnetic styling attachment's
I am absolutely thrilled with this hairdryer, it is 100%as good as everybody is claiming it is
Date published: 2019-05-01
Rated

5

out of

5
by
Lynda11
from
Great features
Powerful hairdryer. Quiter than any other hairdryer I have had.
Date published: 2019-04-30
Rated

5

out of

5
by
Kels8383
from
Supersonic !!!
I bought this two weeks ago and love it. My hair is quite thick and takes a long time to dry - using the dyson hairdryer takes no time at all and takes the fuzziness out of my hair.
Date published: 2019-04-27
Rated

5

out of

5
by
Emeraldilex
from
Best hairdryer ever
I saw this item in a department store in Sydney, Australia and switched it on. I was delighted with the gentle air flow, speeds etc. On returning to UK I asked my husband to buy me one for a forthcoming birthday which he did. I have had this hairdryer now for a couple of months and the amazing difference in my hair is wonderful. My hair was usually dry, frizzy, wavy etc. but with the Dyson it is soft, smooth and looks masses better. I wish I had bought this long ago but am happy now that my hair can look more amazing after washing and drying than it has done for years. This hairdryer is amazing in that it allows you to use as much heat (3 settings) and as much speed (3 settings) than any dryer I have known. It is gentle on the hair, especially as being a mature lady my hair is not as good as when younger. I totally recommend this fabulous item and it is well worth every penny it cost. Was expensive but I dont regret paying for this revelation. I will be buying the V11 vacuum cleaner next so my floors look as good as my hair !!
Date published: 2019-04-27
Rated

5

out of

5
by
Lesley7
from
Fantastic hairdryer
My husband bought me this for my 67 th birthday. I wash my hair everyday and have done since I was 14 years old, give or take the odd day in between. My hair is limp and greasy. However since using this my hair appears slightly thicker definitely shinier and whole appearance of hair looks different. I think if I didn't wash my hair every day now it wouldn't be as limp or greasy. It's easy to use has a long length lead, and my hair which normally takes ages to dry now dries much quicker. And it much quieter than my old dryer. So easy to handle.
Date published: 2019-04-27
Rated

5

out of

5
by
Trixie7
from
Simply great!
I have been using the Dyson supersonic hair dryer for about 6 months now, I have no regret buying it. I absolutely love it, It cut my hair drying time in more than half! I couldn't go back to a regular blow dryer anymore. Most important it has not damaged my hair and I use it everyday.
Date published: 2019-04-27
Rated

5

out of

5
by
JMTS
from
Wonderful dryer
Purchased this dryer two weeks ago and its proving to be a very good buy I am very pleased with it so easy to use
Date published: 2019-04-21
Rated

5

out of

5
by
CallyZ
from
Light & fast
I'm delighted with my hairdryer. It is fast, with a choice of attachments, & also very light to hold.
Date published: 2019-04-19
Rated

5

out of

5
by
Anonymous
from
Well worth the money
Really enjoying using my Dyson Hairdryer, my hair feels so much softer, last longer and makes me feel like it has been done by my hairdresser
Date published: 2019-04-19
Rated

5

out of

5
by
MeganMay06
from
Best investment I EVER made ❤️
I am so in love with this hairdryer! My hair just feels better since I have gotten it. I spend less time drying my hair as it's so fast and I don't have to do much too it after it's dry. It's so worth it.
Date published: 2019-04-17
Rated

5

out of

5
by
JanPJ
from
Faa ulous hairdryer
Fabulous. Dries hair really quickly, without brushes and no kinks in my hair.
Date published: 2019-04-14
Rated

5

out of

5
by
FionaD
from
It's easy to handle and very compact. The settings are very versatile and it seems very robust.
It was a gift that I wanted for a while and I am very pleased with it
Date published: 2019-04-12
Rated

5

out of

5
by
GayleA
from
Love it!
I took a long time deciding to (and justifying) buying this hairdryer but am so glad I did. I received it a couple of weeks ago and it would usually take me a good month to get used to a new hairdryer. This one was just so easy to use that I'd say I've cracked it already. I love the variable speed and temperatures and the fact they can be done independently of each other. The magnetic attachments are brilliant and I now no longer spend my drying time chasing the diffuser across the room! It's quiet and lightweight which is a bonus as I have issues with a hand which can make drying painful. My hair looks good and I'm so pleased I decided to buy the Dyson Supersonic.
Date published: 2019-04-11
Rated

5

out of

5
by
Suemurray
from
Fantastic...!!!!!
Everything about it is fab, can't fault it and so worth the money.... would definitely recommend this product...
Date published: 2019-04-08
Rated

5

out of

5
by
Crookie3
from
Wow
I have naturally very curly hair and I was sceptical about buying this due to the price, however I am glad I did. I'm impressed with the size and how light the dryer is even with the diffuser attachment compared to my old dryer when used with the diffuser. The smoothing nozzles are also great as drying my hair straight was so much quicker and made it smoother and needed less use with the straighteners therefore kinder for my hair.
Date published: 2019-04-07
Rated

5

out of

5
by
Suzette
from
Brilliant
Heard from my friend who got one how great it was. At first I said really it's only a hairdryer , but wow - how surprised I was. It's amazing. It dries my hair so fast and leaves so soft. Pure brilliance.
Date published: 2019-04-06
Rated

5

out of

5
by
Chloecat
from
Excellent
I have recently purchased this hairdryer and have to say I am no professional. My usual routine is blast hair dry and then straighten with irons. I have used this dryer for a week and there is definitely a difference in my hair. For me I think my hair is less "burnt" and significantly less static, there is also more shine (which people have commented on). It will take sometime to change my drying routine, ie dry in sections, but I am sold on the dryer and it's potential.
Date published: 2019-04-06
Rated

5

out of

5
by
Tracy7
from
Fabulous hairdryer
Bought a month ago. Great hairdryer. Fabulous features. Extremely comfortable to use. I was a hairdresser and was unsure about spending out a lot of money on this product. Well worth the money. Amazing dryer. Leaves your hair smooth and blow dry stays put for a few days! Highly recommend.
Date published: 2019-04-03
Rated

5

out of

5
by
Sally10
from
This hairdryer is very easy to use the magnetic attachments are brilliant
Very Very pleased with this hairdryer. It took me several goes of using it to find the correct combination of power and heat settings for my hair but once I did my hair is now in much better condition very soft and shiny. This product does exactly what it says it has been very well thought out and I was very impressed with the customer support everyone I spoke to seemed very knowledgable on the product.
Date published: 2019-04-03
Rated

5

out of

5
by
Sarahkz
from
Fantastic!
Alot smaller than I imagined but perfect for travelling too. This is great for curly hair. Dries really quickly with no frizz and lots of shine. I dried my hair straight with the nozzles on one occasion and it was incredibly silky and shiny. I wouldn't be without my Dyson now. Love it!
Date published: 2019-04-02
Rated

5

out of

5
by
MrAlanB
from
Magnificent Design
Bought for the lady in my life. She loves it to bits. From my perspective I was in awe of the design. It is a thing of beauty but just packed with functionality. Even the "made-for-it" stand is brilliant as are the paddle brush & oversized comb for wet hair. Yes, it is expensive but you definitely get what you pay for so by definition it's worth it! In my experience if you buy Dyson you generally get perfection personified. In this particular case though, he's even managed to exceed that accolade. An absolute triumph.
Date published: 2019-04-01
Rated

5

out of

5
by
Jovana
from
Great hair in less than 10 minutes
I have fine hair, but a lot of it. With this dryer and the smoothing attachment and a paddle brush, my hair looks flat ironed straight but with so much more volume and movement! Definitely worth the $$$!
Date published: 2019-03-31
Rated

5

out of

5
by
Apple73
from
Super powers more like!
I think this device is magic, pure magic and must contain super powers because, once it has hair in its line of vision... It transforms and because of that, this dryer MUST contain magic, simple as that. I cannot even explain it.. The brush and comb are magic too and in combination... Well, I was blown away, literally. My hair looked different as jn it was shiny and looked like different hair and I looked in the mirror and thought "nooooo, how?" I am mixed race with wavy hair down to my bra strap so it's half my down my back and I dye it honey blonde so the condition is not pure natural and I noticed that my hair was breaking massively so I straighten it as a protective style as I only use heat once a month when I straighten it and it stays straight so when the dyson came I blew down my hair using the brush and it was shiny, how? The condition looked out of this world. I look forward to drying my hair curly With the dyson, knowing full well it isn't being damaged. Since using the air wrap for blow drying my hair straight...my hair doesn't break and have grown inches since using it so thanks dyson for what you are doing, I n is you have magic ☺️. With all that good stuff you have.. Any chance of creating the most wonderful steam hair straightener? I will be first in the que to buy. Thank you dyson.
Date published: 2019-03-30
Rated

5

out of

5
by
evets
from
Birthday Present For My Wife
I bought this direct from Dyson for my wife birthday and she has said she could not have wished for anything better. She has talked about the Dyson for some months now as her hairdresser uses one and swears by it.
Date published: 2019-03-24
Rated

5

out of

5
by
Anonymous
from
Salon blow-dry at home
I bought this after coveting one since they first came out and in the ten days I've had it, I've not been the least bit disappointed by its performance. I have shoulder length, thick wavy hair and can spend up to an hour trying to get some root lift into it, as well as smoothing it. Now my hair takes less than half an hour and it looks as good as when I've had my hair styled at the salon. My son has long curly hair and the diffuser makes a massive difference to his curls and really calms the frizz. Lastly, my daughter has waist length, thick, straight hair and the drying time has been cut in half. Also, her hair now looks shiny, but it hasn't lost its body or thickness.
Date published: 2019-03-24
Rated

5

out of

5
by
Caz04
from
Great features
My husband suprised me with this Dyson hairdryer and bought it for me for my birthday. I had always talked about it since it's arrival. I had always been happy with my GHD hairdryer but felt it was getting heavy for my arm. As I had an operation on my wrist I needed something lighter and quicker. I can definitely say it does the job as it says. I have grey hair and is long and difficult to stop it from frizzing. The Dyson hairdryer stops that and conditions it at the same time. I love,love this amazing supersonic hairdryer x
Date published: 2019-03-22
Rated

5

out of

5
by
Delmonte72
from
Great product
I bought this for my wife and she is delighted with it.
Date published: 2019-03-19
Rated

5

out of

5
by
Jammy68
from
Blew me away literally
Even better than I imagined. Took a few goes to get the hang of it as I said it's so powerful it literally blew me away but I love love love it. Wouldn't want to be without it now.
Date published: 2019-03-19
Rated

5

out of

5
by
geve34
from
How did I ever live without this product!
After several months to learn how to use it and style my hair I can say this is the best hair dryer I've ever owned. My hair looks better than it ever has and not more split ends from drying it! I straighten my hair with it and its super fast and stays all day.
Date published: 2019-03-19
Rated

5

out of

5
by
Ahmui88
from
Fantastic Hair Dryer
Excellent design, it is so light and easy to use. Hair is shinning after blow dry, a very good result!
Date published: 2019-03-17
bvseo_sdk, dw_cartridge, 16.1.1, p_sdk_3.2.0
CLOUD, getContent, 231ms
reviews, product
bvseo_sdk, dw_cartridge, 16.1.1, p_sdk_3.2.0
CLOUD, getContent, 9ms
questions, product
bvseo-msg: Unsuccessful GET. status = '{0}', msg = {1};