Images
Hover to zoom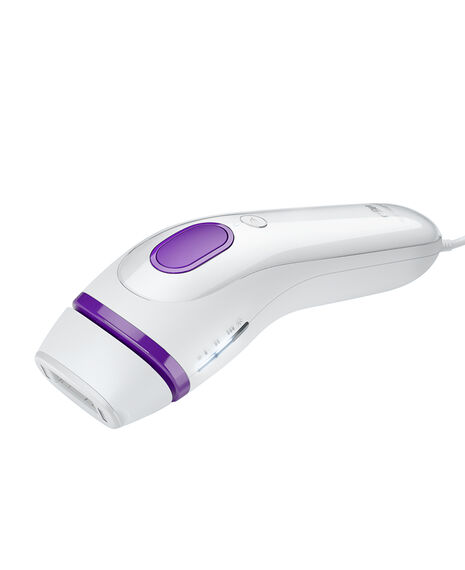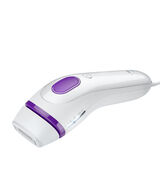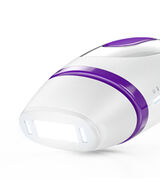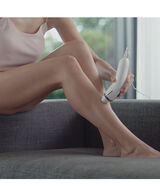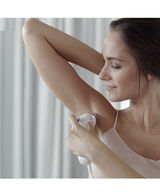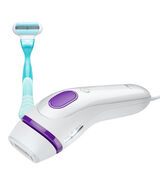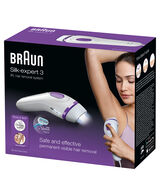 Silk expert 3 IPL
Details
https://www.shavershop.com.au/braun/silk-expert-3-ipl-009639.html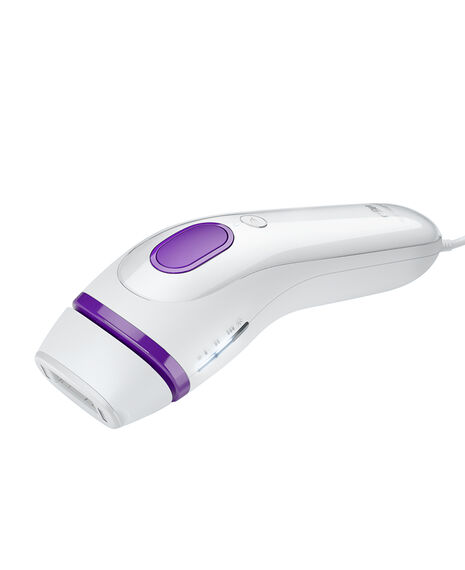 Product features

Gentle Mode
First time users can select the gentle mode which uses a low light intensity. It is also ideal when treating sensitive areas such as the bikini line or under arms.

250,000 flashes
Provides the equivalent of 13 years of full body treatments.

Gliding mode
Triggers more flashes for a fast and efficient IPL treatment with fewer missed areas.

Non-Stop Power
No batteries or charging required, simply plug in the device to begin treatments. Plus there are no bulbs or gels to replace.
Product Description
Product Reviews
Questions And Answers
Product Description
Always read the instructions and use only as directed. See in store for more details. Not suitable on red, light blonde, white/grey hair or very dark skin.
Clinically tested IPL for permanent visible hair removal
The only IPL with SensoAdapt™ technology for a safe and effective treatment
Treat a lower leg in just 10 minutes
Gentle mode for IPL beginners or sensitive areas
Includes Gillette Venus Original razor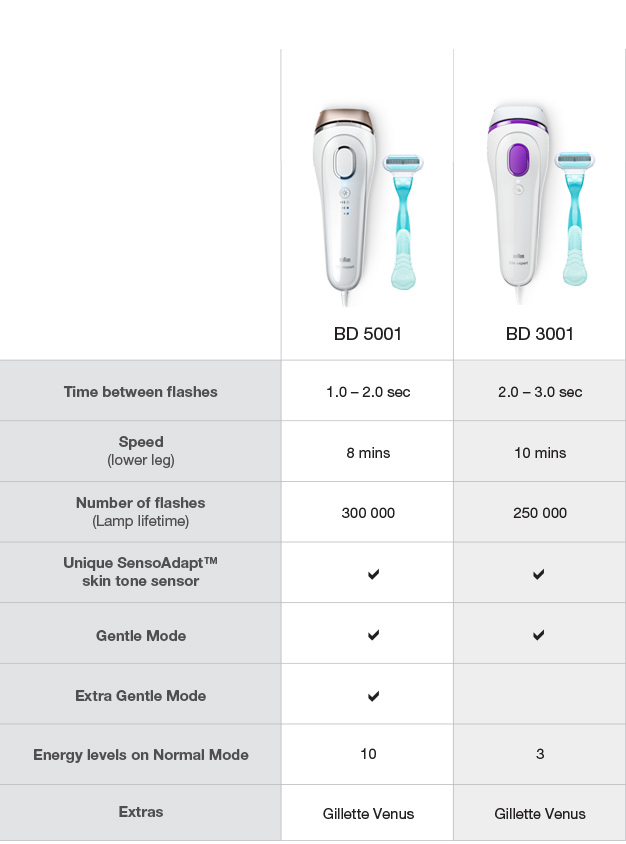 Silk expert 3 IPL
is rated out of
5
by
364
.
Rated

5

out of

5
by
Saraandember
from
Easy to use
I bought this device after reading a lot of reviews on similar products. This one had the highest amount of positive reviews for my budget, and I haven't been disappointed. It's easy to use, and while the window does get a bit hot, it's fuss and pain free
Date published: 2019-04-06
Rated

5

out of

5
by
dave 22
from
great tool
yer had it for 3 weeks now not bad product no mention on glasses
Date published: 2019-04-03
Rated

5

out of

5
by
April
from
Works well
I've had it three weeks, with 3 uses. It has significantly reduced my hair. Very happy with the product
Date published: 2019-03-14
Rated

5

out of

5
by
Nat9
from
Highly recommended!!!
This is 3rd week I started using silk expert 3. I can see it's working! Less hair already. I'm so happy with result. It's easy to use and I don't need to go to salon anymore!
Date published: 2018-11-04
Rated

5

out of

5
by
Leigh55
from
Excellent Product / Excellent Results
I purchased the BD-5001 a few months ago and have now used it for 8 weeks in a row. I have had exceptional results. I have to admit, I was skeptical about using a hand-held in-home device compared to professional laser treatments (which I've had in the past) but thought it would be worth a try particularly given the cost of going to a clinic. I treated my underarms and have not had to shave at all for the past 4 weeks as I've had no regrowth. I've had professional laser treatment on my legs many years ago but the Braun unit has eliminated the remaining hair. Same goes for my arms. The jury is still out on the long-term but this unit is easy to use and surprisingly powerful.
Date published: 2018-08-22
Rated

5

out of

5
by
Poppy
from
Easy to use.
I bought this a month ago and having bought other products from shaver shop, I'm so happy with this product. It does as the product says it does. Love this product and will buy another if needed.
Date published: 2017-12-31
Rated

5

out of

5
by
Lindsay5433810
from
Looks like a great product
I have got a lot of fine hair over all of my face but I've been too scared to wax it because I would have to go to the salon regularly to get it done.. I would love to try this as this would be much better and more convenient for me than waxing.
Date published: 2017-10-20
Rated

5

out of

5
by
MaleUser
from
Better than those expensive sessions.
Value is 5 because I think it is more cost effective than those expensive sessions. Quality is 5 because the product and package does feel like a premium product. After 3 weeks, once per week, doing on my groin, I believe I am already see the difference. And it is impressive result comparing to the 8 expensive sessions I had years ago on my groin. To newcomer, yes it hurts, and no, it won't hurt as much as those expensive sessions because you can stop it without feeling embarrassed that you cry like a baby. VERY IMPORTANT! First I only flash once all over my groin to build my pain tolerance. Then, I do double flash over the same area again. I am already seeing result that is better than my expectations. Do not recommend to do triple flash and burn yourself (unless it doesn't really hurt you). The product is designed to burn the hair follicles, not your skins. You want to do this weekly, instead of waiting for skin to heal due to over flashing. This is where the difference between the clinic visit and doing it yourself. They burn a lot in one session and requires you to wait for the whole month to recover, aside from hair growth cycle. When you do it yourself, you burn less and do it more often. Just take your time. Flash once, felt hurt a bit, rest few seconds until you are ready. No need to torture yourself, there is no rush.
Date published: 2017-07-23
Rated

5

out of

5
by
Roxy82
from
Great at home treatment
I was really excited when the Braun Silk expert 3 IPL got delivered. I could not wait to use it. I was a bit wary of it at first as I wasn't sure exactly what it would be like as I have never had any treatment using this technology before. I made sure I read the instruction booklet which made me feel more confident to use it. I was happy to see a Gillette Venus razor provided within the box, these are my favourite razors to use. After reading the booklet I plugged in the handset. I must say that for convenience it would be easier if it was cord free when being used but it didn't hinder it's performance. After a couple of goes to get it to flash I managed to get it to register my skin tone. I was surprised to not feel anything, I don't really know what I was expecting maybe some heat but I felt nothing. There is a kind of click noise when it flashes but all pain free. I found this quick and easy to use. I have only tried it on my legs as I wanted to see if it dried me out or if there was any reaction to it. I can say that there has been no adverse reaction and I am happy to begin using it on other areas of my body. This is a great way to save some money on hair removal treatments at salons. Compared to the salon prices over the year this product would be affordable and a cost saver. The handset doesn't make much noise so it wouldn't disturb other occupants of your home. I have been using it on only one leg at the mo to see if I can see a difference and a few months on and I can see a change in hair growth. I will start on the other leg now. 15 minutes once a week is all it takes for my legs so it is not a laborious task. The box it came in is fairly sturdy so is great to be used as storage and protection. [This review was collected as part of a promotion.]
Date published: 2017-05-09
Rated

5

out of

5
by
bzzagentNickybeech74
from
Braun silk expert
This is absolutely fantastic It takes time but helps reduce the need to shave I've used it religiously and the need to shave is getting less and less Brilliant and comes highly recommended by me [This review was collected as part of a promotion.]
Date published: 2017-05-05
Rated

5

out of

5
by
beebon123
from
Braun Silk-Expert 3 IPL review
UNBOXING: In the box is the machine itself, a power cord, instruction manual and a disposable razor to get you started. The Instruction manual is VERY detailed, but uses clear language so it was easy to understand. I was slightly unnerved by all the warnings, but willing to give it a try. The booklet said that the device works best on fair skin with dark hair, which is perfect for me! FIRST USE: I decided to start on my lower legs, I shaved with the supplied disposable razor first whilst in the shower, then dried thoroughly. Then I got to work with the Braun Expert, it is easy to use, you press the button to "pulse" the light – it only works when in complete contact with your skin which can be a bit tricky to manoeuvre yourself and the device so that it sits flat of the skin so you have to press down quite hard sometimes. AFTER 7 WEEKS USE: I have been using the device once a week for 7 weeks now and I can really see a difference now. In the first few weeks I was slightly disappointed that I didn't feel that anything had changed and I still had to shave every few days, but after week 4, the hair growth slowed down a lot. Now at week 7, I can really feel the difference – I have smooth legs with no in-grown hairs or shaving rashes! Using the device got easier after a few goes as you get used to how to hold it for maximum contact with your skin. I think that this is worth the money and I recommend this product to anyone who doesn't have the time to mess about with shavers or wax. It really is worth persevering for those first few weeks as the results are worth it. [This review was collected as part of a promotion.]
Date published: 2017-05-03
Rated

5

out of

5
by
Gabbi
from
Braun
Noticed a difference with two uses. Hair is much thinner and less of it. If anyone suffers with ingrown hairs this is great.
Date published: 2017-05-03
Rated

5

out of

5
by
allthatjazzx
from
A remarkable difference!!
I have been wanting to try laser hair removal for such a long time, but been afraid of the pain and cost factors. Now I am just annoyed that I waited so long!! Waxing is soooo painful (depending on the area) and actually works out insanely expensive over time but this product is honestly life changing! It is a weird sensation, I wouldn't say it hurts, but the pain for me is a bit like when you pluck an eyebrow in a weird way and you get a bit of a twinge! I have been using the Silk Expert for over 8 weeks now and seen a huge difference in my underarm hair which is amazing! My dark shadows were quite bad, but now I have much lighter underarms! The biggest difference that I've noticed is my lower legs though, I'm not having to shave anywhere near as much and they aren't speckled with the dark stubble of before! My advise would be to get this product if you are going to seriously invest the time, because it is completely worth it! [This review was collected as part of a promotion.]
Date published: 2017-05-02
Rated

5

out of

5
by
sbaxter17
from
Beach body ready
After using this machine on large areas such as my lower legs and also on more delicate areas too such as my underarms I can honestly say I have seen very good results in both areas. Instructions are quite fiddly to start with but once you get going it is really quite simply. I would have liked to be able to use this cordless and use it within the bathroom but wasn't a big concern. Regrowth is definately less and what there is is definately softer. Will keep using and really pleased with the results so far! [This review was collected as part of a promotion.]
Date published: 2017-05-02
Rated

5

out of

5
by
LenaLou
from
BEWARE HAIR! You've met your match!
Oh my days. It's every girls (or guys of course) dream! Imagine it, no shaving, no waxing, no rash, no bikini line, no quick dry shave...ouch! The. Hair. Is. Gone. Of course, you have to do little top ups along the way but hey! Who cares when you're that smooth :-). It's sleek and stylish, easy to use and relatively quick. Completely painless. I was disappointed to have to shave every area you treat first, but it's a small price to pay for the fabulous results. Once a week for 12 weeks initially. Top ups after that. Bish bash bosh you're done. Save a small fortune on beauty treatments, and razors! Save time in the shower or bath! Save yourself from the stubble and hairy areas! Save the world girls and guys! You're ready! It works. It's worth it. It's true! [This review was collected as part of a promotion.]
Date published: 2017-05-02
Rated

5

out of

5
by
Moggles1234
from
A real expert but be patient!
Having used this product weekly for two months now, I feel it's a good time to provide a detailed review. I have fair skin and dark hair and was hoping for really good results from this. I decided I would concentrate on the areas where hair growth bothers me most: underarms, lower legs bad bikini line. One thing to point out is that the area must be clean shaven. The laser will not remove existing hair but shoes down the growth of new hair. I used the Gillette razor for this and found it very efficient. So, first impressions, this is a professional looking piece of equipment. However I was put off by the fact that it had to be plugged into the mains. I would have much preferred a cordless version. However there is an extra long cord so it wasn't too restrictive once I got used to it. The handset itself is quite lightweight, which is good,but not flimsy so I was comfortable using it on larger areas such as my lower legs. Now on to the written instructions, I did find them quite complicated but soon got the hang of what to do. I was reassured by the comments that this adapts to you skin tone and reduces the intensity as appropriate. This helped aleiviate any fears of damaging the skin. My priority was my underarm area and this is where I have been most impressed with the results. I shave my underarms daily when I shower but still used to find I had a dark shadow which was quite noticeable against my fair skin. Since using this product weekly on my underarms the hair regrowth is minimal, almost nil and the skin colour is much brighter. A great result. I used the standard setting, I didn't need the gentle setting on this area and didn't find using it uncomfortable at all. In contrast, I found it quite painful around my Bikini line and used the gentle setting each time. The results here have been slower here, perhaps due to the setting and I will continue to use monthly on an as and when needed basis to slow down the hair growth completely. My lower legs are not too hairy but with Summer coming I was looking forward to seeing the results. As mentioned it's important to make sure the skin is clean shaven and there is a useful sensor light which helps you to ensure that the light pulse is always on the skin. My lower legs are smoother than ever and I have not shaved for three weeks now. Any hair that has come back is softer and not stubbly and I am confident with continued use this will become less and less. All in all this is a great product but you need to invest time in using it and be patient. With the results I have seen so far I am delighted and will continue using. [This review was collected as part of a promotion.]
Date published: 2017-05-02
Rated

5

out of

5
by
Anonymous
from
Braun Silk expert gets my vote!
I've held off for a while to really give this a good run. A lovely light, easy to use system that I felt confident using, safe in the knowledge that it works to my skin type. Pain free, simple and easy to use - there's been a noticeable difference in my regrowth. First of all, there's been less of of, but what has grown back has been a much softer hair and I'm confident that with continued use, I'm just going to be more and more pleased with the results! [This review was collected as part of a promotion.]
Date published: 2017-05-02
Rated

5

out of

5
by
Anonymous
from
It takes time, but it really works
When the box first arrived I was surprised at the size of the device itself. It is sturdy bit of kit, but fits in the hand easily and is light enough to use comfortably. The box contains Braun Silk Expert 3 IPL, power cord, instruction booklet and Gillette Venus razor. It plugs directly in to the mains so there was no waiting for the device battery to charge, which was a definite plus. The instructions are very clear and simple to follow in just a few pages for everything. You need to shave the area being treated first as the light works under the skin surface in the hair follicle, which explains the razor, and your skin needs to be clean and dry. When you turn the device on the white LEDs flash, the blue lights on the skin tone sensors light up, the fan whirs and you are ready to go. Both skin tone sensors, either side on the head of the device, need to make contact with the skin so that it can read your skin tone and then automatically adjusts the light intensity needed which is reassuring and one less thing to think about. If both sensors aren't pressed on your skin correctly it won't flash until full contact is made. When you press the device on to your skin the white LED power bars on each side of the handle light up and show the intensity that will be used. Being light skinned and dark haired all three LEDs lit up when I used it showing the highest intensity. The LEDs are on both sides of the handle which makes it easy to see regardless of your grip. If you are treating a more sensitive area you have the option to use the Gentle mode simply by pressing the button to turn it on or off. This will reduce the light intensity and so I assume will take longer to see results. Having never used IPL hair removal before I was a bit worried I would get the intensity wrong and end up hurting myself, I was tempted to only use it on Gentle for the first few times. However, with the automatic intensity adjustment I didn't need to think about 'getting it right' and while it is great to have the Gentle mode option, I chose not to use it, preferring to use it in Normal mode and I haven't found it painful in the slightest, a bit warm and tingly, but not painful. Depending on the size of the area you are treating you can either use Glide or Precision mode. For larger areas such as legs, Glide is much easier, you press and hold the treatment button while moving the device slowly up your leg and the light continuously flashes. For trickier or smaller areas where more precision is needed, rather than pressing and holding the treatment button you just press the button once to make the device flash once and move to the next area to be treated. Initially I overthought the whole thing and worried about moving too quickly, creating patches, or too slowly and overlapping the treated areas, so I began with precision mode on my leg. But instantly realising how long that was going to take I ditched my fears and switched to glide mode as there is a long enough pause between flashes to position correctly. The light is VERY bright and I tend to look away during treatment. I did wonder if glasses or goggles would have been a good addition to the kit so that you could watch what you were doing more closely and be confident you're not missing a patch. An additional reassuring touch is the stand by (after 10 mins) and sleep mode (after 60 mins). I have found the fan is loud enough that I am unlikely to leave it unattended, but it's always a good back up to have just in case. It is recommended you treat the area once a week for the first 4-12 weeks (depending on results) and then once a month afterwards for maintenance. There is no point in treating the area more than once a week as it doesn't speed up the process any. As I tended to shave anyway this was just another step to add in once a week, which is great as in the first few weeks you don't see any difference and the motivation to do it more than once a week would soon wear off. After a couple weeks there seemed to be a thinning of the hair but after about 6 weeks you really start to see progress so prepare yourself to be patient, it is worth it. I have only used it on my legs at the moment but having seen the results I will be starting on underarms and bikini line shortly. I had been worried about starting it on my face as I didn't want to have a visible patch of no hair, including the light normal facial hairs, which I thought would stand out just as much as having darker hairs. But having reread the instructions and seeing that it only works on dark hairs and is not effective on lighter hair, I will definitely be tackling the small hairs at the side of my mouth. I am far more confident with it now and a true convert having seen the results. I would highly recommend. [This review was collected as part of a promotion.]
Date published: 2017-04-29
Rated

5

out of

5
by
Katyp1980
from
Wow words cannot describe!!!
I have polycistic ovarian syndrome so the hair on my legs is thick and coarse it also grows back very quickly after I shave. I have been using the braun silk expert now for a couple of months and it's definitely made a difference. I have actually had laser hair removal on the NHS and not only was it unbearably painful it didn't work. At first I was nervous and thought it would really hurt but it's fine. In 2 months I have found my hair has reduced in patches and grows back slower so I have gone from shaving my legs every day to twice a week. I'm going to continue to use it as I can see that I'm a few months I won't be needing a razor again. I'm also going to start on my arms and underarms now I'm confident using it. Give it a go the results are amazing I have actually just broken my leg so I'm a plaster cast so will be cool to see the difference when the cast comes off. Then my right leg will have some catching up to do. :) [This review was collected as part of a promotion.]
Date published: 2017-04-28
Rated

5

out of

5
by
Sammyclicks
from
Bikini Line Gone
I was super excited to hear that I would be receiving the Braun Silk Expert. I had been contemplating for a long time having laser hair removal at a salon, but the prices and not being sure how effective it would be had put me off. When I opened the box the packaging was simple but effective, inside of the box was the IPL system, a lead in order to plug it in and a razor to shave. The instructions were simple to understand and use. So before using you are to shave the area first and then use the IPL system. It is to be used once a week for the first 6 weeks and then once a month to maintain the effect began using the IPL on my legs and underarms and have now move on to my bikini. I avoided my bikini initially as I was worried it would be painful, but how wrong was I. I did not experience any discomfort or pain and found that the IPL was quick and effective. I have not finished my 6 weeks with my bikini line and have been using it for 4 weeks, however I can already see a huge difference with reduced hair growth, and am really hopeful that I will be hair free. I usually have my bikini line waxed and this is indeed painful, so with this IPL I am really hoping I NEVER have to go back to waxing again. I would definitely recommend this for a permanent hair removal that is pain free and is a much cheaper alternative to paying to go to a salon. [This review was collected as part of a promotion.]
Date published: 2017-04-28
Rated

5

out of

5
by
Liffy7
from
Getting smoother
I love using this, moving into holiday season this has come at the best time. I've not had regrowth for three weeks. Best machine [This review was collected as part of a promotion.]
Date published: 2017-04-27
Rated

5

out of

5
by
Anonymous
from
A complete game changer in hair removal
Historically I have always struggled with body hair as a result of my PCOS and it has really affected my confidence and stopped me from doing things like swimming as it's such a chore to spend literally hours with a razor that gets clogged up and constantly needs replacing. I was absolutely over the moon to try out the Braun IPL system and IPL is not something I had ever considered before as I was afraid of pain and potential side effects and also the high cost. I have tried this product for a few weeks now, predominantly on my legs and I have to say that the results are mind blowing. After just 2 weeks I noticed that the hair reduced by around 70-80% and I'm confident after a few more weeks that it will be gone completely. I have also tried on my under arms with similar results and will now be having a go at the bikini line. The device itself is incredibly easy to use and the instructions are very straight forward, just move the device over the area you want while holding the power button down. There is no pain, a slight tingle but not to the point of discomfort at all. I have to say that any reservations I had about IPL systems are now completely changed. After seeing the results and the fact there is no pain involved to get them I will definitely continue using the device. On the cost front, while a larger upfront cost, this device is going to last a very long time, results are long lasting and the mains plug means there is no replacing batteries or charging for hours on end. I literally could not recommend this product more. It has changed the way I look at hair removal. [This review was collected as part of a promotion.]
Date published: 2017-04-27
Rated

5

out of

5
by
NyePye
from
Fab results - hairy no more!
Braun Silk-expert 3 IPL BD3001 Review OK, so what is in the pack? * Braun Silk expert 3 IPL * Gillette Venus razor * Power cord The Braun Silk expert 3 IPL does not need batteries or charging - hurray! So the power cord supplied is used to power it. The Gillette Venus razor is used prior to treatment to remove any excess hair above the surface of the skin. It's best to shave than to use any other kind of hair removal method as a prep, because the IPL works on the pigment of the hair left under the skin. Waxing, plucking and hair removal creams will remove some or part of the hair under the skin, so the IPL won't work effectively. Anyway, shaving is the quickest method, so it's a no brainer really. I have dark hair and olive skin, and the IPL works best on dark hair and fair-olive skin complexions. It won't work on blonde or red hair for example or very dark skin. I am very hairy, so I was keen to try this product. The instructions tell you to use it once a week for about 3 months to complete a course and thereafter, use just once a month to maintain the results. I found that after just one treatment, the hair grew back fainter - so it definitely works. As mentioned before, you have to shave the areas you want to treat first. I did upper lip, under arms, both arms and both legs to the knee and bikini line. In all it took about 30-40 minutes to complete these areas. You hold down the power button and run the device slowly over the area, making sure the light sensors don't flash - otherwise it means it's not making adequate skin contact. A very bright light is emitted, so wearing sunglasses isn't a bad idea, but not essential. There are two methods to using the IPL, as previously described you can press down the power button and run the device over the area you want to treat. This is good for large areas such as your legs. The second method is pulsing the flash using the button and just treating the immediate area that the device covers. Then repeating this on adjacent areas. This is good for more fiddly and smaller areas such as your under arms. Either way, it is extremely easy to use and the technique is quick to pick up. So no worries there. This new model has the intelligent SensoAdapt skin sensors, meaning that before every flash it reads your skin tone and then gives the best, most effective light emission for hair removal. One less thing to worry about! But do make sure the skin sensor light don't flash up red, as this means the device isn't placed properly on your body. Readjust the positioning to place the device window flat on your skin and this should work the best. The device can last up to an astounding 13 years, as 250,000 flashes can be produced from it. It also has Normal and Gentle modes. Gentle mode for more sensitive areas such as your bikini line or for first time users. Personally, I just kept it on Normal mode and there was absolutely no pain at all, just a slight tingly sensation. It's great that it doesn't need any charging or batteries, just plug in the power cable and go! I have used the IPL for a couple of months now and the results are astounding. It really does give permanent visible hair removal. Something I've been waiting for for years! And so much more convenient and less expensive than a professional treatment at a beauty salon. This product is great and I now have much more confidence when it comes to my hair removal. I highly recommend it - you won't regret it! [This review was collected as part of a promotion.]
Date published: 2017-04-27
Rated

5

out of

5
by
hagonbaby
from
My Confidence is Back
Most of my adult life I've suffered with the embarrassment of being a hairy woman. If I ever stayed out or when I'm sharing a room on holiday I would always wake up earlier than needed to shave so nobody would see me. As you can imagine it really affected my self confidence as I would always be worried people could see the hair. When I saw this product and read the reviews I thought it was worth a try. So I've been using this for a few weeks now and the hair on my legs is pretty much none existent apart from a couple of little patches. I think after a few more treatments I'll be completely hair free. I've never been happier, I've got a holiday and festival booked where I can actually go without worrying. If you're looking to get rid of unwanted hair this is definitely worth the money. It's also easy to set up in very little time for those of us who are on the go constantly and best of all it really does do what it says! [This review was collected as part of a promotion.]
Date published: 2017-04-27
Rated

5

out of

5
by
juratewall
from
Was dubious at first..
I have been using the Braun Silk expert 3 IPL once a week for about 8 weeks on my arms and I am now starting to see a difference. The first 10 days didn't really show any obvious results - the hair grew back as normal. However, from about the 4th week, the hair growth was slower and the hair was much finer and less dense. While it takes a while for the results to show, I am expecting that it is much more permanent than shaving. I will try my legs later on. I wanted to try the arms first, as it was an easy area to experiment on and not particularly sensitive. While there is a 'sensitive' option, I did not want to experience any side effects. The IPL device is very easy to use. The instructions provided are very clear and concise and I was certain that I would use it correctly. The box also shows which skin/hair tone combinations are suitable to use the IPL on. The light is quite bright, so it is easier to look away while using the device. Overall, a great product and easy to use. I would happily recommend it to my friends, and buy a replacement when needed. [This review was collected as part of a promotion.]
Date published: 2017-04-27
Rated

5

out of

5
by
nikkid1412
from
Fantastic IPL
I have wanted to try one of these for a long time, but was very apprehensive. I have been using the Braun Silk expert 3 IPL for a few weeks now, and I have noticed a great reduction in the hairs to my legs and underarms. The instructions were very clear and it was very easy to use. I would definitely recommend to anyone wanting a hair removal system [This review was collected as part of a promotion.]
Date published: 2017-04-27
Rated

5

out of

5
by
Carlona123_10
from
Pleased so far
This is the first time I've used IPL so I thought I would wait a few weeks before giving my opinion. As it's the first time I was nervous thinking it may hurt etc but hey I decided to go all out and try it in my legs, underarms and bikini line (ok only a small section as I was very nervous). I've now used it for 6 weeks so that's 6 times and I can see a difference especially in my legs. There is far less hair and I think after a couple more weeks I'll be hair free! My underarms are still growing but again no where near as much as before using this. It's so easy to use but I do get bored lol! It doesn't hurt and the instructions are clear. I'm amazed how quickly I have added it to my trout one. Every Sunday I shave then IPL. My daughter can't wait for the treatment to finish so she can pinch it off me!!! Overall I'm happy with the results so far and would definitely recommend it as 10 mins a week for 8 weeks or so is nothing compared to the benefit of not having to shave/wax etc each week!! [This review was collected as part of a promotion.]
Date published: 2017-04-27
Rated

5

out of

5
by
KookyMeow
from
Effective IPL Right at Home
This is my first home IPL experience and was excited to try it out. The package includes a Gillette Venus razor, which I found to be thoughtful. It can be intimidating at first, especially when you have to look away to avoid the flash - I was worried I wouldn't be able to glide the device properly if I wasn't looking, but I got used to it on the 3rd week. I've been using the Braun Silk Expert 3 IPL on my underarms and legs for a month now, and I am quite pleased with the results so far. I've had laser hair removal professionally done on my underarms 5 years ago, but have stray hairs that still needed to shaved. After 4 weeks, I was delighted to notice that the stray hairs have decreased! I'm hoping they'd disappear after a few more weeks of treatment. I haven't really noticed any changes on my legs just yet, but I know it is working because there is a smell after the zap that's the same as my laser treatments in the past. I'll give it a few more weeks and see if there are any noticeable changes. The device is a good size for someone with small hands; I'm able to hold it properly even while maneuvering the back of my legs, which is a bit harder to reach. It is also light enough that I don't feel my wrists strained after a full session. I highly recommend using the gentle mode on more sensitive areas like underarms and inner thighs. The normal strength was a little bit above my pain threshold, considering I've had laser treatments in the past. For reference, my skin tone is a medium tan, I get 1-2 lights on the device (number of lights determines strength of the laser). If there was a product improvement I'd recommend, it would be to include a storage bag or case. I use the original box to store it after use to prevent dust buildup, but it's too bulky. Overall, it's a nifty little device for in-home hair removal, and would recommend it. [This review was collected as part of a promotion.]
Date published: 2017-04-26
Rated

5

out of

5
by
Dlhancock
from
Pretty impressed!
I have used this four times now on a weekly basis. I have to say I am pretty impressed. I have noticed a difference in the regrowth already and to be honest, I thought it would take a while longer. I normally have to shave my underarms every day, but I am finding I can now leave it for a couple of days. I have noticed I huge difference in the regrowth on my legs also. I aren't quite at the monthly 'maintenance' stage, but I don't think I am far off this now. It is also effective on chin hair. I no longer have the 'sneaky ones' that tend to appear in between me checking in the mirror before leaving home, and getting to work 20 minutes later - and believe me, this is always a bonus!!! I did notice the first time I used it I did have a red itchy patch but this is no longer an issue. It also left my legs with little red dots - very similar to the effects after using an epilator but these were gone the next day. It is pain free and very easy to use - I would recommend, particularly if you pay for waxing as in the long run - or even in the short run - it is one less cost. [This review was collected as part of a promotion.]
Date published: 2017-04-26
Rated

5

out of

5
by
Daisyvodka
from
Loooove it!
Being a novice to this way of hair removal I was a little apprehensive and not really sure what to do. So lets start from the begining: Packaging was great, it gives the impression of a quality product. Good to know if you are giving it as a present. The instructions where clear and simple to follow. Gillette Venus razor, close and painless shave. Easy to handle and results are great. The Silk Expert was not too intimidating and a touch of purple makes all the difference Attaching the cable is simple, even I managed it. The settings on the side easy to understand. So I took the plunge after reading the instructions and started. What I was not prepared for was the flash of light, wow, don't be looking in the direction of where your working as it sends your eyes funny. Yes I know the instructions does say not to, but when your weary of what's going to happen you can't help it. After the initial shock I got the jist and managed to continue you while looking away. However it was so easy to use I was soon zapping legs and under arms with ease. The gentle /sensitive mode is easy to work out and operate. Many weeks on I am now a proffesional sleek zapper who can't believe the ease for such hairless results. Thumbs up from me. Worth the money, yes in the long run, defiantly. [This review was collected as part of a promotion.]
Date published: 2017-04-26
bvseo_sdk, dw_cartridge, 16.1.1, p_sdk_3.2.0
CLOUD, getContent, 493ms
reviews, product
Does this work on male buttox ?
Hi, The Braun Silk Expert 3 IPL is suitable for use on the external buttocks area. However, this has not been clinically tested on the inner areas. Do not use the device directly on mucus membranes or private areas. These areas may have a darker skin colour and so to avoid injury they should not be treated. Regards, Shaver Shop
Date published: 2019-06-06
Does this do white or grey hairs..if not is there an item that does plz
No it does not work on white or grey hair - sorry other than waxing, plucking etc. I can't help. Merrilyn
Date published: 2019-01-22
Does it remove hairs forever?
Yes it does but you need to do the procedure on a regular basis. Fantastic results.
Date published: 2019-03-10
What are the total number of flashes for one cartridge ?
Hi, Thanks for your question. This particular IPL includes 250,000 flashes. Regards, Shaver Shop
Date published: 2019-03-10
Hi there. How many joules does this item possess? Many thanks
bvseo_sdk, dw_cartridge, 16.1.1, p_sdk_3.2.0
CLOUD, getContent, 281ms
questions, product