Images
Hover to zoom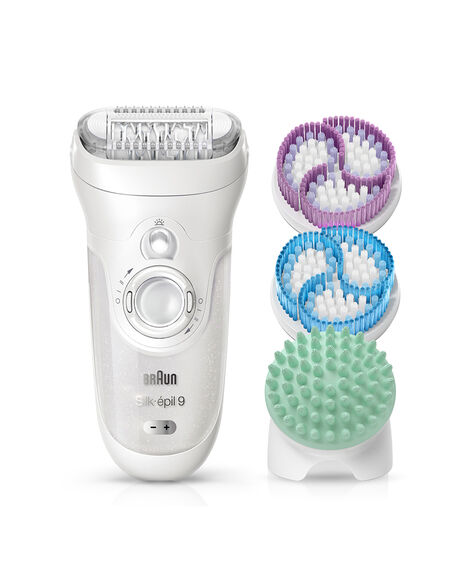 The world's first epilator and cleansing brush system. Treat your face to flawless radiance. As well as including Braun's best Wet & Dry epilator for long-lasting smooth skin, the set comes with a deep massage pad to help improve skin tone and appearance, two exfoliation brushes for gentle and deep body exfoliation, and a facial cleansing brush which removes make-up and impurities 6x better than a manual face cleanse.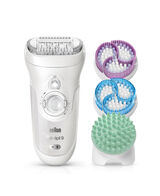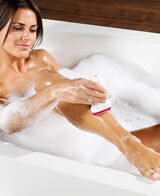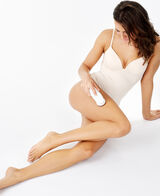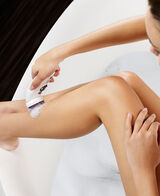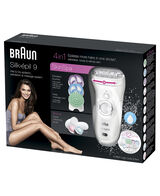 Silk Epil 9 Wet/Dry Epilator 4 in 1 Hair Removal and Exfoliation System with 12 extras incl Facial Brush
Details
http://www.shavershop.com.au/braun/silk-epil-9-wet%2Fdry-epilator-4-in-1-hair-removal-and-exfoliation-system-with-12-extras-incl-facial-brush-009173.html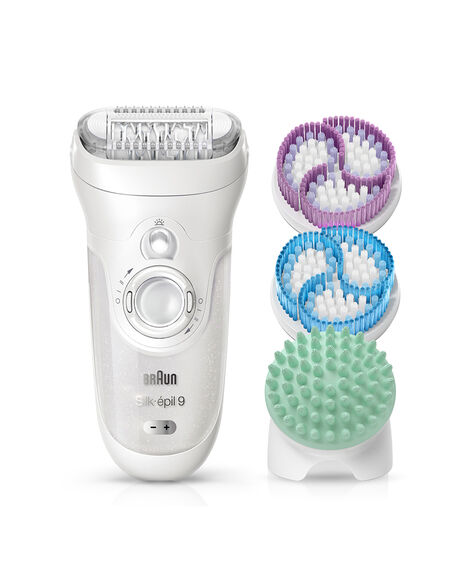 Silk Epil 9 Wet/Dry Epilator 4 in 1 Hair Removal and Exfoliation System with 12 extras incl Facial Brush

Product Features

Deep body massage
Braun's new deep massage pad provides a powerful massage effect on the body. By stimulating blood circulation, the massage pad helps to tone skin and improve skin appearance.

Deep body exfoliation.
Braun's innovative deep body exfoliation brush head features high-performance bristles with a unique triangular shape. The brush works 6x more effectively than a manual scrub to sweep away dead skin cells and help to reduce ingrown hairs.

Gentle body exfoliation
The gentle exfoliation brush is ideal for treatment on more sensitive areas of the body. Gently exfoliate for an irresistibly smooth skin feeling.

Facial Cleansing
The facial cleansing brush features two extra brush heads, and removes make-up and impurities 6x better than a manual face cleanse. The sensitive cleansing head is ideal for use on dry or delicate skin, and the exfoliation brush can be used weekly for a clear, glowing complexion.

Wet & Dry
The Braun Silk-épil 9 epilator works in the bath or shower for a more gentle, comfortable epilation. With regular use in water, epilation becomes virtually painless.

Pivoting head
The Braun Silk-épil 9's pivoting head smoothly adapts to every contour for superior comfort and efficiency, even in difficult areas like the knee and underarm.

Smartlight
A smartlight reveals even the finest hairs for extra thorough hair removal.
Product Description
Epilates more hair in one stroke*
Removes 4x shorter hair than wax
Deep massage pad helps improve skin appearance
2 body brushes exfoliate and help to reduce ingrown hairs
Facial cleansing brush cleanses face 6x better than manual
Cordless Wet & dry epilator – virtually painless with regular use in water
*vs other Braun epilators.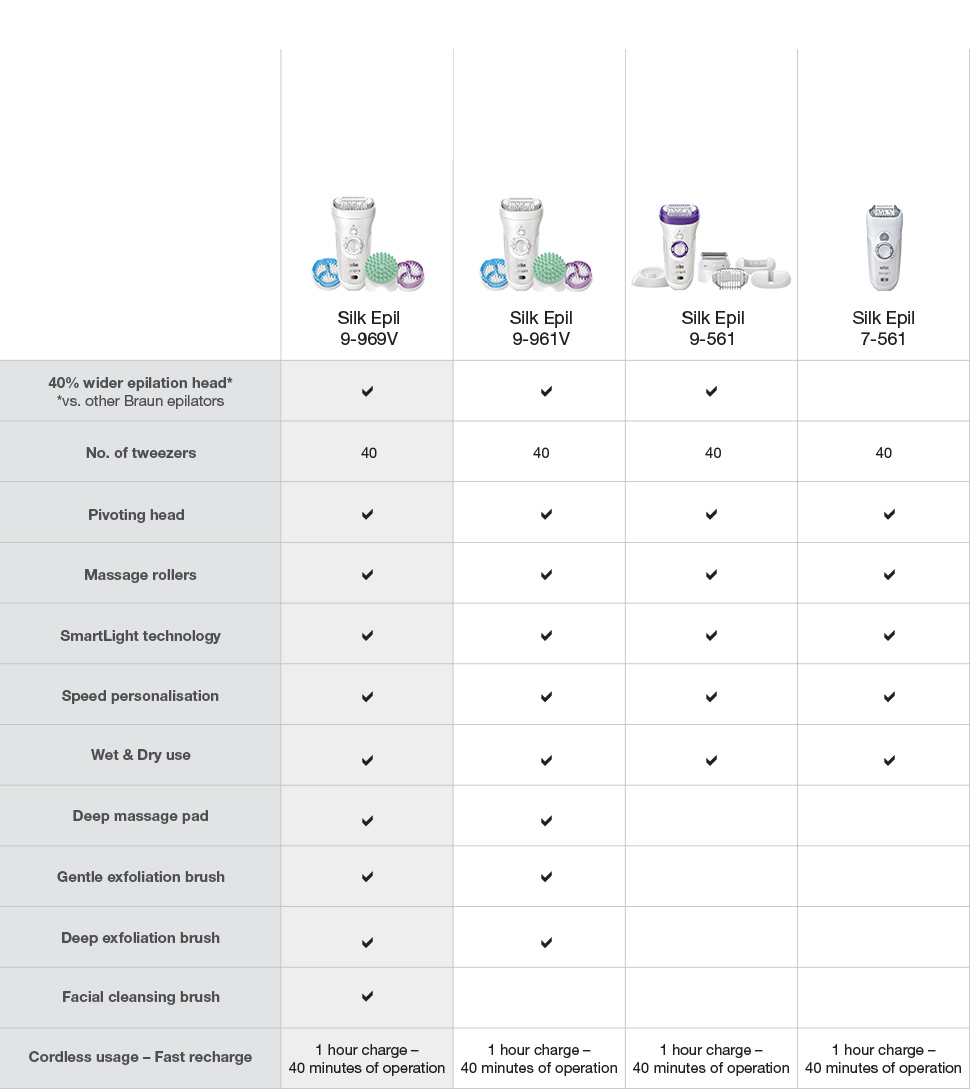 Silk Epil 9 Wet/Dry Epilator 4 in 1 Hair Removal and Exfoliation System with 12 extras incl Facial Brush
is rated out of
5
by
106
.
Rated

5

out of

5
by
Ingrid
from
Excellent Device With Great Features!
I've had my Braun Silk-epil 9 SkinSpa for over 4 months now and I love it! I mainly use it for my legs. Although I don't mind shaving I prefer the epilator for the long term benefits of reducing the amount of hairs on my legs and reducing the frequency that the hairs appear. I use the exfoliating brush the night before using the epilator to reduce the risk of ingrown hairs and have not had a problem. My skin does go a bit red after using the epilator so I always epilate at night. I'd definitely recommend this product to people interested in epilating.
Date published: 2017-09-29
Rated

5

out of

5
by
RZZK
from
Great Item just an odd change
The product itself is a great design , a sleek design with a modern twist, the only downfall i have on the product is the socket why cant we have the 3 pin plug? why does it have to be the 2 pin! with such a modern twist where it can used wet and dry which is brilliant we should be able to charge with a usb port maybe something Braun can think about? overall does what it say on the box leaves skin smooth an hair free catching small hairs but you may have to take the head off to get the tiny tiny hairs, but a great product, no mess :)
Date published: 2015-08-06
Rated

3

out of

5
by
Legsonfire
from
Works great as a torture devise
Ok so this little doo-dad works brilliantly. Does everything it says it should and it has all the attachments that also works well. Nowhere on the pack did it say that using this machine would hurt like you were giving birth out of every pore of the area you are using it on. Seriously. A girl needs some warning! I haven't plucked up the courage to suck it up and just use it on my whole leg yet... I'm going to need a bottle of vodka, cold peas and a wooden stick to bite down on first. Maybe that's a new idea for extra accessories?
Date published: 2018-01-25
Rated

5

out of

5
by
Jenn
from
Worth the money!
This was my first time using an epilator, previously was a full time waxer. I switched because I was both sick of paying $200 a pop to get multiple areas waxed and because I no longer had time to get to appointments. This has definitely been worth the money, I love all the accessorises, and the wet/dry function. The battery lasts for 40 minutes but I don't care about that- it's plenty of time to get both legs done. The only thing is that I wished I went for the upgraded model that has a charging stand, other than that no other issues.
Date published: 2018-03-07
Rated

5

out of

5
by
Willow
from
Great epilator but ..
The product itself is great and works well, but to my disappointment the product package is actually missing the shaver head so I had to locate and buy a separate shaver head for an additional $43. So choose your package wisely, there are two different packages with the same price. It's not very clear on the website. My last Braun epilator has served me for at least 15 years (and is still working, just thought it was time to see if there's a better upgrade) so hopefully this one will too. Overall very happy with the product so far.
Date published: 2018-07-02
Rated

4

out of

5
by
Emily_C
from
SO many features!
Winter is the perfect time to work on silky smooth limbs, and this little guy can remove hair and give you a great all-over-exfoliation all in one! After using this product for a good few weeks now, I can begin to see a more refined skin tone all over, with minimal effort whatsoever. I do find the brush works best for smaller concentrated areas, which takes a little longer than larger sized brushes, but there's zero manual labour involved thanks to the vibration. A great price too, for all 5 functions available!
Date published: 2018-04-18
Rated

5

out of

5
by
The Made Up Maiden
from
This has become my new best friend.
I've been using the Silk Epil 9 Wet/Dry for a few months now, and I'd really recommend it to anyone who wants to pick up a high quality product. I usually use the epilator on my arms and my legs. Epilating can be a tiny bit painful, so I tend to do mine when the hair is a bit shorter, as it's less painful that way. I also use the exfoliating brushes the night before I plan to epilate, as I get a smoother shave and less ingrown hair that way. My preference is to epilate at night as I find that my skin can get a little red after using it, so doing it at night gives my skin time to calm down while I sleep. This is the perfect product to take on holiday, as you can use the facial brush to cleanse your face, before swapping to either the exfoliating head or epilating head to keep your skin smooth and silky!
Date published: 2017-10-11
Rated

5

out of

5
by
featuresfeaturesfeatures
from
features
featuresfeaturesfeaturesfeaturesfeaturesfeaturesfeaturesfeaturesfeaturesfeaturesfeaturesfeaturesfeatures
Date published: 2017-12-14
Rated

4

out of

5
by
LiLo
from
Smoother skin for longer
New to epilation, the first go was a little painful, but further uses, on shorter hair, hasn't been an issue. I'm yet to master the procedure. Exfoliation and maintenance to your skin is a must for a better outcome with the epilator. You however have smoother skin for longer. In my opinion, The bristle brushes should be harder for leg and body exfoliation, and much softer for facial exfoliation. The shaver attachment is the best shaver I have ever used! The shave is so close with no nicks or cuts or irritated skin afterwards. And safe for little toddler fingers if they get into your cupboard exploring! Epilation is time consuming but once you have the procedure and a routine in place, much better in the long run... and sooooo much cheaper than laser treatment which would of been my next option! Thankyou.
Date published: 2017-11-26
Rated

4

out of

5
by
Izzy
from
Does a good job, like the extra attachments
First time hurt so much, hated it but even during the first time it started to get better. Now it's much more ok, been about 2 weeks. Still trying to figure out how many of my hairs get pulled out or snapped off, so not sure how effective. Also have to moisturize and use the exfoliator head to make sure I don't have ingrown hairs. Also cute little extra is that it is glittery, the handle has little glitter in the plastic which is so cute
Date published: 2018-05-14
Rated

5

out of

5
by
Jacqueline
from
Love it, so convenient and easy
I got this about two weeks ago, just before going to Cairns on holiday. I used it every two days and haven't had to shave the whole holiday. I've been epilating for years so in most areas so don't find it painful, but this is a serious step up from my old one and I barely feel it in most areas, and it's so much quicker than my old one too. A tip for newbies, the shorter the hair the less painful the removal.
Date published: 2018-05-01
Rated

5

out of

5
by
Megamouse
from
Works Amazing even on thick hair
Purchased a few months ago as an early christmas present for myself. It works amazingly! My husband joked it is the only time I have had smooth legs in our 7 years together! I highly recommend this. Super quick removal even on tiny and tough hairs. (I have thick dark hair). Relatively less painful than other brands I have tried. Purchased when it was on special so can't go wrong! Well worth the money
Date published: 2018-01-04
Rated

5

out of

5
by
AmzD
from
Flexibility and ease of use!
I purchased this product a month ago and have only needed to use it once so far as it has been so effective for hair removal. Even the hairs that grew back were much finer than they previously were. It is easy to charge, use (over the sink or in the shower) and the adjustable heads are great! There was some slight pain as it pulls on the hair, however tolerable pain and worth it!
Date published: 2018-02-10
Rated

5

out of

5
by
Quinn
from
Big time saver
As a former waxer, converting to an epilator was fairly easy. Best to take it slowly on the first few goes to get used to it. The features are great. Exfoliate first for best results. Once you get used to it, it's so much easier than waxing with similar results. It's worth the investment, as you'd never have to buy wax or get your legs professionally done again.
Date published: 2017-12-30
Rated

4

out of

5
by
Rayesa
from
Great product
Have used my old Braun epilator for so long that I decided to indulge and get another epilator but this time with an exfoliation brush as well. Epilator was great although it seemed to scratch the legs alot. Using the cover to do my armpits was fantastic. So smooth. Disappointed that no cleaning brush or oil/alcohol was supplied especially at cost of product.
Date published: 2018-05-23
Rated

5

out of

5
by
Nat.
from
Anything else is a medieval torture device
I just upgraded to the Silk Epil 9 after owning one of the first epilators on the market for 15 years. (Diff brand) I now realize that I have been needlessly torturing myself for years and can only wish I had upgraded earlier. After years of swearing, watering eyes, & prepping with a rum & Coke (lol) to deal with hair removal, I literally can't believe how pain free and fast this device is. It charges in only an hour, and gives u back 40 minutes of consistently powerful use which I found to be way more than enough for a quick lap of the body. The cordless design is a bonus too! No more being tied to a power socket, ... I even use it in the car. I chose the model with the facial exfoliating brushes as I have dry skin and typical exfoliate 2-3 times a week. This does a great job at smoothing the skin, and with far less product than I usually need to use. My only regret is not buying it sooner! Only wish I had bought it sooner!
Date published: 2017-12-26
Rated

1

out of

5
by
NoName
from
Would rated 0 (zero)
Bought the Braun epil products for nearly 10 years now, I have used the older one until recently but changed it only because of EU/Au power difference. I found that the new product promotes way too much ingrowth hair and it gives "embarassing" looks along my bikini line. Spend $200+ on something I REGRET buying it. WOULDN'T RECOMMEND IT!
Date published: 2017-12-21
Rated

5

out of

5
by
beautybyannierosee
from
Never have to shave/wax again!
This device makes it so easy to remove any unwanted hair and fast. It's portable so you can use it in the shower as well as dry anywhere. I love that it makes it so comfortable with the massage head. There are so many different attatchments with it that you'll have amazing skin in no time! I couldn't live without my skin spa now.
Date published: 2017-09-19
Rated

5

out of

5
by
Aaron
from
Pretty decent according to my Girlfriend!
Bought as a Xmas gift on special for my better half. She said it hurt when she first tried so I told her to read the instructions. She now finds it less painful and easy to use. She's happy that I bought it for her and I'm happy that her legs finally feel smooth, unlike mine. Product is as advertised, better if you can buy on special.
Date published: 2018-01-04
Rated

4

out of

5
by
shazza
from
Super simple to use!
As a first timer into the epilator world, I did a bit a research beforehand on which ones were 'the best' for my needs. This one came up a lot so I decided to purchase it. It is super effective on leg hair and doesn't take long at all! You also get a heap of extra attachments and a facial brush (simple version of a clarisonic), too!
Date published: 2018-01-29
Rated

5

out of

5
by
Happylass
from
Excellent epilator
Does everything it says. Pulls out short hairs. Very fast, easy to use. Heaps better than any I've had before. I haven't tried any of the other attachments and accessories that came with it yet. I would definately but this one again. Worth paying a bit more for the quality. Very prompt delivery from The Shaver Shop too.
Date published: 2017-12-10
Rated

5

out of

5
by
Greta
from
Fantastic product
I bought this product to upgrade from my previous Braun (which was ~15 years old, and still going strong), and it is fantastic. The massage and exfoliating brushes are great, and all so easy to use in the shower. I also really like the facial brush which has left my complexion glowing. Highly recommended product.
Date published: 2017-12-28
Rated

4

out of

5
by
Goo30
from
Great product!
I love this. The wider head and exfoliating brush are absolutely the best thing about this product. The only down side is the wet function. I tried using it in the shower/bath a few times but I find that the water ways down the hair making it hard for the epilator to grab it. Besides that this product is awesome!
Date published: 2018-01-18
Rated

3

out of

5
by
Just_being_honest
from
Meh it's ok...
I purchased this a few weeks ago, while it does the job well enough I'm finding that it breaks quite a few of the hairs off instead of pulling them out meaning I may as well shave. It does pick up hairs shorter than waxing would though and the exfoliation system works. The face cleanser brush is also great.
Date published: 2018-05-29
Rated

5

out of

5
by
hairless
from
Easy, simple, no mess!
I bought this to save time and money and it worked!!! I have been waxing for years, so I don't have a huge amount of hair. Easy too use, very simple. No mess. I have used it wet and dry and both work well. First time a little pinchy, but not painful! I am going to try my bikini line next.......
Date published: 2017-12-04
Rated

5

out of

5
by
CK11
from
Best hair removal and exfoliating system.
I brought this about 1 month ago. It is the best hair removal and exfoliation system ever. Came with heaps of extras, closest shave and removes the tiniest of hairs. Have had 2 other brand of similar hair removal systems but this is definitely the best. The added Facial brush is awesome.
Date published: 2017-11-16
Rated

5

out of

5
by
Trish66
from
Fantastic Product
So far, I've only needed to use it once. Even waxing doesn't leave my legs as smooth for as long as the Silk Epil 9. Surprisingly, not particularly painful either. The exfoliating and massage brushes are very effective too. Value for money after just one use. Would definitely recommend!
Date published: 2018-03-10
Rated

1

out of

5
by
Butterfly08
from
Dissatisfied
I bought this item and couldn't wait to use it but was good first time I used it then when my hairs started to grow back I am getting loads of ingrown hairs , I am not happy , I won't be using this product I feel as I wasted my money because Now I have gone back to shaving instead .
Date published: 2017-12-04
Rated

5

out of

5
by
Elle42
from
Brilliant product! Love it!
I've been waxing for years, and I finally decided to get my first epilator. Why did I wait so long?? It's brilliant! i can do this myself, and there are none of the issues that come with waxing like burns, reactions to the ingredients etc - just beautiful smooth hair free skin :)
Date published: 2017-12-17
Rated

5

out of

5
by
Cooper159
from
A well overdue update
I had an old Braun Silk epil that was probably nudging 20 years old - well overdue for an update! This one is so much easier to use (shape, grip) with neat features like the light that makes it easier to see what you're doing! Also seems to be far less ingrown hairs resulting.
Date published: 2018-05-22
bvseo_sdk, dw_cartridge, 16.1.1, p_sdk_3.2.0
CLOUD, getContent, 366ms
reviews, product
Do all the Braun epilators come with a cord that fits Australian power points, or is it a european charger cord? Or does it come with an adapter to plug into Australian power points?
It has Australian cord and plug fantastic epiltor
Date published: 2018-07-15
I have been trying super super hard to find the replacement brushes for the epil 9 series for the body brush such as the blue and purple one. I can not find it anywhere online. I even asked the Shaver shop store and they dont know either. Help me please.
Have u contacted product manufacturer
Date published: 2018-05-31
Is this product good for legs and underarms/bikini line?
Brilliant for legs. Not used on bikini and armpits
Date published: 2018-05-02
Do you guy do afterpay, please let me know thanks
Hello Esther, Thank you for your question. We do indeed offer both afterpay in-store and on our website. Kind Regards, Shaver Shop
Date published: 2018-04-19
Can I used it for face
Hello Majd, Thank you for your question. This epilator can indeed be used on the face safely. We would recommend clipping the facial cap over the epilation tweezer head to ensure the face is protected. Kind Regards, Shaver Shop
Date published: 2018-04-19
Can this epilator be used to remove hairs on the face.  I see it comes with facial brushes however is it safe for facial hair removal? Thanks
I use it on my face. I have Pcos so use it a few times a week. Takes a while to get used to it but I've been using a Braun epilady for about 4-5 years. Make sure you use an ingrown hair solution as well. 
Date published: 2018-04-16
Does it come with different color heads? I thought it came with a gold colour head?
There are different coloured heads for the exfoliating heads but not gold, it's the same as in the picture  Hope this helps
Date published: 2018-03-11
How can i purchase this item, its not available either online/ store . https://www.shavershop.com.au/braun/silk-epil-9-wet%2Fdry-epilator-4-in-1-hair-removal-and-exfoliation-system-with-12-extras-incl-facial-brush-009173.html
Hi, Sorry to hear you are having difficulties finding this product. I suggest you phone the shavershop instead of emaling them so they can at least give you information on how to go about buying this product.
Date published: 2018-02-22
bvseo_sdk, dw_cartridge, 16.1.1, p_sdk_3.2.0
CLOUD, getContent, 9ms
questions, product