Images
Hover to zoom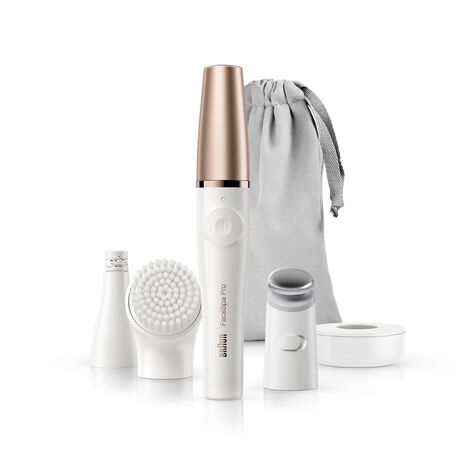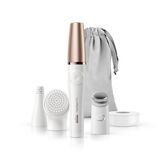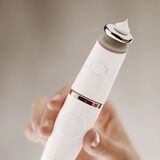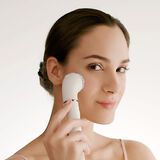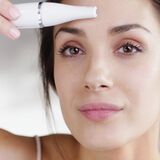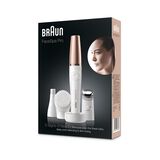 FaceSpa Pro with Smart Detection SE911
Details
https://www.shavershop.com.au/braun/facespa-pro-with-smart-detection-se911-009970.html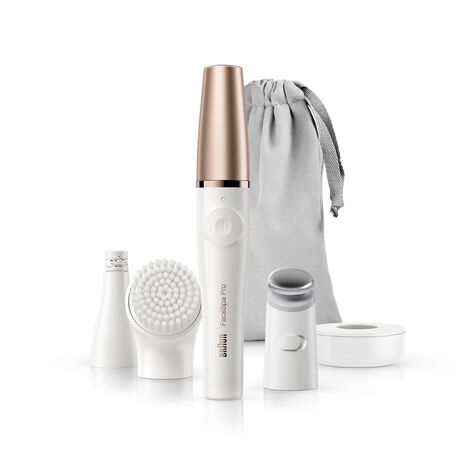 Product features

MicroVibration head
Delivers 25 micro-vibrations per second.

10 Micro-openings
Capture the finest hairs down to 0.2mm of width and only 0.5mm of height!

Facial Cleansing Brush
Gently oscillates to loosen and remove make-up, oil and impurities up to 6x better than manual cleansing.

Faster than ordinary methods
With 200 movements per second.

Perfect for
Chin, upper lip, forehead, and to maintain eyebrows in shape.
Product Description
Product Reviews
Questions And Answers
Product Description
Gently remove facial hair by the root with the epilator attachment for long-lasting smooth skin.
The sensitive facial cleansing brush gently removes impurities from senstive skin
A MicroVibration head works with your serum or cream for skin-toning effects*.
3-in-1 Beauty device (Enhance skin, restore natural beauty, remove hair)
Metal toning head for enhanced skin appearance - use with creams and serums for better application
Beauty pouch & recharge stand included
*Better application of your skin care product vs manual.
FaceSpa Pro with Smart Detection SE911
is rated out of
5
by
173
.
Rated

5

out of

5
by
Corey!!
from
Great product
I brought this product a month ago and it is very good. I will definitely always use this product all the time.!!
Date published: 2019-02-09
Rated

5

out of

5
by
MaryP
from
Great features
So glad I bought this product, it's easy to use & the multifunction is a bonus.
Date published: 2019-01-17
Rated

5

out of

5
by
Kimmy
from
Great little gadget
Soo happy with my purchase after years of plucking it works great. The facial brush works well also.
Date published: 2018-12-29
Rated

5

out of

5
by
Anonymous
from
Looks fabulous and works!
I bought this for myself for Christmas. I have only used the epilation function so far but am extremely happy with it and am confiident i will enjoy he other features.
Date published: 2018-12-29
Rated

5

out of

5
by
Joey82
from
Handy accessory
I have been using for two weeks and my skin looks and feels much better. Originally purchased for hair removal, but much more than that.
Date published: 2018-12-29
Rated

5

out of

5
by
Susanne
from
Easy to use & works very well.
As a mature women who is hirsute it was great to find a quick, easy solution.
Date published: 2018-12-27
Rated

5

out of

5
by
Julieand
from
Quality product
A gift for Christmas that impressed. Looks like good quay
Date published: 2018-12-25
Rated

5

out of

5
by
Billie
from
Just Perfect
This is an amazing product, easy to use and set up. Love the facial cleansing brush, gives my face a glowing look and removes the old dead skin.... I would recommend this product. It will save you a lot of money in the long run.
Date published: 2018-12-21
Rated

5

out of

5
by
JenJen
from
Easy to use and Great features
Really happy with the purchase. Works effectively. Glad I bought it.
Date published: 2018-12-17
Rated

5

out of

5
by
Rangi
from
Great product
I bought this a couple of weeks back and really happy about it. Love the extra features, the cleansing brush and the lotion massaging attachment. It gives the face a glowing look.
Date published: 2018-12-09
Rated

5

out of

5
by
Margie
from
easy to use
I bought this a couple of weeks ago and love it. Havn't used the facial accessories as yet, but the hair removing head is brilliant. Thought it may hurt, being first time using epilator, but did only a little. Would recommend to anyone wanting this type of hair removal.
Date published: 2018-11-29
Rated

5

out of

5
by
RoseF
from
Love this product
Great product, the epilator works great on the face and can change the side of where the epilater rolls, example for left face or right face. I used it on the fly away hairs on my eye brows! so much easier to use. The face massager feels great when putting lotion on. easy to use and convenient product.
Date published: 2018-11-21
Rated

5

out of

5
by
Mama D
from
Handy little gadget
I went looking for something to help control those annoying little chin hairs. The FaceSpa Pro not only does that, but gives the gift of a mini facial any time I like.
Date published: 2018-11-13
Rated

5

out of

5
by
chell
from
Face Spa Pro
I bought this for a gift for my daughter as she uses mine so much
Date published: 2018-11-09
Rated

5

out of

5
by
Mama D
from
Works really well
I bought this FaceSpa mainly for the hair removal, but the additional attachments are a bonus. I can give myself a mini facial anytime.
Date published: 2018-10-17
Rated

5

out of

5
by
JenniJazz
from
Simple and Easy to Use
I have only used the hair removal head so far, but have found it really easy to use, with great results!
Date published: 2018-09-30
Rated

5

out of

5
by
GoDun2018
from
Absolute Best
Very happy with this purchase! Showed it my girlfriends who were just as impressed. All five of them bought one from themselves!
Date published: 2018-09-24
Rated

5

out of

5
by
Jilly
from
Excellent Product!
Very happy with my purchase. The epilation head was my main reason for buying and I am so happy with the results of using it. My skin feels and is looking so good since using the cleansing brush. Applying liquid skin care products to my face with the MicroVibration head has certainly improved my skins appearance as well.
Date published: 2018-09-13
Rated

5

out of

5
by
Lenny
from
Really does feel like a FaceSpa at home
I bought this a few weeks ago mainly for the epilator attachment but I decided to try the cleansing brush and Microvibration head. My skin is really smooth and is looking fresh and healthy. I've already recommended this to a friend.
Date published: 2018-08-22
Rated

5

out of

5
by
Tash
from
Great product
Used this a few times since purchasing and so far very happy with the product
Date published: 2018-08-08
Rated

5

out of

5
by
Anonymous
from
An all round skincare must.
I've had the Epilator for a few weeks and have enjoyed experimenting with all its different functions, It looks great and is easy to put together, charge and hold in your hand whilst using. It is great to put cream on your face and moisturiser, I've been using it to do that mainly at night and have noticed that my skin is softer then when I just put it on by hand. I really like the 20 second burst function, so you know how long to use it on each part of your face and having the two speed settings is a great feature. The Epilating head is good for getting rid of hairs that are difficult to move or just stray ones. The cleansing brush is a really good feature of this model too, overall if you want to take control of your facial skincare, it's a great tool to have.
Date published: 2018-07-11
Rated

5

out of

5
by
pallaviprasadgv
from
Excellent product, easy to use, convinient
I have a lot of facial hair and have tried a few epiliators before. However, the combination of epiliation and toning system works great for my skin. It's easy to use, straightforward and very compact. I can charge it and take it to the shower without having to worry about the batteries or wires. I love it#1
Date published: 2018-07-11
Rated

5

out of

5
by
TARA
from
Where shall I start
Love love love this product and every thing about it. The epilator gets the smallest of hairs that you don't even notice and it is so easy to do. I really don't think I will be paying salon prices any more to get my brows done. The brush set brightens your skin after one use and removes all the dead skin. I am so glad that i was given this product as I have clear skin but it's just so dull but with this product my skin has been transformed. This is a must buy!
Date published: 2018-07-10
Rated

5

out of

5
by
Laura
from
2 out of 3 ain't bad
I absolutely love the epilator tool, does exactly what is says it will, even the tiniest of hairs! It's not completely pain free, but no different to plucking or waxing, and it's over twice as quick. Love love love the exfoliating tool, skin looks brighter after all the dead skin is brushed away. Definitely helps with the absorption of my serums and moisturisers. Really easy to use and clean the head attachment. 5 out of 5!! The tapping tool, well I'm not sure what to say about this, as personally Haven't seen any results or benefit from it so far, But I have only been using for 2 weeks. Fingers crossed the results are more gradual and I will reap the benefits soon Over all fab product and would hightly recommend! So simple to use, and actually does what it claims to!! Thanks Braun
Date published: 2018-07-10
Rated

5

out of

5
by
Stefi
from
does exactly what it says it does
The epilator attachment gets out even the smallest facial hair easily and it is painless. The brush attachment is really gentle and soft for the face And the MicroVibration attachment spreads the cream evenly on the face massaging it at the same time. Loved this product from the very first use
Date published: 2018-07-08
Rated

5

out of

5
by
sadscorpion
from
Excellent product
I absolutely love this amazing product. The packaging is compact and elegance. This feels like a high quality product. The epilator attachment is small and perfect for your face. I used this on my chin, forehead & upper lip. It removed hairs really well and the results last for good amount of time. It didn't leave any red marks or irritation afterwards. The cleansing brush head is very useful addition to this product. It is very effective, nice and gentle to your skin. I have used several different cleansers with it and the results have been excellent every time. I must admit that the MicroVibration head is very relaxing and gives a feeling of freshness. I find this great to help massage moisturiser into the skin and also as a mini massage for any tension in the face. All attachments are very easy to clean and easy to attach with one click. charging the product is very fast, it takes no time at all and the battery power lasts for a good amount of time too. I think this is an amazing product that I benefit greatly from. I would 100% recommend it!
Date published: 2018-07-06
Rated

5

out of

5
by
Khajal
from
Best face spa at home
I really loved this product as it got all that Is needed for a face spa at home and I Really liked the epilator very much as it removes facial hair with no pain.i highly recommend this.
Date published: 2018-07-06
Rated

5

out of

5
by
Mumonamission
from
High quality sleek beauty product a must have
Absoulately love using this product. The sleek streamlined construction of the facial spa gives the impression of a high quality beauty product the rosegold colouring adding to the elegance and it certainly does not disappoint Initially when start the epilator can be a little painful but you soon get used to it and the results are worth it. The facial exfoliating brush gently messages giving you a really good deep gentle clean leaving your skin feeling amazing and the massaging applicator for liquid beauty products gently pulsates giving you a really even relaxing application of your moisturisers while only needing to use a small amount of product. This has fast turned into my new best friend
Date published: 2018-07-06
Rated

5

out of

5
by
Lanaava
from
Fanstastic product
Braun FaceSpa Pro 911 comes with a cute little pouch bag which is great when going away. It looks very elegant with a delicate rose gold look. The epilator unsurprisingly is slightly painful but it managed to remove the tiniest hair I struggle to remove with tweezers. The little brush supplied with it perfectly removes any hair left on the epilator. I normally remove my make up with a face wash. After my normal routine I used the cleansing brush with a face wash and saw much more make-up left on my skin. I used the micro vibration to apply the face cream and it worked relatively well although I still had to spread it with my fingers. The heads are very easy to change and they just pull off. The battery lasts very long. To me Braun FaceSpa Pro 911 is a great product.
Date published: 2018-07-06
Rated

5

out of

5
by
Jade91
from
Very good left my skin feeling so smooth
This does exactly what you pay for amazing good quality and made my skin feel 100% smoother
Date published: 2018-07-05
bvseo_sdk, dw_cartridge, 16.1.1, p_sdk_3.2.0
CLOUD, getContent, 292ms
reviews, product
Can I use Epilator under eyebrow for thin hair removal ?
I wouldn't recommend it as the head is a little thick, perfect for those annoying little white hairs between your eyebrows though.
Date published: 2019-07-29
Does this product have a microdermabrasion attachment? 
No. The attachments are for a gentle facial spa.
Date published: 2019-05-07
What is the "smart detection" and how does it work?
Hi Suzy, Thank you for your question. The Braun FaceSpa Pro with Smart Detection SE911 facial epilator smart detection has an intelligent sensor which guides your epilation, ensuring the right amount of pressure is applied to remove even more hair in one stroke. Thank You. Kind Regards Shaver Shop
Date published: 2019-02-04
I received my face spa pro yesterday and so far it doesn't seem to be working very well. Even though it is fully charged it keeps stopping. The head will spin, then stop three times, all in a matter of seconds, then it won't go. Is this a fault?
Yes, there seems to be a fault in the product you received because i have been using this for 6 months now but have not experienced any such issues.
Date published: 2019-01-11
Can this be used whilst taking roacutane? Will the shaver make hair grow back thicker? I have a peach fuzz that's upsetting me. Can you suggest any other option - one that can shave arms too?
Shaving hair from ANY location will give the appearance of hair growing thicker, however it is not the case, just hair growing at the same time. Since epilators remove hair at the root, the hairs grow back in their own growth cycle, and not at the same time, however as with waxing, continued regular use will eventually slow down the growth cycle. As for the type of hair that grows back, the hair that will grow back is the same hair that you are removing.
Date published: 2018-12-05
What is the difference between the Braun Face epilator SE851V and the SE911? Aside from the micro derm attachment, it seems a huge price difference, im mostly interested in the product for the epilator, not the face spa attachments. Which do you recommmen
I would say both products work equally as good as each other with the same attachments that are included, but the Micro vibration head is an added pampering. It makes my face feel so good as face product is applied with delicate tapping rather than fingers. A little more extra luxury!
Date published: 2018-09-15
Is this product waterproof? And can you buy seperate replacement heads?
Hello Holly, Thank you for your question. This device is indeed 100% waterproof. Kind Regards, Shaver Shop
Date published: 2019-01-02
Is this rechargeable or does it require batteries
Hello Tish, Thank you for your question. This device is indeed rechargeable. Kind Regards, Shaver Shop
Date published: 2019-01-15
bvseo_sdk, dw_cartridge, 16.1.1, p_sdk_3.2.0
CLOUD, getContent, 295ms
questions, product