Images
Hover to zoom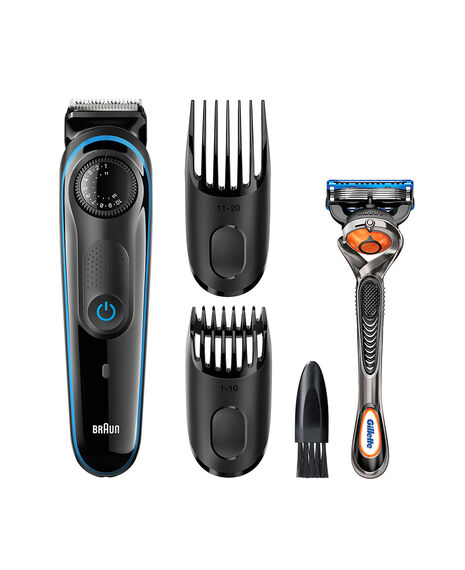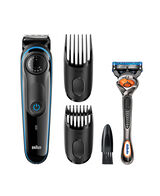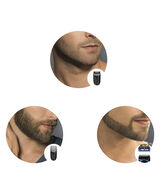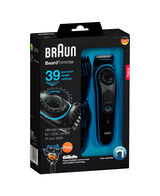 Product Code
100-1126-3040BT

Beard Trimmer, 39 length settings plus free Gillette Fusion ProGlide Manual Razor
Details
https://www.shavershop.com.au/braun/beard-trimmer%2C-39-length-settings-plus-free-gillette-fusion-proglide-manual-razor-009500.html

Product features

Stubble & short beards
Two fixed combs in 1 and 2mm and the short beard comb (1-10mm) help to evenly trim stubble and short to medium beard for better control of your style.

Long beards
A longer hair comb (11-20mm) gives you more range to maintain a lengthier beard style. Plus use it as a hair clipper to create a number of styles.

Contour edging
The Braun Beard Trimmer also comes with a free Gillette Fusion ProGlide razor with FlexBall technology to define lines and create contours.

Fully washable
For easy cleaning under running water.

Lifetime lasting sharp blades
Provide high performance precision to achieve any style. The ultra sharp stainless steel blades cut through long or thick hair without any pulling or tugging.

LED charging indicator
Informs about charging status to ensure you never accidently run out of battery.

Lifetime lasting power
60 minutes of precision trimming from an 8 hour charge.
Product Description
Introducing Braun BT3040 Trimmer
Product Reviews
Questions And Answers
Product Description
39 precision length settings in 0.5mm steps provide precise results no matter your beard style

2 combs, from 0.5 to 20mm, provide flexibility and 100% control of your style

Ultimate precision with lifetime lasting sharp blades

Lifetime lasting power - 60 minutes of precision trimming from an 8 hour charge

Fully washable for easy cleaning under running water

Includes a free Gillette Fusion ProGlide razor with FlexBall technology
Introducing Braun BT3040 Trimmer
Beard Trimmer, 39 length settings plus free Gillette Fusion ProGlide Manual Razor
is rated out of
5
by
267
.
Rated

5

out of

5
by
Murphy87
from
What a useful product
This product does everything. 9 in 1 and they are all great tools for trimming! Would demo recommend to anyone. I got it as part of a free trial but would absolutely buy one.
Date published: 2019-01-02
Rated

5

out of

5
by
Spencer995
from
Great product
This has been one of the best shavers I've used in a long time and at a great value. Even without the added razor. Great for anyone who likes using one product for both facial hair and head hair. Love it
Date published: 2018-12-20
Rated

5

out of

5
by
iSimmo
from
Exactly what I needed
Great to handle, feels like a professional trimmer, easy to use, flexible settings with precision blades. Good looking device.
Date published: 2018-10-17
Rated

5

out of

5
by
Bledisholm
from
IT GOOD!
Happy with trimmer. Plain layout that works, like the dial up length settings. Great performance and only 2 attachments to select, yay to that. I also thought the price was exceptionally reasonable.
Date published: 2018-09-10
Rated

5

out of

5
by
gEcho
from
07886821116
The unit is supplied with 2 heads permitting variable cutting lengths, for beard and scalp hair; each is incremental at steps of 0.5 size. The cut is very close and uniform, and need not require a second pass (I often experienced this requirement with previous trimmers). Hair was cut with ease and did not get trapped at any point. The battery seems very strong from what use I have had so far. About an hour total use and it still is kicking! Containing a new type Li-Ion battery, short charge times can be expected. Also supplied is a Gillette ProGlide, which I gotta admit did a great and very clean job on the two instances used; the swivel head provided impressive flexibility and the blade head itself cut well. Overall highly impressed with the product, which was also complimented by my brother who needed to borrow for an urgent shave.
Date published: 2018-07-14
Rated

5

out of

5
by
David84
from
Great buy
Used the Braun beard trimmer after receiving it, great product with lots of different settings to do beards and hair with. Definitely worth purchasing!
Date published: 2018-07-11
Rated

5

out of

5
by
Reech92
from
Great precision
Great precision. Trims well. Like the different settings. Full charge lasts about 3 bead shaves/trims. Overall very happy.
Date published: 2018-07-11
Rated

5

out of

5
by
Chrisward84
from
Brilliant
This is a great product it's the best shave I've ever had. The only disappointment I have is that it doesn't come with a an adapter to charge it.
Date published: 2018-07-10
Rated

5

out of

5
by
Nath
from
Great quality and a lovely trimmer
After wanting a new trimmer for a while I was delighted when I got this product, my previous one just seemed flimsy and took me quite a while to get a nice even trim. This on the other hard is built very sturdy and has a nice weight to it when holding, the build is very good quality and comfortable to hold which is always a bonus! As for the performance, I cannot fault it at all! It's so versatile which is great for trimming down stubble or maintaining a decent sized beard! Even without the guard on and using the bare blade I was surprised at how much of a close shave I was able to get. It will never replace a good old Bic for a clean shave, but it sure does a good job! I'm really happy with this item and glad I finally have a good solid trimmer, the price isn't bad either. I've used more expensive trimmers in the past but they haven't been so durable.. so far so good with this one! Definitely recommend it to anyone looking for a new trimmer!
Date published: 2018-07-10
Rated

5

out of

5
by
Chris2906
from
Very precise shave
This electric razor gave a very precise shave. Best when trying to achieve one overall length I found. The only thing it lacks is difference in sizes, as I found out the length is either long or short
Date published: 2018-07-10
Rated

5

out of

5
by
Jphillips91
from
Product is very precise
Really accurate and precise shave with a great array of options to trim your beard to perfection. It's very lightweight and just the right size to fit in my travel bag around Europe
Date published: 2018-07-10
Rated

5

out of

5
by
Aramoc
from
Amazing and Versatile
What a fantastic product - at first, it looked like every other beard trimmer i'd Used, but when I realised the numerous options for beard length, as well as the quality of product and cut it gave, I was hugely impressed. Although predominantly used for the beard, it also worked for full body, due to the many different length options. Easy to use, easy to charge, top quality product, and would absolutely reccomend to friends. Won't be using any other trimmer from now on!
Date published: 2018-07-10
Rated

5

out of

5
by
Szoostak
from
This beard trimmer is amazing!
I've used it for a few weeks, my beard never looks better than now.
Date published: 2018-07-10
Rated

5

out of

5
by
Jamie1604
from
Easy peasy!
Great product. Easy and simple to use. There are a whole array of settings and lengths for all types of grooming. The charge time was quick and the power of the trimmer was consistent throughout.
Date published: 2018-07-09
Rated

5

out of

5
by
Muza90
from
Easy to use & does everything
I absolutely love this product. It has made making sure I look great extremely easy. It keeps my stubble at a great length and can sharpen up my hair at the same time. It's has a quick charge and is light and easy to use. Quick, simple, easy and a quick swill and it's ready for next time. Great all rounder.
Date published: 2018-07-09
Rated

5

out of

5
by
VaegaVic
from
Simple & Stylish
The second you take this beard trimmer out of the box, you can tell it's quality made. It's not another one of those cheap imposters found at a bargain price, promising the best shave of your life but only giving a minor tickle. The beauty of this product is in it's simplicity, it comes with 2 guards of different lengths, both of which snap on easily & both of which feel quality made as well. It has a variable knob, to select the precision of the guards, from 1 to 20 m, which is unique, I've never seen or used a trimmer with that feature before. My only 2 criticisms of this product are the charge vs use time, it requires an 8 hour charge for 60 minutes use (I honestly thought it was a packaging error at first but the instructions back it up) & that I prefer my beard a little longer than 20mm, however I'm in the process of seeing if I can get a 3rd party longer guard. Overall, I've never personally used a better beard trimmer, I just wish it came with a snazzy stand to display in my bathroom.
Date published: 2018-07-07
Rated

5

out of

5
by
Wardy84
from
Brilliant
This is the perfect shave I've used other products in the past but this is by far the best. The only thing I would have liked is a charger plug as it's inconvenient to have to go out and buy an adapter to charge it. On the plus side the Gillette razor is a bonus
Date published: 2018-07-07
Rated

5

out of

5
by
SpiderPig
from
Unexpectedly easy to use
Using this trimmer proved much easier than I thought, smooth, light and several choices for length making it super easy to adapt to my specific needs for this product. This having been my first trimmer it tackled my wild-grown beard with ease, I highly recommend this to anyone who wants to look sharp.
Date published: 2018-07-07
Rated

5

out of

5
by
McRaitis
from
Braun beard trimmer
I have tried this trimmer couple times and like it more and more. It's really good and do its job nicely. It's good that there's is bigger choice of beard length and it's very comfortable to use. I think it's good enough to use for hair as well. Maybe it would be perfect if there would be just one "head" not two, but its still good. I would definitely suggest it to others.
Date published: 2018-07-06
Rated

5

out of

5
by
KSm95
from
Excellent!
I love this trimmer. It is ideal for so many things with the easily adjusted head and settings. It is powerful and easy and fast to charge.
Date published: 2018-07-06
Rated

5

out of

5
by
Ashtoon
from
Perfect
Love this shaver, it's easy to use and feels nice & comfortable in my hand. Trims my beard the way I need it too and glides perfectly through the hair on my head too. Definitely a shaver I would recommend.
Date published: 2018-07-06
Rated

5

out of

5
by
Lucas
from
Pretty much spot on
I've really enjoyed using this Beard Trimmer. It does a decent job and works quickly. I just loved the adjustment dial - it gives a lot of room to experiment and adjust to your needs. It won't give your mustache clean-shaven look, but included razor is solid and takes care of shaving just fine. Overall, I'd definitelly recommend. Good quality, design and functionality for reasonable price.
Date published: 2018-07-05
Rated

5

out of

5
by
Krisjpwilliams
from
Great and lightweight
Loved this product. Very light weight and loved how long the battery lasted before charging. I've been using it mainly for beard trimming and contour edging, it has worked great and it's very precise. Also used it for hair clipping and love how many lengths you can chose from. Also like the fact that it has an led charging indicator. Great product and I'm even thinking of buying my dad one for his birthday
Date published: 2018-07-05
Rated

5

out of

5
by
Jake
from
Well built and easy to use
Every Wednesday morning I'd wake up, get ready and head straight to the barbers to get a little trim up. I never thought I'd be purchasing a trimmer to do it at home... and never realised how easy it was! Simply twist the length dial on the front of the Braun face trimmer and get straight in there. Keeps a consistent length all round and it's very sharp which makes it easy to get that slick, barber finish. It's waterproof too! Once you've done trimming up those annoying long hairs you just simply rinse under a tap and put the trimmer away. Quality is brilliant.
Date published: 2018-07-05
Rated

5

out of

5
by
Sandy600
from
Silent Power
It is so much quieter and packed with power and precision. It feels very light but is solidly made. It has various adaptors to suit all hair length and style. Easy to clean after use. Would recommend it to anyone.
Date published: 2018-07-05
Rated

5

out of

5
by
Ryanjo
from
Great trimmer
Great trimmer. Really lightweight and fits perfectly in your hand! Gives a good precise shave and the fact it has dials makes it easier to get the desired look. Best trimmer I've used. Fast charging
Date published: 2018-07-04
Rated

5

out of

5
by
Jifbottle
from
Great product, reasonable price
I have used several beard trimmers and found most were either fiddly to use or didn't do what I wanted. Not the Braun though, remarkably simple concept using a dial to adjust hair settings. Without the multiple hair grading combs to lose, this product only has 2 combs and you can get 39 different length setting using just these and the trimmer. Easy to wash, easy to use.
Date published: 2018-07-04
Rated

5

out of

5
by
AWUK
from
Amazing product!
This trimmer is great quality; with 39 different cutting grades for beard and hair, what more could a man who needs to control their facial fuzz want? It's light weight, convenient and easy to handle! It's very easy to use with its dial on the trimmer itself to change lengths. It remains charged for a while, something my old trimmer didn't really do, I charge this once a week! I get a smooth close shave with the head with no guard, it's a definite must from me!
Date published: 2018-07-04
Rated

5

out of

5
by
Willybanjo18
from
Best Face and Beard trimmer on the shelves.
well i thought best to use this for a week and then leave a review instead of after just one use so i could be completely honest and unbiased. Firstly wow its stylish simple to use. washable which is a massive selling point it looks and feels great and the performance beats all its rivals. Would highly recommend!!!!
Date published: 2018-07-04
Rated

5

out of

5
by
AllGearedBeard
from
Excellent precise trimmer
I have a quite big beard and used this to trim it down a little, i was amazed by how precise it was and how well it cut my beard. I would recommend this product to anybody looking for a beard trimmer who has long beard, i would expect this be be excellent on short beards too!
Date published: 2018-07-04
bvseo_sdk, dw_cartridge, 16.1.1, p_sdk_3.2.0
CLOUD, getContent, 295ms
reviews, product
is this waterproof for use in shower
Hi, It is advertised as "fully washable". This doesn't mean waterproof however, yes you can use it in the shower. Thanks Regards, Shaver Shop
Date published: 2019-06-19
bvseo_sdk, dw_cartridge, 16.1.1, p_sdk_3.2.0
CLOUD, getContent, 318ms
questions, product