Images
Hover to zoom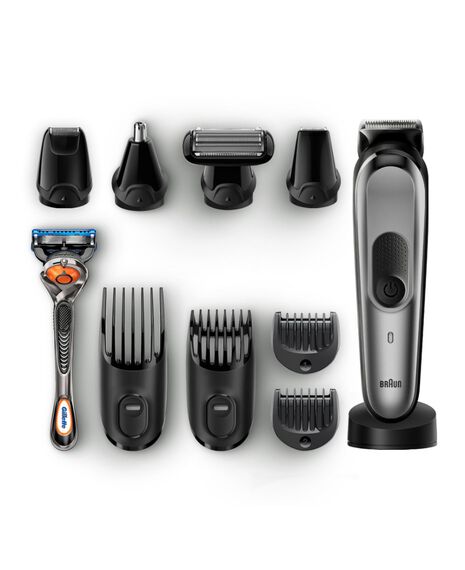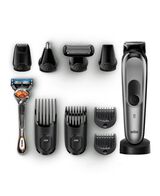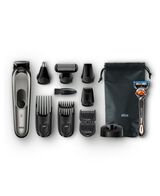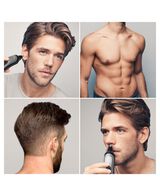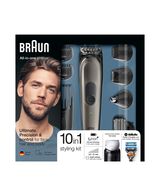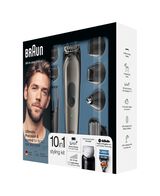 10 in 1 Multi Grooming Kit
Details
https://www.shavershop.com.au/braun/10-in-1-multi-grooming-kit-010358.html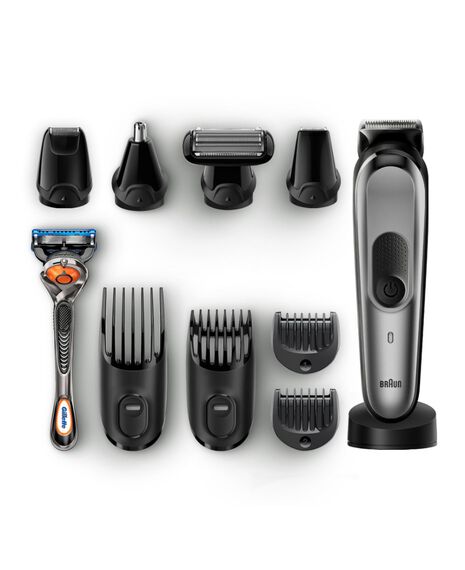 Product Description
Product Reviews
Questions And Answers
Product Description
10-in-1 Styling Kit
Fully Washable
100 min run time from 1 hour charge time
Includes:
Trimmer
4 Length Combs
Detail Trimmer
Gillette Razor
Mini Foil Shaver
Ear & Nose Trimmer
Body Goomer
Plus:
Soft Storage Bag
Charging Stand
10 in 1 Multi Grooming Kit
is rated out of
5
by
104
.
Rated

5

out of

5
by
Jack
from
Highly recommend it - 20/10!
This is a solid trimmer that delivers great results - cuts hair evenly and you can use it all over the body. Great range of attachments and long run time too. Awesome!
Date published: 2019-07-12
Rated

5

out of

5
by
Harry
from
Amazing!!!
I am more than happy with my product and would highly reccommend it. 20/10!!
Date published: 2019-05-25
Rated

5

out of

5
by
sam1128
from
Solid trimmer and great results
This is great trimmer and cut hair very evenly. It comes with a lot of attachments which is a bonus if you want to trim your hair from other parts of the body like nose, ear, and chest. It charges very quickly and I can use it in the shower which is a big plus for me my life is sorted now.
Date published: 2019-02-28
Rated

5

out of

5
by
Jono C
from
Amazing Product
This product was so amazing! Absolutely loved everything about it! Will most definitely be recommending it to all my friends.
Date published: 2019-02-18
Rated

5

out of

5
by
cameron04
from
Great product
A great product that works well for my beard. Shaves well and easy to use.
Date published: 2019-02-11
Rated

5

out of

5
by
hazzafullback
from
Such an amazing trimmer!
I've had a couple of trimmers in the past for different areas of my body - but now I'm so happy to have just the one! The trimmer charges super fast, cuts super precisely and with your first go. You don't have to do multiple rounds like with some other brands I've used. I'd been recommended Braun before but had been tempted by a Panasonic deal. But not I've got my hands on a Braun I defo wouldn't go back. It's really been saving me a lot of time and hassle - love it!
Date published: 2019-02-04
Rated

5

out of

5
by
BEN998
from
Fantastic Product
Really fantastic product definitely would recommend it
Date published: 2019-02-01
Rated

5

out of

5
by
Arrybo
from
Everything for every single type of hair need
Well I received this product and at first glance I didn't know where to look within the box, there are so so many accessories and attachments I didn't know where to start on my "manscaping journey" I've used the long comb attachments for my beard and I am honestly pleased with the results, my next project was to tackle my chest hair, not a problem, selected the tool for the job and I was done in no time, the product is light and feels good to hold, it's powerful and not too noisy, I also like the fact that it all pacs away neatly in its own pouch
Date published: 2019-02-01
Rated

5

out of

5
by
Hik71189
from
Hi Spec High quality!
The equipment and attachments that come with this machine is excellent. You can detail your hair to the precise measurement that you want. It is very easy to to use when it comes out the box and it doesn't take long to charge the equipment. Also having a separate razor to fine detail is great also.
Date published: 2019-02-01
Rated

5

out of

5
by
Chez41
from
Brilliant Features, All in One
I really love using this Braun Trimmer. I loved the fact that it was a 10 in 1 which means I can use it for lots of different areas including my chest, head and hair. It was really easy to use and to change all of the parts. It was very quick to charge and the charge lasts a long time. I especially liked the precision trimmer which was great for shaping my beard. I would highly recommend this shaver.
Date published: 2019-01-29
Rated

5

out of

5
by
Hawkeye2411
from
Smooth
Really smooth cut and doesn't pull hairs like other cordless shavers. Great choice in attachments with my favourite being one that you can get those little hairs left under your nose.
Date published: 2019-01-27
Rated

5

out of

5
by
Carlrdd
from
Perfect for all
Very highly recommend this product best trimmer set I have owned out of a few
Date published: 2019-01-27
Rated

5

out of

5
by
Andy221
from
Good quality trimmer
I really liked this trimmer as it worked well for shaving my head, but was also precise enough to be used on my face. Well worth it. I would definitely recommend this product
Date published: 2019-01-26
Rated

5

out of

5
by
mikee
from
Excellent all over shaver
This is an excellent well designed shaver which sits in your hand perfectly, being able to use it in the shower is also very handy. I first used the shaver to trim my chest hair with the 11-21mm comb attachment which groomed the unruly hair no problem. I then used the body grooming attachment to define the edges and smooth the rest of my torso over and to remove any hair on my back and shoulders. This is far better than any other similar product I have used in the past. The detail trimmer is excellent for defining my sideburns and then using the foil shaver to shave the rest of the hair off my face producing smooth sharp look.
Date published: 2019-01-26
Rated

5

out of

5
by
Anonymous
from
smooth smooth smooth
One of the best product i have ever use after the fact that , i have recomended this product already to most of my friends and having to shave by yourself with all the package just worth it and looking smooth and smart among your friend is a key . thank you for this wonderful product, i love ittttttttttt !!!
Date published: 2019-01-25
Rated

5

out of

5
by
samlinstead
from
AMAZING PRODUCT!
I have been using mine for a little under two weeks now and I haven't found a single fault. All of the attachments available and the trimmer pieces are so precise and good quality and I haven't found a better product on the market for my usual routine.
Date published: 2019-01-25
Rated

5

out of

5
by
Scottava
from
Fantastic trimmer
This is without doubt a superb shaver. It is effortless, extremely quick and exudes quality; and the shave is very close indeed (nothing will ever beat a traditional wet-shave). No shave-burn, which I always suffered from with foil razors. Excellent trimmer all the different parts are a must have for any men out there. The charging port is excellent.
Date published: 2019-01-25
Rated

5

out of

5
by
Botty69
from
Absolutely Stunning!
What can I say. This is the complete all in one trimmer that all men will need in their lives (maybe even women). Everything is covered off and it is so simple and easy to switch between the different attachments. Whether you want to style, groom or trim nothing else is needed.
Charges rapidly and battery life is great. I have used it everyday for nearly 2 weeks now and still haven't needed to recharge.
Only one slight negative is that maybe the oil could have been included??
Date published: 2019-01-25
Rated

5

out of

5
by
Clean_Cut
from
All my grooming needs in one kit!
I have been over using this machine to really see how it copes with use both in the shower and out.I have to say the performance does not drop in the slightest.The blades are some of the best I have used!No pulling and very easy to clean,being wet and dry it is great in the shower,for myself reducing time spent shaving body hair and beard trimming.A little pouch to place all the different attachments is a very nice touch,the attachments themselves seem very well made and are comfortable to use.
Date published: 2019-01-25
Rated

5

out of

5
by
Paul21
from
Very easy to use
Was pleasantly surprised by this product I use it every other day
Date published: 2019-01-25
Rated

5

out of

5
by
MrGFunk
from
Brilliant all in one Trimmer
I have been using the Braun all in one Trimmer (MGK 7020) for a week and a half now which is a good period for my type of usage and to get a good feel for the quality overall. I would say that the packaging is great, its compact but allows good visibility of the trimmer and many of the wide range of accessories. The back of the box shows 10 variations of accessory which is great for the consumer to get a quick appreciation of the functionality. It needed a charge before I could trial it for the first time, and probably the only negative that I have overall was due to their being no standard UK plug adaptor supplied. Its have a nice compact change cradle, and shaver point style 2 prong plug. We don't have shaver points, but I do happen to have an adaptor so it wasn't game over. After about an hour (I left to do other stuff and didn't keep an eye on it) I came back and it appeard to be fully charged. Just so happened that at this point my 'beard' was starting to get quite long probably several mm. I tend to be sporadic with shaving and may go over a week before shaving to 1mm stubble. With my old non Braun device it would take ages 10++ minutes to do this length of shave and be easy to miss bits due to light in our bathroom. The first shave with the Braun took probably 3 minutes and didn't need a closer better light run over. Cleaning the attached and fixed blade and shave head was dead easy with the standard little cleaner brush. I wouldn't really have considered a shaver with so many attachments, but I have made use of the nose trimmer which is far better than tweezers that I have sporadically and painfully used in the past. This trimmer was great… No more painful pulling for me now! There are various length blade adaptors which I made use of for other areas of body grooming. Not too short, not too long! Following this first facial shave I used the Braun every couple of days for a quick wizz over to keep it between 1-3mm which took hardy any time at all, something I didn't do with my previous device. I did leave my beard a little longer until tonight to try the precision trimmers which I can see show great promise, if you have the steady hand and the time to do detailed styles. Perhaps a bit more practise and I would be able to pull this off… food for thought. The body groomer is also a great addition, having not run over my shoulders and neck etc for a number of weeks this was pain free and quick to sort out too. I did try the traditional clean shave blade on a part of my neck and elsewhere with a splash of water – super sharp and no nicks. Overall this is a brilliant multi purpose all over body shaving device with a brilliant range of accessories which are all very well made and feel like they will last for a long time. There may be slightly cheaper options out there, but I suspect this will be an investment in the long run. Perhaps not such a good proposition for Braun however fantastic for the consumer.
Date published: 2019-01-24
Rated

5

out of

5
by
Truckerlee
from
Great wireless convenience
This product is a fantastic convenient shaver that covers all aspect of your shaving requirements. It's compact so easy to travel with and it copes really well with whatever your shaving requirements are. This should be your one stop solution to your shaving and grooming requirements
Date published: 2019-01-24
Rated

5

out of

5
by
Cheyne
from
Multi Functional and a great product
This is the first time I have tried an all in one trimmer and I have to say I found the results of using it fantastic even for someone who is a bit of novice. In the past I have used a multitude of different blades and electric razors, but to have them all in one is great. It is super easy to change between the different types of blades and really quick to change. The precision trimmer is particularly handy especially for around the sideburns area by the ear. The fact it is waterproof makes it really easy to clean and the battery life really does last for a long time. The one thing letting it down especially for this price is the bag, which looks and feels cheap and for something that stores all the kit, this is a bit of a letdown.
I would definitely recommend this product as I have now used pretty much all the features and will carry on using this product in the future. It is lightweight, versatile and comfortable to hold. What more could you want!
Date published: 2019-01-24
Rated

5

out of

5
by
BeardieJack
from
The Only Grooming Kit You Will Ever Need!
I needed to replace my trimmer & man, I just didn't realise how outdated it was. But not only that, the extra attachments which comes with this kit just took my grooming to another level!
The best bits for me is that it's waterproof which means cleaning it is easy as my OCD kicks in. Also, admittedly, not something I worried about before but having started to grow hair in odd places, things like the nose & ear trimmers are a welcome addition to my life.
Date published: 2019-01-24
Rated

5

out of

5
by
mackenziesj
from
Excellent All-in-one product
Fantastic, really enjoyed putting this product through its paces. Appears good value for money and with a nice touch of the additional wet shave razor (with 2 heads). I have spent time using the majority of the heads to achieve various effects and was particularly happy with the shave head and precision cutters to achieve clean outline on facial hair. The nasal/ear trimmer also works well with minimal discomfort and pulling. I did find the unit a little under powered for a full head trim in comparison to dedicated hair clippers, however for a quick 'tidy-up' trim this product is more than adequate - I would see this as perfect for travel, or regular hotel users. To the last point; I would also comment that the fast-charging function is great and easy to store, with a good life on single charge (would easily last for multiple body areas in one sitting). In summary, I would certainly recommend this product for convenience, stylish looks, usability, and function.
Date published: 2019-01-24
Rated

5

out of

5
by
FeastT
from
Goodbye Body Hair
The thing I love the most about this shaver is the body groomer attachment as it does an amazing job at removing hair without any redness from shaving. The battery life is great and the travel lock feature is useful to stop it turning on in my suitcase. The blades are sharp but they don't appear sharp enough to break the skin. I cant recommend this product enough and the free Gillette razor is also a massive bonus.
Date published: 2019-01-23
Rated

5

out of

5
by
AdamT
from
Superb
Absolutely superb. I've had a few of these over the years and this is by far the best. All the accessories you'd ever need coupled with the Gillette manual razor for a clean wet shave. Strong motor and long battery life with a robust feel. I find it best to use with the 3mm attachments for a perfect even stubble all round, No shaving rash so I can highly recommend this.
Date published: 2019-01-23
Rated

5

out of

5
by
ClassicBeetleOwner
from
Great all in one trimmer
A great all in one trimmer for anyone wanting to shape their face and body hair, or try new styles. The trimmer comes in a well presented box with minimal packaging and little waste. The rear of the box has clear images of the different attachments and what they do. The trimmer has an ergonomic design and feels nice to hold. It's pretty quiet with very little vibration. The attachments are quick and easy to change and ideal for creating all styles. The trimmer/foil head is great for removing body hair and leaving you smooth. The charging dock is small and compact and enhances the look of the trimmer when it's charging. All packaging is eco friendly with everything being recyclable. All in all this is a great trimmer, however there are a couple of downsides. Whilst it's 100% waterproof the body trimmer attachment can only be used on dry skin so it lets the product down. The instructions also state to oil the trimmer and foils regularly but the oil isn't provided, whereas in other trimmer products this oil is included.
Date published: 2019-01-23
Rated

5

out of

5
by
pickering11
from
fantastic item, well worth a buy
this is a fantastic product and a great all round item, lot of add ons. everything has been thought about from start to finish.
Date published: 2019-01-23
Rated

5

out of

5
by
Pawel28
from
Fantastic 10 in one product!
Braun 10-in-1 All-in-one trimmer MGK7020 This is an excellent grooming kit. Easy to use, very precise and doesn't pull on the skin. I love the fact that the same device does everything. I've had several shavers and this one is the best by far.
Date published: 2019-01-22
bvseo_sdk, dw_cartridge, 16.1.1, p_sdk_3.2.0
CLOUD, getContent, 286ms
reviews, product
Does this have an attachment for trimming eyebrows, (not shaping)
Unfortunately this product does not have a and attachment for trimming eye brows.
Date published: 2020-02-19
Can it be used for sensitive areas for clean up ?
Hi There, Thank you for your query. This unit can be used for beard & body grooming. Kind Regards, Shaver Shop
Date published: 2020-02-19
Hi, what´s the battery lifespan? if the battery is on 0%, can it be used with the cord plugged? Thanks.
I have used this 4 times now to shave my face and head and have yet to recharge it again. This is far better than my last shaver. Once charged you will not need to use it with a cord as it uses a docking station and therefore cordless.
Date published: 2020-03-31
Will this Braun 10 in 1 Multi Grooming Kit cut to a length of 0.1mm over the entire body  Thank you 
Hi, Thank you for your question. The Braun Male Grooming Kit 10-in-one precision Face/Head/Body Trimmer MGK7021 standard blade will cut to 0.5 mm without an attachment. The shortest the trimmer will cut to with the smallest attachment is 2mm. The foil shaver and body foil shaver will provide a clean shave. Thank you. Kind Regards Shaver Shop
Date published: 2019-09-11
Will this cut body hair so it is completely gone?
bvseo_sdk, dw_cartridge, 16.1.1, p_sdk_3.2.0
CLOUD, getContent, 222ms
questions, product